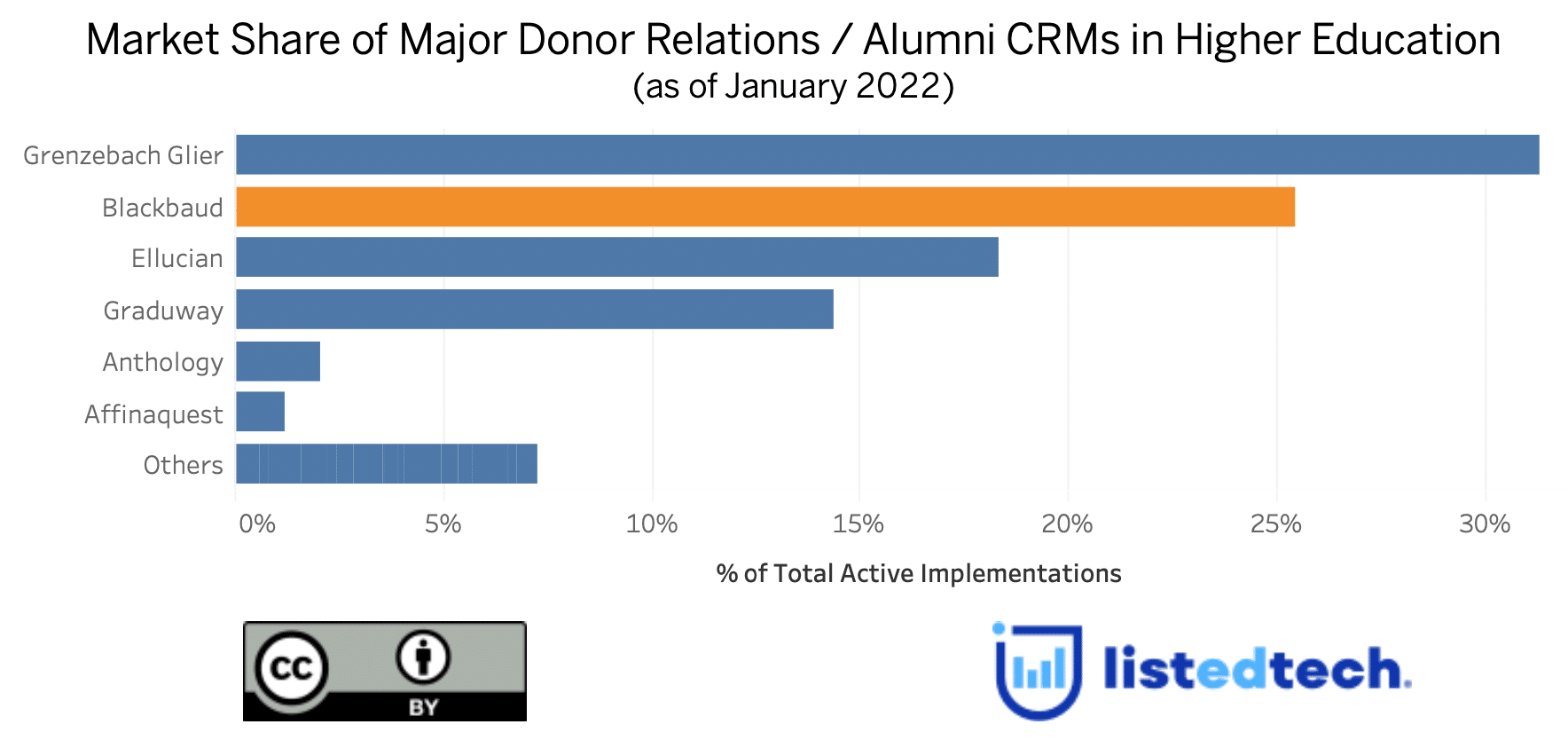 Known for its flagship product Raiser's Edge for almost four decades, Blackbaud focuses its business around nonprofit organizations and educational institutions. This long-time reference to this submarket might change soon with the recent purchase of Everfi. Does this acquisition solidify its foundation in the nonprofit world, or is Blackbaud attempting a breakthrough on the corporate side? Let's take a look at this company, deeply rooted in the fundraising world.
Like many IT companies in the 1980s, Blackbaud started as a side project for Anthony Bakker, its founder. In 1981, Bakker created a billing system for the Nightingale-Bamford School in Manhattan. A year later, with the expansion of his client base, Bakker quit his day job and incorporated Blackbaud Microsystems. The expertise developed in creating the billing system at Nightingale-Bamford served him well. Soon after, Blackbaud proposed its first product to schools under the name of Student Billing. This product is the cornerstone behind Raiser's Edge, which still represents 25% of the company's revenues.
Before 1990, Blackbaud relocated to South Carolina due to the high operational costs of its New York City offices. The team had to move again two years later because its offices in Mount Pleasant were not big enough. By the mid-1990s, the company converted its software from DOS to Windows 95, which produced additional revenues.
A Series of Acquistions
While performing well with its Raiser's Edge fundraising CRM and its other products, Blackbaud acquired competitors to better position itself and to gain more customers. ACOMS and Master Software were absorbed around 1995, and Blackbaud's client base more than doubled at that time.
Appointed CEO in 2000, Robert Sywolski led the company to its initial public offering in 2004. Sixteen months later, Marc Chardon replaced Sywolski. Under this new management, Blackbaud proceeded with additional purchases: Campagne Associates (2006), Target Software (2007), Target Analysis Group (2007), eTapestry (2007), Kintera (2008) and finally Convio (2012).
When Michael Gianoni took over the CEO role in November 2013, he pursued the acquisition tradition established by its predecessor. Blackbaud bought MicroEdge, a software provider to foundations with 2,000 customers, in 2014 for $160 million. The South Carolina company purchased WhippleHill for $35 million the same year. WhippleHill specializes in cloud-based programs for K-12 private schools. In 2015, it bought Smart Tuition, a payment software provider for private schools and parents, for $190 million.
The year 2017 was another big one for Blackbaud with two critical acquisitions. In April, Blackbaud bought AcademicWorks, an award management software that provides a single platform to apply to multiple scholarships simultaneously. In October, it purchased JustGiving, a London-based online social platform for giving, for £95 million (or 127 million). Blackbaud also acquired other companies outside of the fundraising CRM sphere. In April 2018, it bought Reeher, a predictive modelling platform for colleges and universities. It came back to its fundraising roots with the purchase of YourCause, which specialized in increasing corporate giving and volunteering for nonprofits.
Blackbaud's Position in the Education Market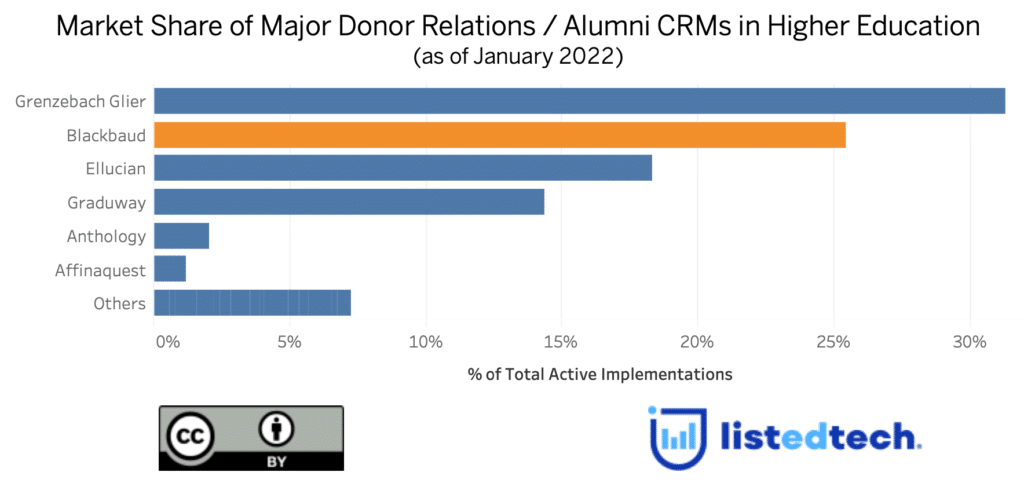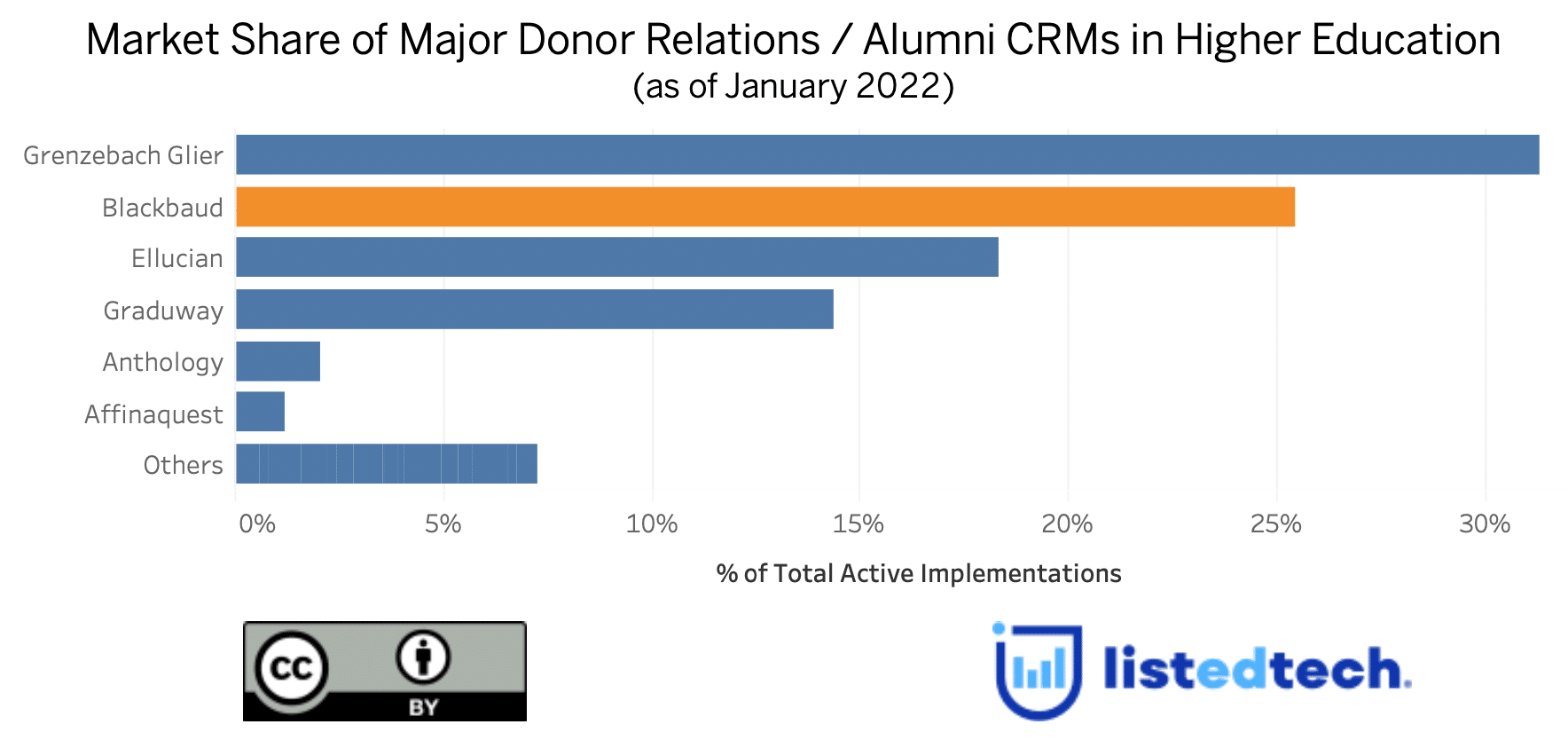 When looking at the LISTedTECH database, we notice that Blackbaud is vigorously implemented in the Customer Relationship Management business, with more than 12 products in this category. The company owes its success because of its donor relations/alumni CRMs. As mentioned earlier, Raiser's Edge is the most known product of the company and Blackbaud's CRMs represent a total market share of about 25%. However, despite its envious second position in this CRM subcategory, it faces solid competition from Grenzebach Glier and Ellucian.
In addition to its multiple CRM systems, Blackbaud also has a few products in Financial Aid systems, Financial systems and Grants. AcademicWorks Scholarship Management solution has 8% of the market shares for the Financial Aid category worldwide, and Blackbaud Award Management has 3%. When we look at the enrolment progression, these two products are in an excellent position as they are gaining new clients since 2015 and have a combined total enrolment of almost 3 million students (or nearly 15%) of the entire product category.
What Everfi Brings to the Table?
Everfi and Blackbaud share similar interests in social impact and community engagement. But this is probably not the reason why Everfi interested Blackbaud. In fact, by acquiring Everfi, Blackbaud doubles its total addressable market to more than $20 billion, with more than half in the corporate sector. This purchase will also create an additional influx of revenues of $120 million in 2022 for Blackbaud, giving the acquirer the possibility of achieving one of its long-term revenue growth objectives. The financial benefits of such an acquisition, as well as the virtual absence of customer overlap, gives both companies the possibility of cross-selling or upselling. Everfi is highly present in the K-12 public school space, while most Blackbaud's clients are K-12 private schools and HigherEd institutions.
While still being committed to serving the social good community, Blackbaud is ready to expand outside of its traditional markets of customer relationship management, grant systems and financial aid. It may use the knowledge that came from the purchase of Everfi to develop a new series of products surrounding online learning and community engagement. As mentioned in the press release announcing the acquisition of Everfi, "[t]hrough its technology and learning platform, EVERFI has reached more than 45 million learners globally, in addition to delivering critical insight to its corporate partners so they can measure and amplify the impact of the educational programs they are driving in support of their environmental, social and governance (ESG) and corporate social responsibility (CSR) goals." While keeping its social good community at heart, Blackbaud may take a step into the corporate world.