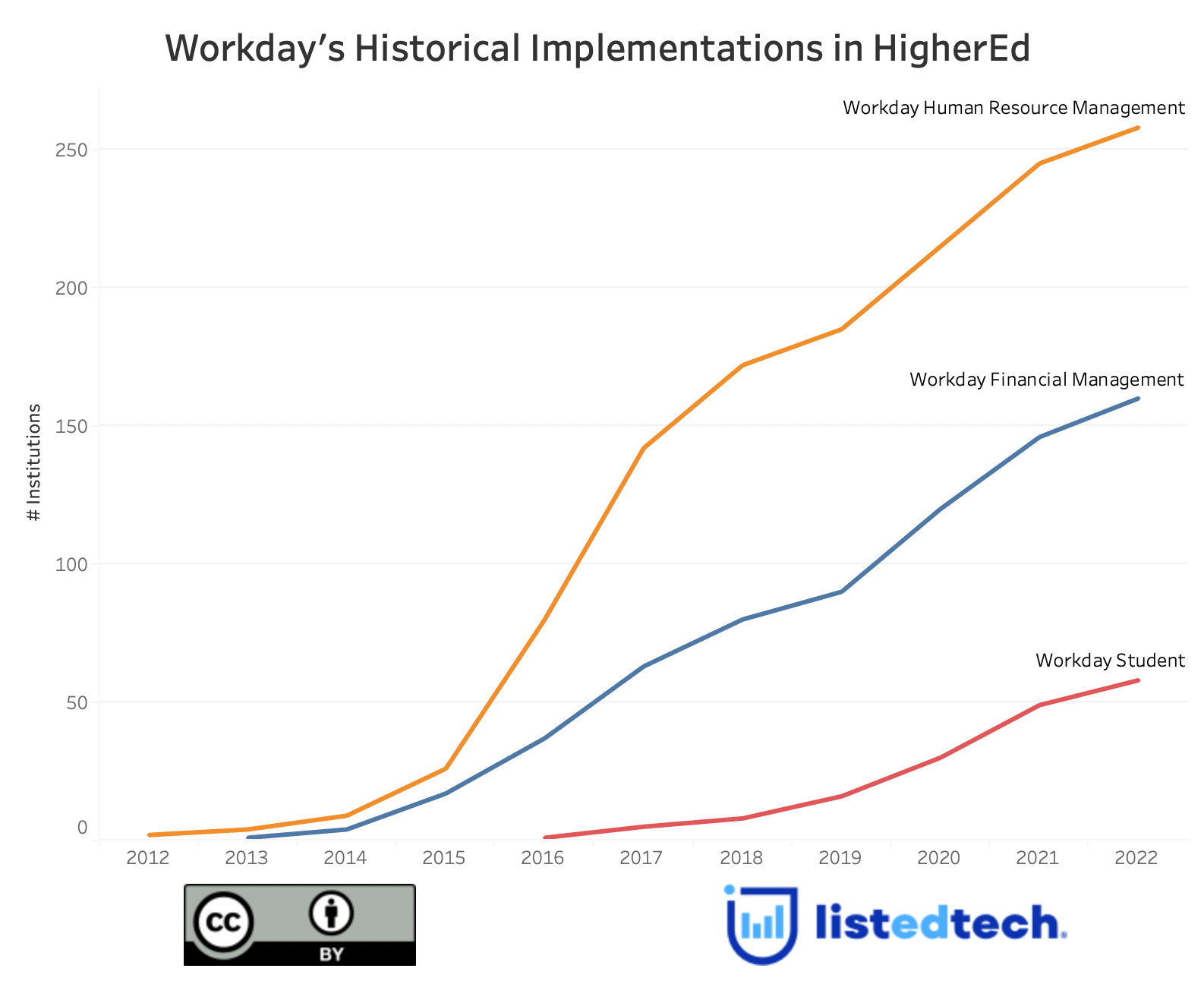 Workday entered the education world about a decade ago. The offering of its HR Management and Financial Management solutions went without saying, but Workday positioned itself in the education world when it launched Workday Student in 2016.
Ex-PeopleSoft Employees Founded a New Company
Workday was founded in March 2005 following the acquisition of PeopleSoft by Oracle. The inception of Workday is a direct response to this acquisition. David Duffield and Aneel Bhusri founded the cloud-based financial, human capital and SIS company, and not only was Duffield an employee of PeopleSoft, but he also founded the company in 1987.
In November 2006, Workday announced the launch of its first application: Workday Human Capital Management. Less than a year later, in August 2007, the company released the beta version of its Financial Management solution.
In September 2009, it hit the 100-customer mark with clients spread across 46 countries. At the time, Workday did not target the education market.
In October 2012, Workday went public under the Nasdaq symbol WDAY. Between 2012 and now (September 2022), the stock value went from $55 to almost $300 and is currently traded at around $160.
Workday announced, in September 2013, its intention to build Workday Student, "a campus in the cloud." In May 2014, Workday launched another product: Workday Recruiting. On its ten-year anniversary, Workday had 1,000 customers and more than 3,700 employees worldwide.
Workday decided to expand its outreach globally by opening a European headquarters in Dublin (Ireland) in October 2015 and an office in Johannesburg (South Africa) in February 2018.
As of 2021, the company has 15,200 employees, generates revenue of more than $5B and is still a public company traded on Nasdaq.
Historical Acquisitions
Through several websites, we have compiled Workday's list of acquisitions since its inception. The most recent purchases are at the top.
| | | | |
| --- | --- | --- | --- |
| Dates | Company Acquired | Company Type | Notes |
| November 2021 | VNDLY | Workforce Management | Acquired for $510M |
| September 2021 | Zimit | Quotation Management | |
| January 2021 | Peakon | Employee Engagement | Acquired for $700M |
| November 2019 | Scout RFP | Online Procurement | Acquired for $540M |
| July 2019 | Trusted Key | Identity Management | |
| July 2018 | Stories.bi | Augmented Analytics | Czech company |
| June 2018 | Adaptive Insights | Business Planning | Acquired for $1.6B |
| June 2018 | Rallyteam | Talent Agility Platform | |
| January 2018 | SkipFlag | Machine Learning | |
| August 2017 | Pattern | Team Collaboration | |
| July 2016 | Platfora | Analytics | Acquired for approx. $200M |
| June 2016 | Zaption | Content Management | |
| October 2015 | Mediacore | Learning | Canadian company |
| July 2015 | Upshot | Talent Management | |
| April 2015 | Gridcraft | Planning | |
| February 2014 | Identified | Recruiting | |
| February 2008 | Cape Clear | Web Services Integration | Irish company |
Sources: Crunchbase.com; Tracxn.com
Workday Product Offering and Market Share
In ListEdTech's database, we track a total of eight products created or maintained by Workday and used in education:
Business Intelligence: Workday Analytics
Financial Aid: Workday Financial Aid
Financial Systems: Workday Financial Management
Grants – Financial ERP: Workday Grants Management
Human Resources: Workday Human Resource Management
EProcurement: Workday Procurement
SIS: Workday Student
CRM – Admissions: Workday Student Recruiting
Several acquisitions made by Workday between 2008 and today helped the company develop the different products it offers to its educational clientele.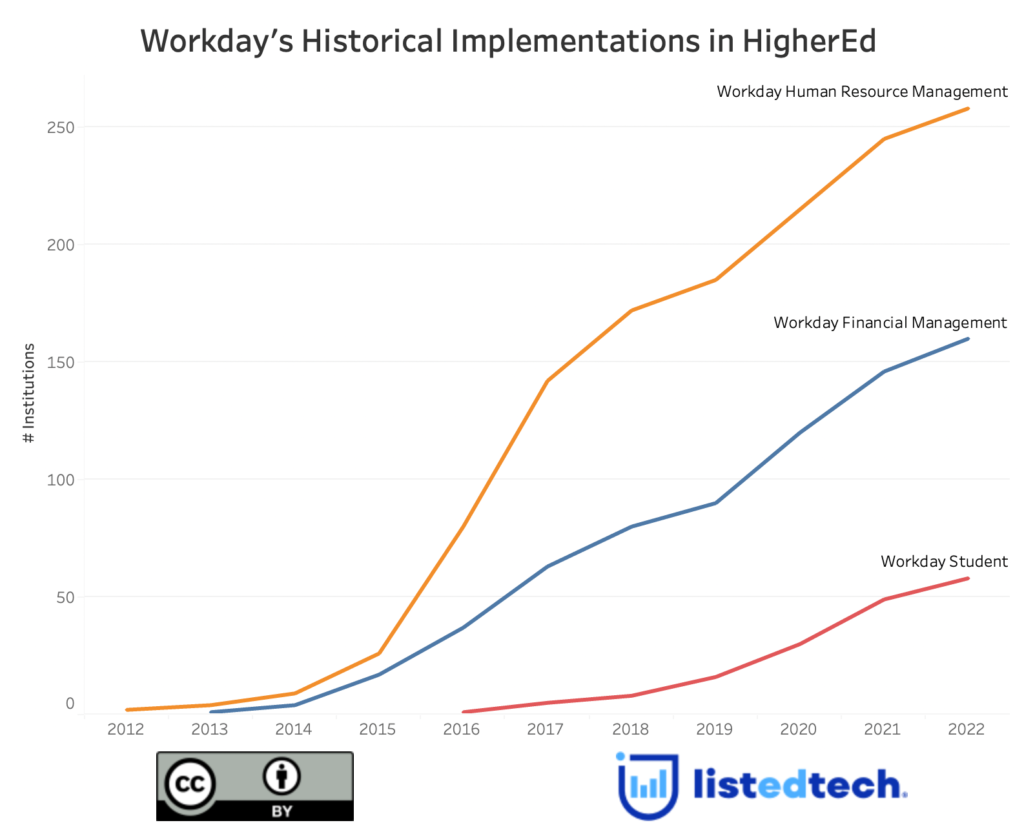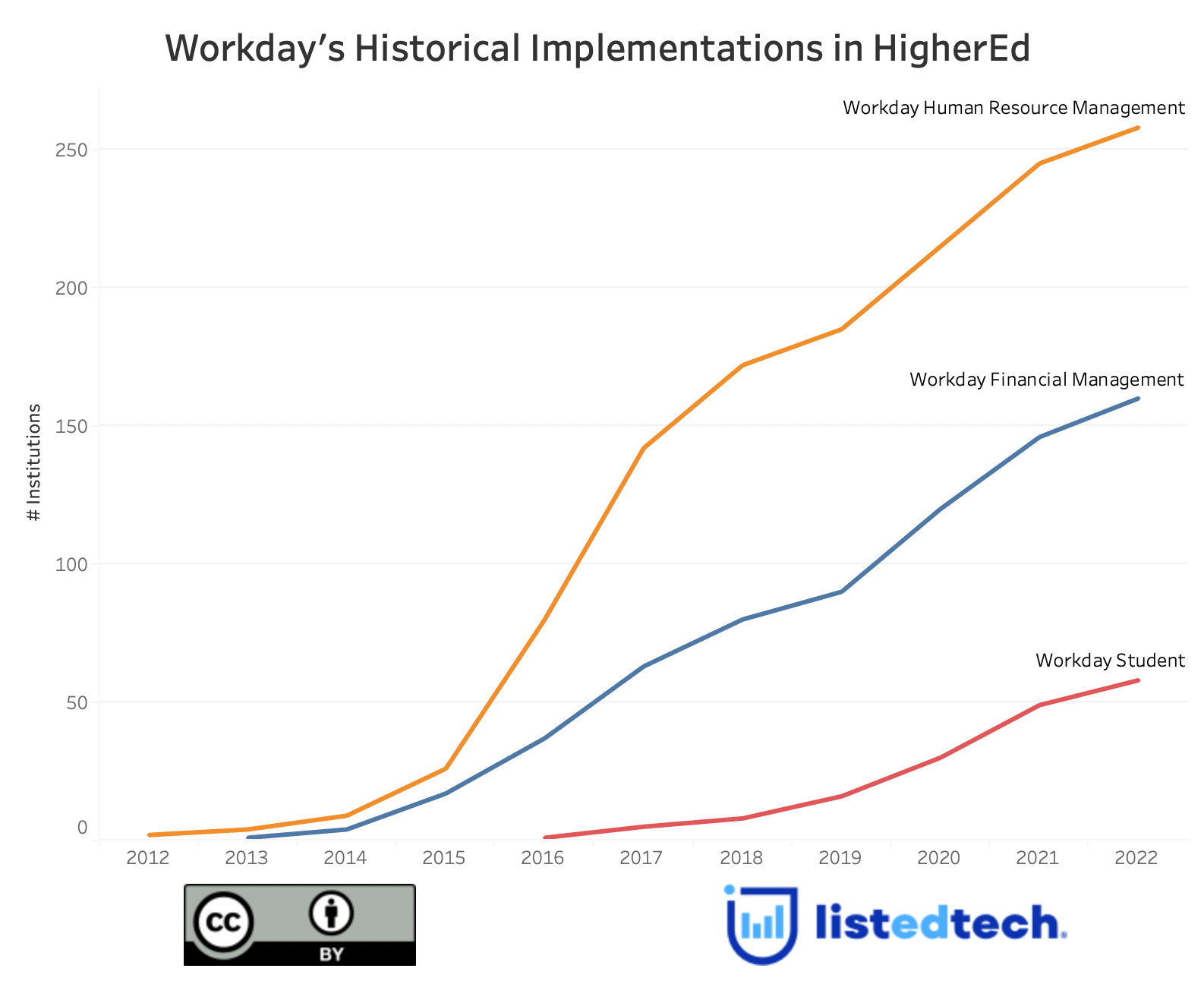 As shown in the (active) Historical Implementations graph above, Workday's growth rhythm is impressive, especially for its Human Resource Management product. As a company, Workday attracts more clients across larger (14,000+) institutions. Implementations go relatively smoothly for Human Resources and Financial Management solutions. However, we have seen a few stories about complications with the SIS implementations.
Workday Student in Difficulty
As we all know, student management differs from one institution to another. With complex higher administration, universities and colleges are unwilling to let go of their internalized structure and exception-based systems.
In February 2020, we wrote a post about a potentially growing market share for Workday Student. At the time, our findings showed that Workday Student could double its number of implementations within five years. Unfortunately for the company, some universities have decided not to implement Workday Student. It seems that, in this time of personalized content for everyone, universities want to offer the best individual experience for their students. Personalization comes with a hefty invoice and requires more time to implement the software if implementation happens.
We Have to Compare Apples with Apples
It's easy to affirm that Workday Student is going through a rough patch. But as with many people working in edtech companies and institutions, Workday is not the only company suffering from technology challenges and delays. Workday decided to develop an SIS from scratch less than a decade ago while many of its competitors have been around for more than 20 years. Maybe Workday only needs extra time to develop that full suite of exception-based SIS.