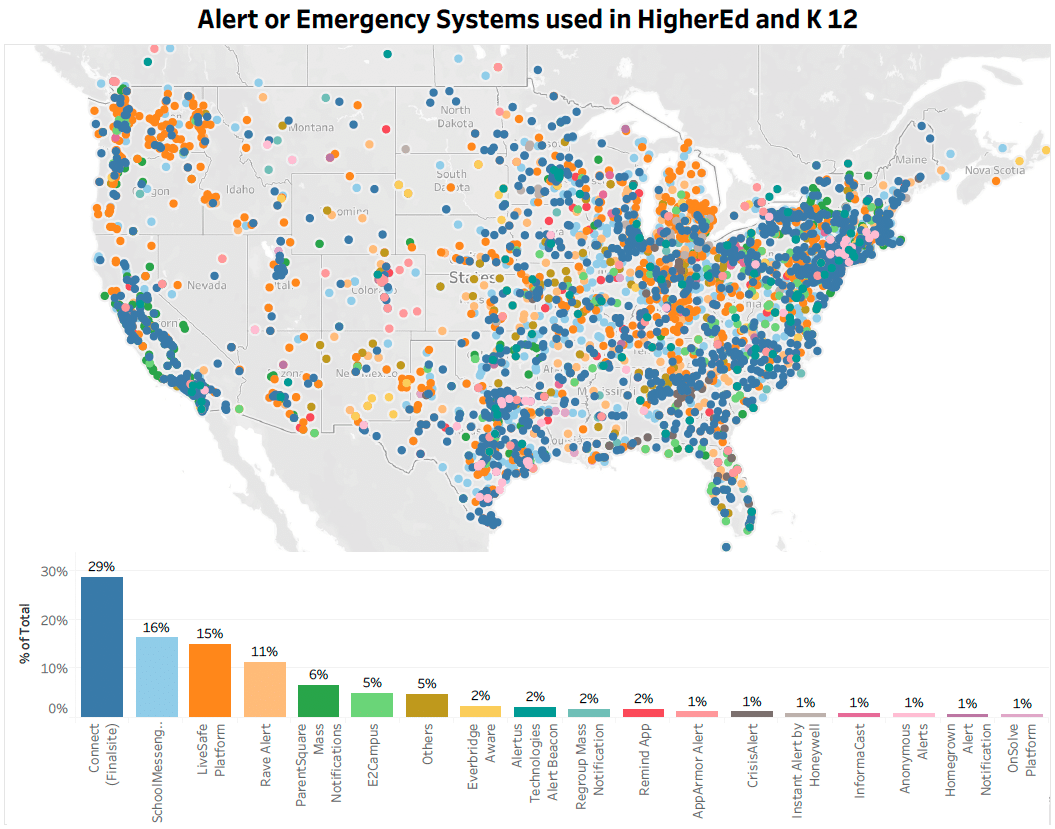 Alert Notification Systems (also called Emergency Notification Systems) help create a safer environment by efficiently communicating important time-sensitive information for on-campus or even city-wide events that can have various repercussions, whether from a systems-wide standpoint or an on-campus crisis.
These systems have been around for over forty years but have been implemented faster in education since the year 2000.
An Evolving Risk Landscape
Unfortunate events that have taken place on college campuses over recent years have demonstrated the criticality of adequate technologies and communication infrastructures to provide instantaneous alerts in the case of emergencies. It is reported that about 300 shooting incidents occurred on high school grounds in the US in 2022, while about 27,300 criminal incidents happened on US university campuses in 2019. If an emergency should occur on campus, Omnilert reports that 55% of students would not know what to do.
It is a risk landscape that is continuously evolving, forcing education providers to prepare appropriately for a diverse range of threats. Examples of these include disease outbreaks, violent protests, extreme weather conditions, cybersecurity breaches, active shooters, bomb threats, etc.
In all such instances, the rapid release of crucial information at the right time and in the right way can maximize safety and minimize (or prevent entirely) loss of life.
How do Alert Notification Systems Work?
Alert Notification Systems help create a safer environment for students and staff members. The system will inform them of any threat on the school perimeter with the help of the available technology. Nowadays, most software can communicate with recipients through mass SMS systems or directly via the app installed on students' smartphones. Other systems will also use the information stored in the student information systems (such as email addresses) to inform their constituents.
To inform students affected by a specific event (a power outage in a building) or to avoid widespread fear (in case of a more dangerous situation), some solutions can even geo-target recipients to ensure only those affected by a situation will be notified. The emergency notification systems can also work with other procedures or tools, such as emergency phones on campus or CCTV systems. Data published by Security Sales reveals that almost 75% of campuses use multiple emergency notification systems instead of a single unified early warning system.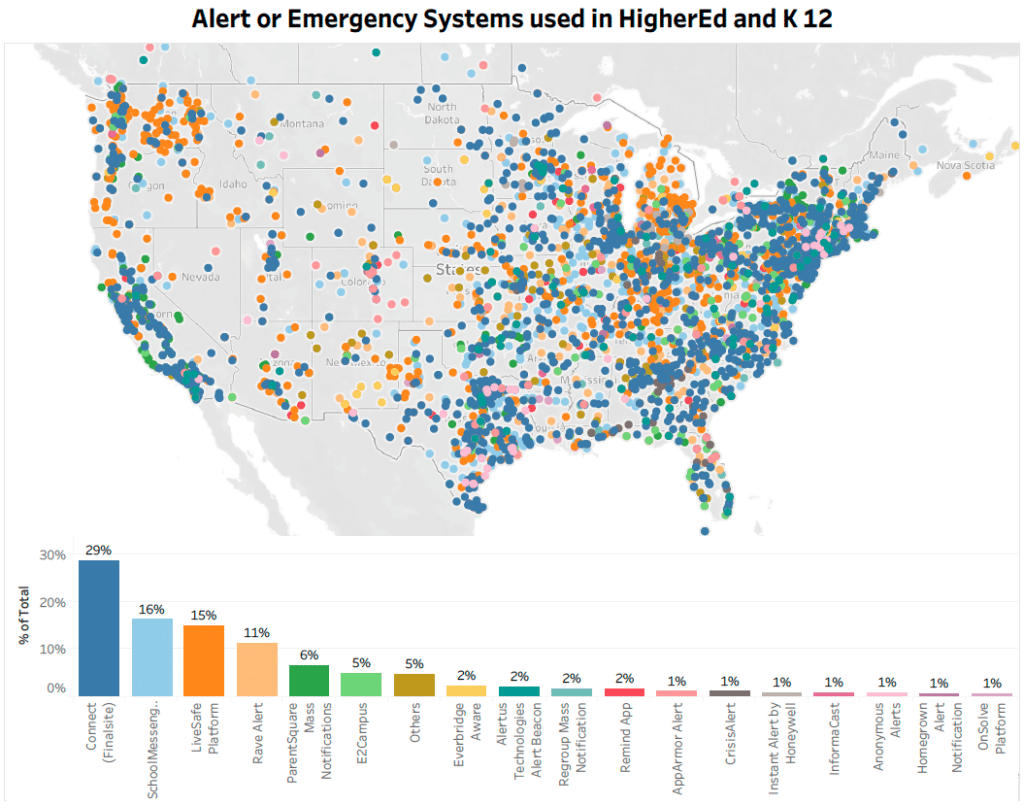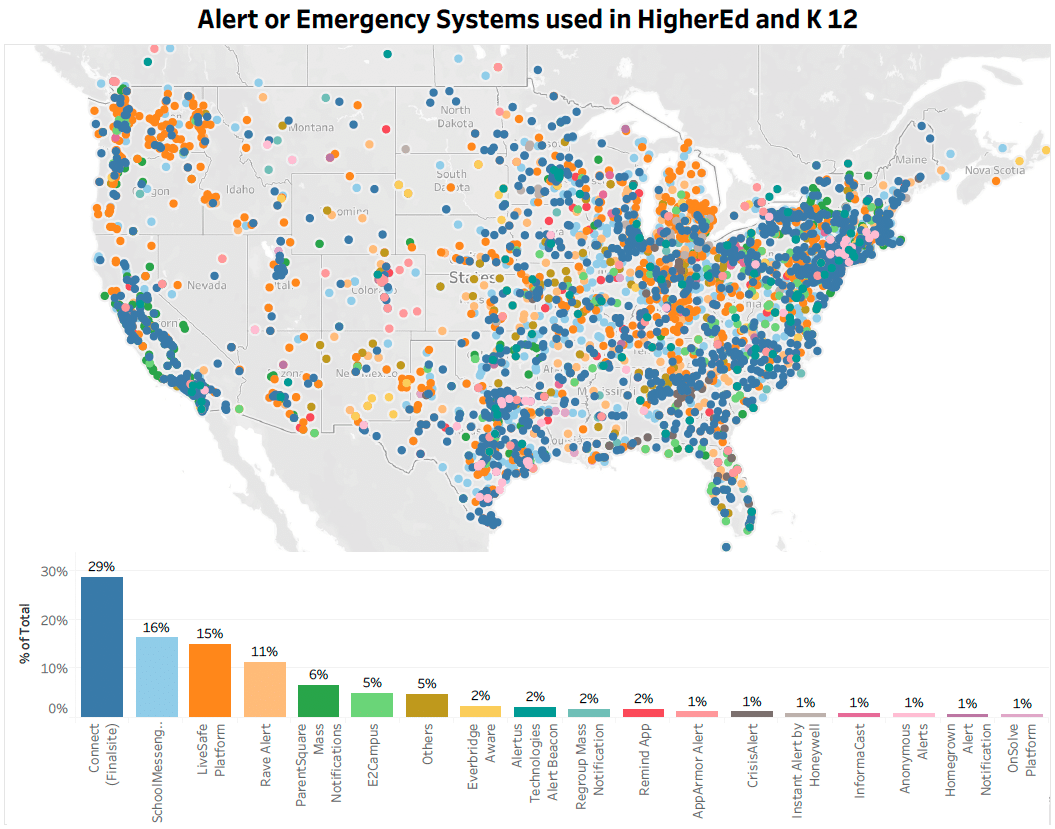 Who Needs an Emergency Notification System?
An Emergency Notification System is critical in any instance where urgent information needs to be passed to a large group of people at the same time at short notice to benefit their health and safety. This includes all educational environments and college campuses but also extends to healthcare facilities, businesses and others.
It is important to remember how the benefits of an effective mass notification system extend beyond warnings of events and emergencies that threaten life. Universities and colleges can use them to transmit messages to select recipients only, providing information on IT issues, schedule changes, etc.
An ENS can be a surprisingly versatile tool, especially if tailored to meet the specific needs of the organization or the institution in question.
Alert Notification System Solutions
Based on the ListedTech database, the alert notification systems implemented in North American institutions reached 40 million students in 2023 in comparison to 17 million ten years ago. As mentioned in other posts, our database does not have 100% of the market, but these numbers give you an idea of how much these solutions are present on campuses nowadays. While five companies (Finalsite Connect, SchoolMessenger, LiveSafe Platform, Rave Alert and ParentSquare) have 75% of the market shares, more than 60 solutions try to get a portion of the remaining 25%.
Unfortunate but Essential…
Where emergencies present themselves, the subsequent outcome will almost always be determined by the extent to which it was anticipated and prepared. Unfortunately, far too many education providers and businesses, in general, do not make adequate provisions for all possible eventualities.
An Alert Notification System for an institution is like any other mandatory insurance policy. You hope you will never have to use it but will be glad you have it if the need arises.
ListEdTech now sells reports for the Alert Notifications System product category. Get more in-depth knowledge on this product group. Two reports are available: K-12 and Higher Education. The reports offer market context and forecast, as well as the latest news, company acquisitions and product development information. Get yours today!