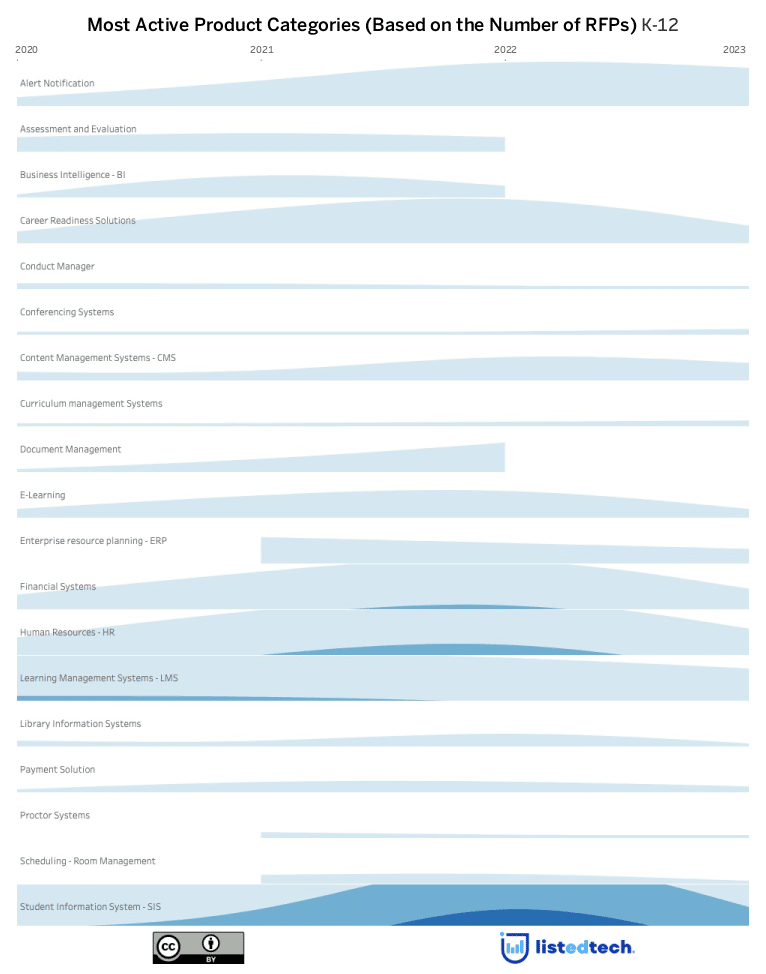 We know that some of our newsletter subscribers crave our RFP data. Considering it's been over six months since our last update on the "RFP Data – Market Priorities," we thought it would be a good time to see if early 2023 brought some new trends in the different product categories.
Since the first iteration of this post, we have continued to amass RFP data in Canada and the USA. We propose a new way of looking at the data with an approach similar to our product implementation peak graph.
Please remember that the RFP data does not represent most of the system implementations. It only accounts for about 25% of all implementations.
How to Interpret the Graphs
Before digging into the graph, some explanations are in order:
The graphs show a succession of layers representing the number of RFPs for each product category between 2020 and 2023.
If the peak of a product category surpasses the height of the graph bar, it is represented by a darker colour at the bottom of that bar.
We need to remember that the numbers for the year 2023 are for five months only and, therefore, cannot be compared directly to the other years.
Higher Education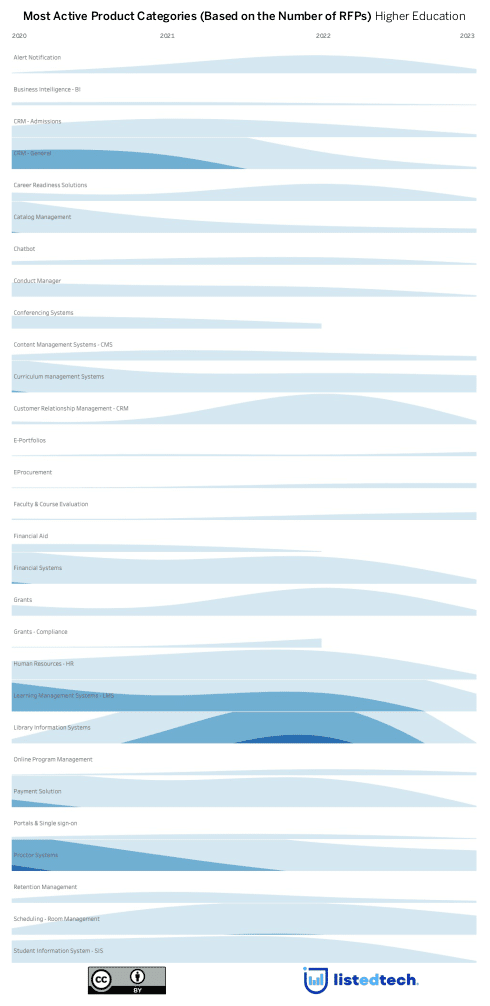 For the HigherEd market, the most active product category is Library Information Systems (three layers), followed by Learning Management Systems (two layers). We can see that the Proctor group, which has been implemented a lot during the early pandemic, has slowed down a lot: from three layers in 2020 to one layer in 2022. This being said it is still more active than Financial Aid, Portals or Online Program Management, for instance. In summary, universities and colleges launched more RFPs for the following categories in 2022 compared to the three previous years: Alert Notification Systems, Career Readiness Solutions, Customer Relationship Management – CRM, Grants and HR. However, CRM – Admissions, Catalog Management, Conduct Manager, Conferencing Systems and Curriculum Management Systems are not seeing as much activity in the past year and a half compared to 2020 and 2021.
K-12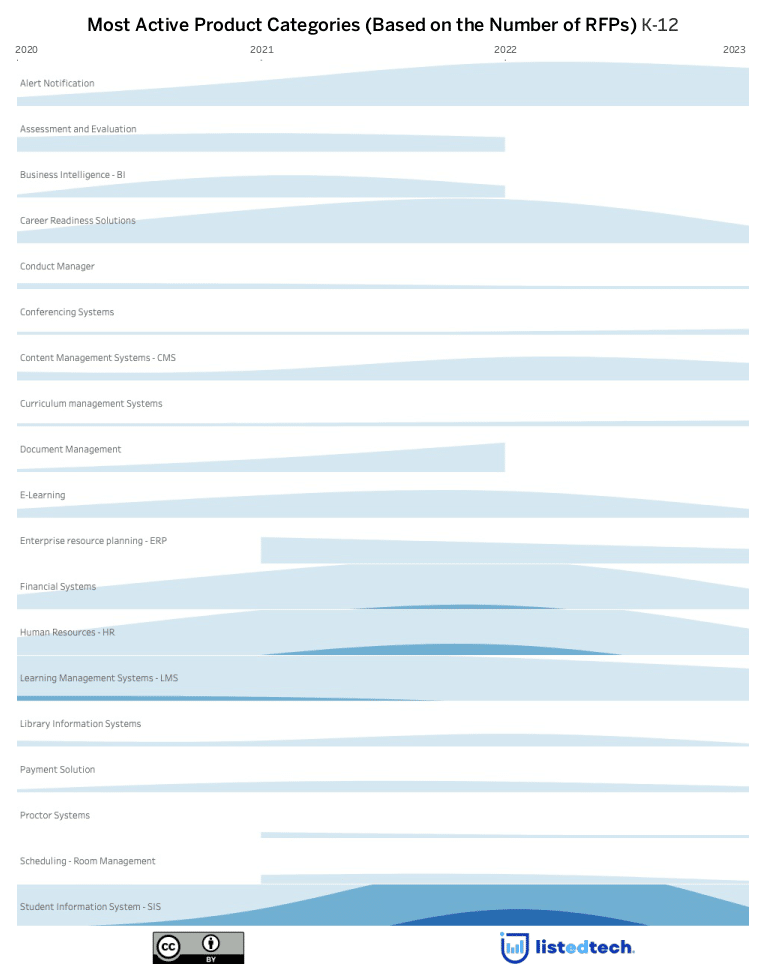 The K-12 market does not see the same level of activity in many product categories. Student Information Systems, Human Resources, and Financial Systems are the most active product groups when it comes to requests for proposals among school districts in North America. The Learning Management System group, although less active if we compare it to 2020, is steady and might even equal or surpass RFPs in 2023 compared to 2022. The Alert Notification System category is another one where we have seen a lot of RFPs over the years. RFPs for Content Management Systems are in a larger number compared to the last three-year trend.
When comparing HigherEd and K-12, we notice that many product groups don't have any RFPs for the K-12 market. As mentioned in a previous post, RFPs are not common in school district administration, and IT decisions are often taken at the state or provincial level. This way of proceeding has an impact on the number of RFPs.
IT executives, do you have any thoughts on these numbers? Do they reflect the reality you observe in your state or province? Feel free to share your thoughts on our social media platforms @listedtech.