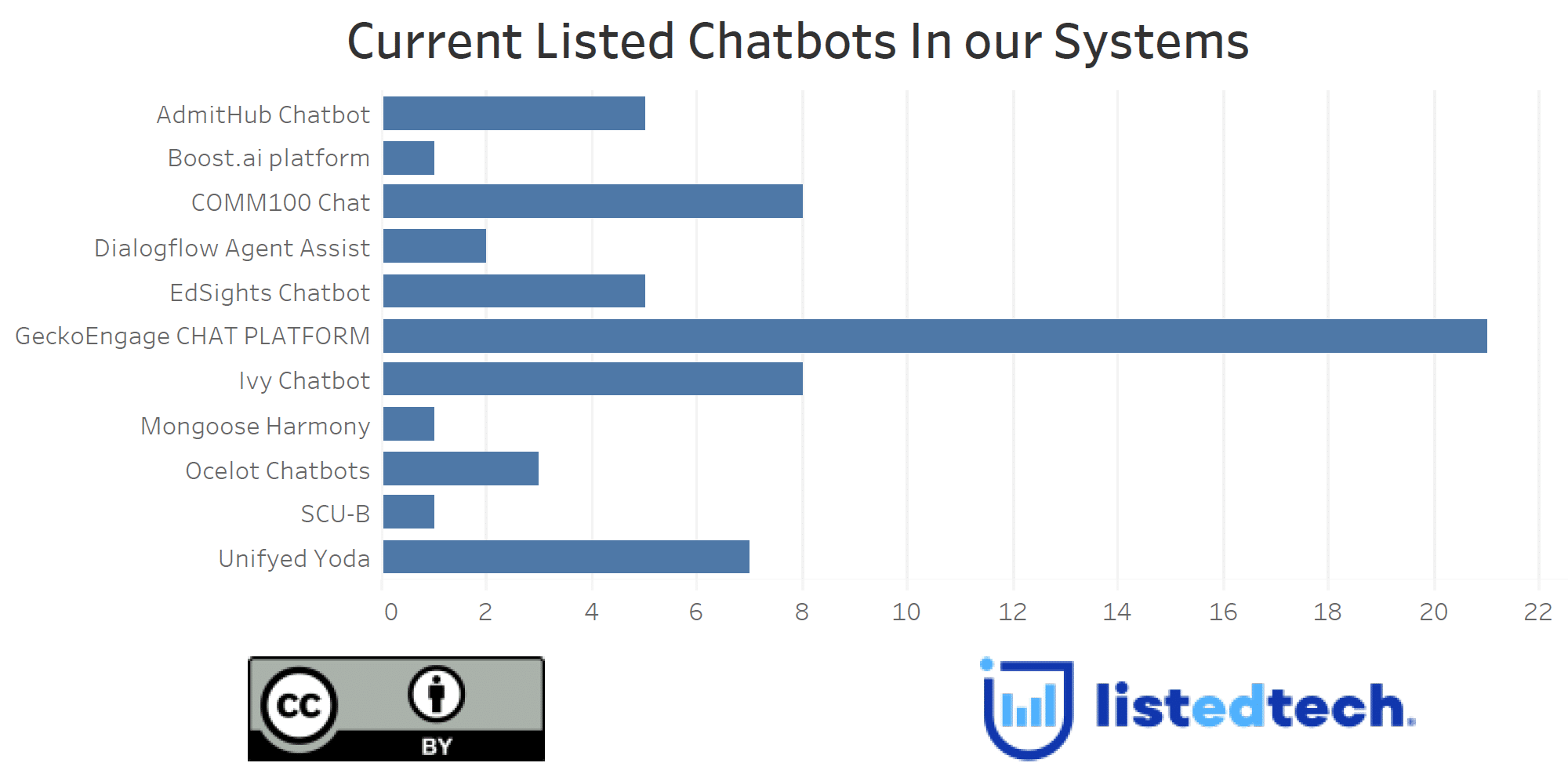 Many changes have occurred in the chatbot product category since we first talked about these systems in September 2019. Chatbot systems use has considerably increased, and its usage across HigherEd institutions has widened. Let's revisit this product category with recent numbers and technology development.
Description of Chatbot Systems
Used as a complementary tool to support HigherEd institutions' software, chatbot technology has been introduced to answer students' fast-paced needs. Nowadays, students, like other customers, want answers to their questions faster than what regular customer service can offer. Used in many different settings, chatbots simulate a conversation with the user. While some systems are designed with artificial intelligence to comprehend new requests from users (intelligent chatbots), other systems are automated answers that source their information from a knowledge base (simple chatbots).
At first, the system will receive the request from the user (visitor), analyze it, determine the context to finally compose its answer. The two most important steps are identifying the context and extracting the correct information from the user's request. Let's use the question "What is my balance?" to explain this importance.
If applicants ask this question, the answer resides within the application system and will refer to application fees.
Suppose current students ask this question after their enrollment. In that case, the chatbot will connect to the student financial system to consult the tuition fee schedule and the student's balance to answer this specific question.
How Are They Used in Higher Education?
In the case of HigherEd institutions, chatbots are used in the context of responding to queries and helping students navigate mainly through the processes of admission and enrollment. Many institutions explicitly use a chatbot during peak periods around admission and enrollment deadlines. These specific timeframes see an increased number of requests of similar nature, especially from incoming students. While chatbot systems answer most of the generic questions, university and college employees can focus their energy on difficult student files that require human intervention.
This technology has been in use since 2017 in postsecondary institutions and its use is growing exponentially. From less than 2% in 2017, virtual assistants dealt with more than 25% of customer service and support operations requests in 2021. This is no wonder as chatbots are available 24/7 providing swift answers for students around the world; a natural evolution of a static Q&A system. After all, students don't have to read extended paragraphs of answers to find the pertinent one to their situation.
This system is not only increasing student engagement and satisfaction, it is also gathering large amounts of data on incoming and returning students' inquiries that can improve future replies to this population.
Who Implements These Systems?
Based on our research and the data we collected, chatbot systems are mainly used by large institutions that receive thousands of applications. These systems can also be used by smaller institutions that get a high percentage of international applicants. International applicants are most likely to send the same questions as their compatriots.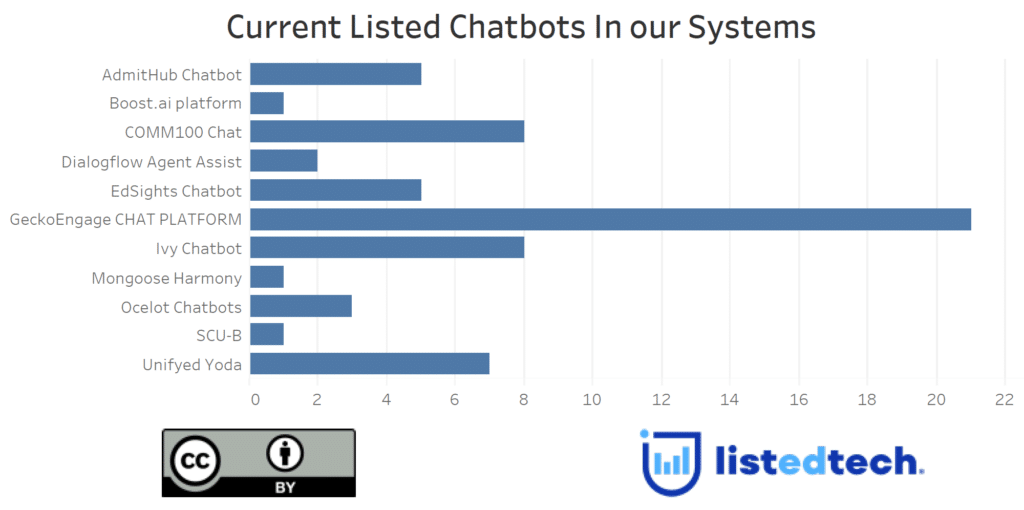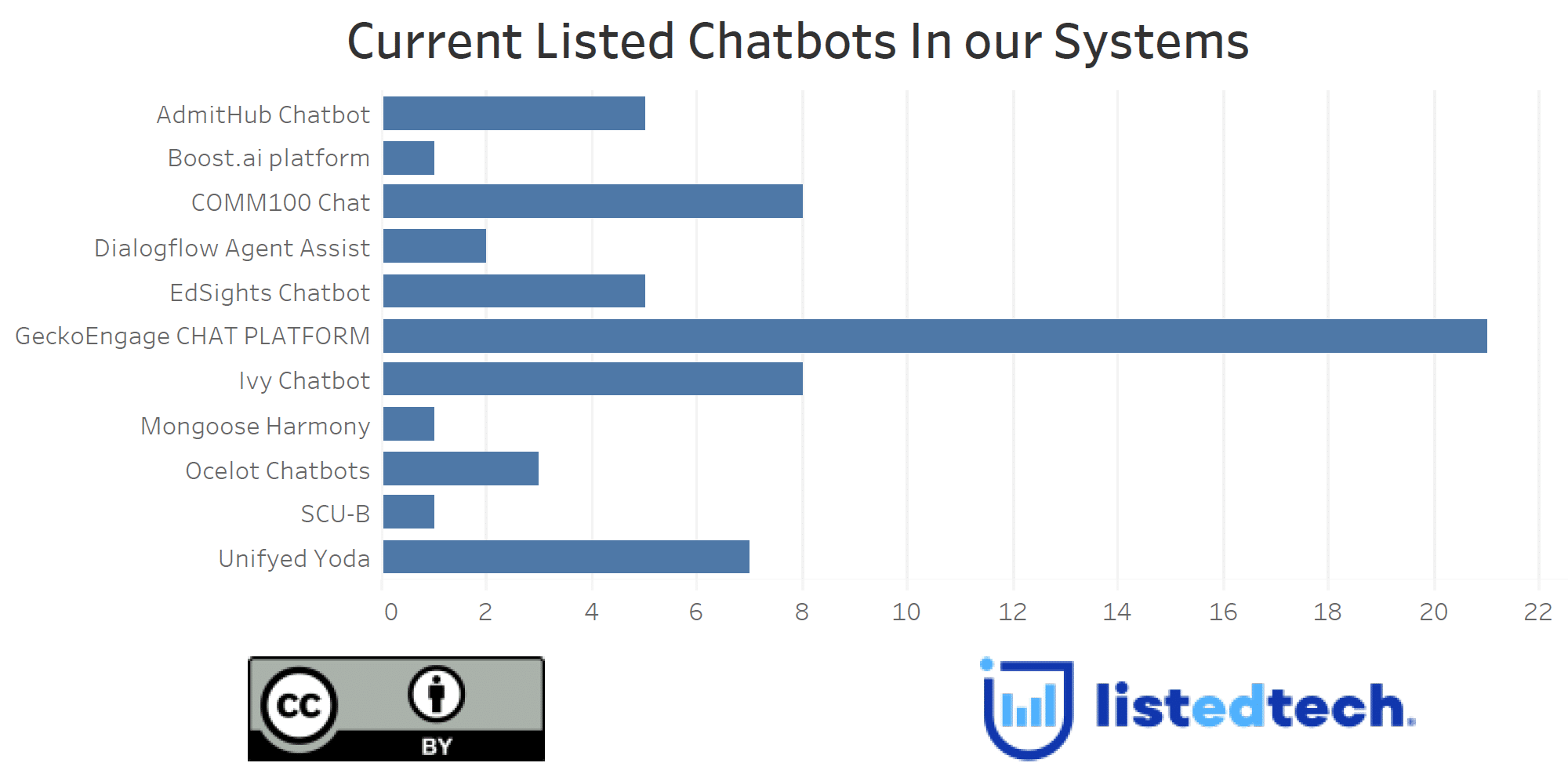 We consider our data to be preliminary and it is not an indication of the market share. However, we think that GeckoEngage is one of the leaders of this product category as well as COMM100, Ivy.ai and Unified Yoda. Most chatbot solutions integrate with CRM systems, but they all have their pros and cons for implementation and maintenance. As we continue to acquire more data on this product category, we will see if our initial findings remain constant.
Are you using a chatbot system in your institution or organization? While implementing, did you consider other solutions than the ones listed in the graph? Comment on LinkedIn and Twitter using the @listedtech or #listedtech.