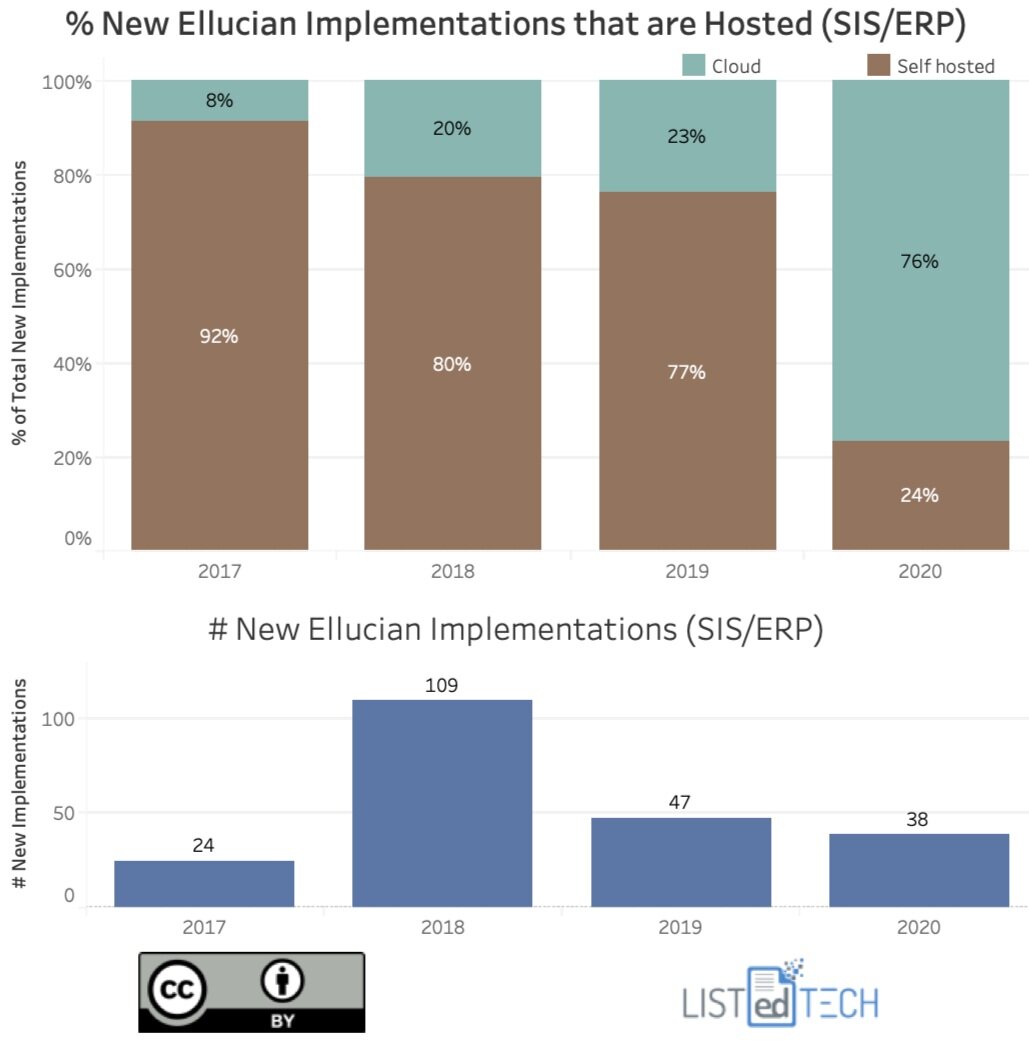 Ellucian had their yearly conference Ellucian live 2021 last week. During the event, we saw several announcements about their cloud implementations. At LISTedTECH, we like to use this type of affirmations to help validate our data. We decided to use this occasion to share it.
As a general rule, we are able to gather 80% of the data over the years. The missing 20% is often behind firewalls, in portals or just not public. This is reflected when we compare actual numbers as you will see below.
New Ellucian implementations are mostly cloud ones
In a press release during the event, Elucian announced that "two-thirds of Ellucian customers with new implementations moved to the cloud in 2020—which is double the rate of 2019." To analyze this statistic, we looked at the past four years of implementations for Ellucian.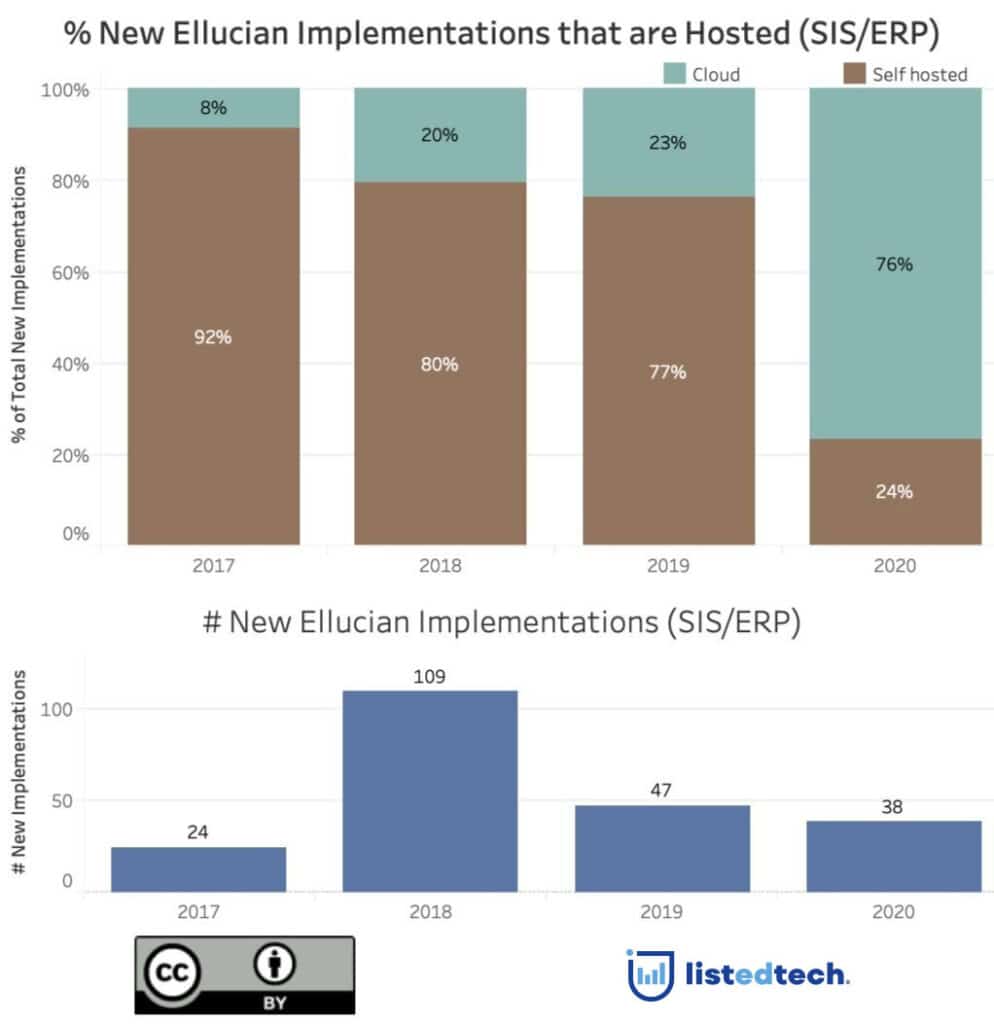 We can see that Ellucian's numbers match our numbers. It was also true that cloud implementations doubled between 2017 and 2018, but in terms of absolute numbers, the number of new implementations are slowing down.
Ellucian hit 500 cloud implementations
In the same press release, Ellucian mentioned that nearly 500 Higher Education institutions have their ERP/SIS Ellucian systems in the cloud. As you can see in the graph below, we believe that their affirmation is true (390 x 20%), but they didn't mention the 1800 on-premise implementations which still represent the majority of their active implementations.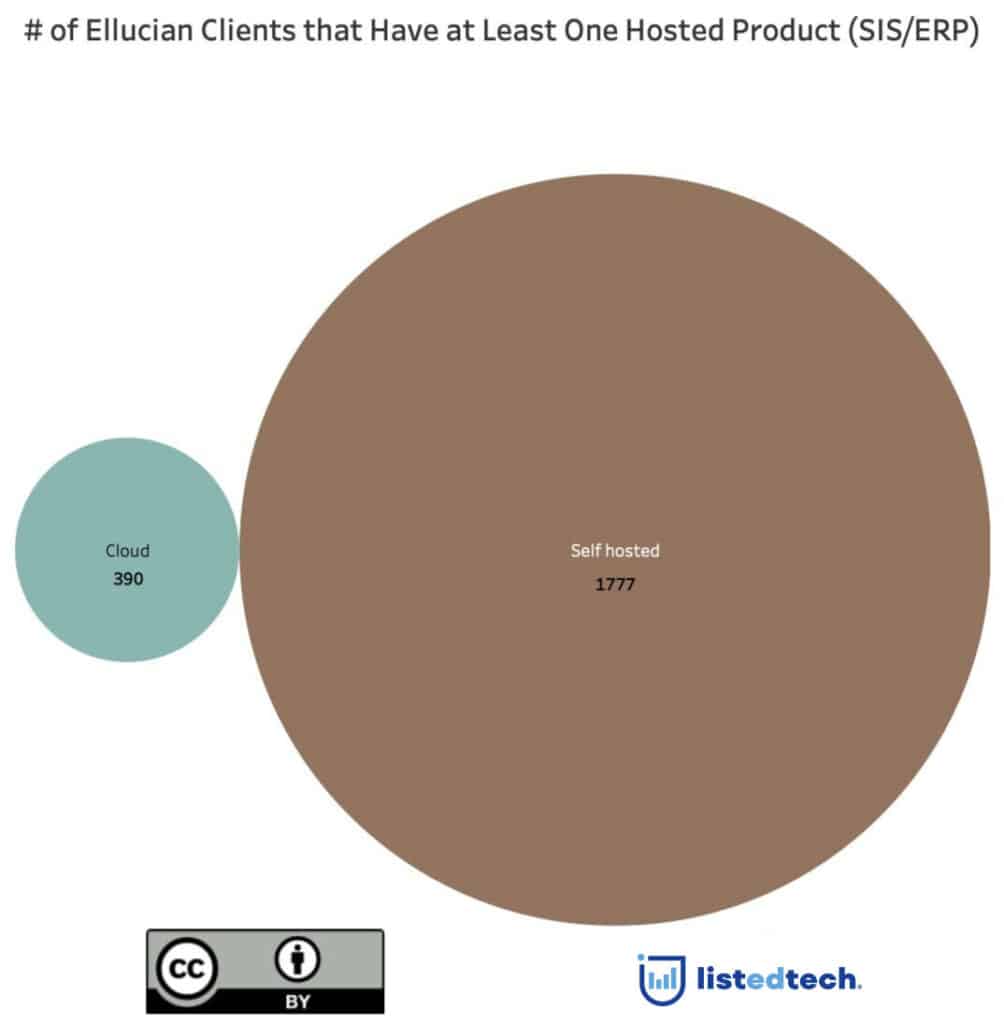 1100 Ellucian clients are now in the cloud
With these new cloud implementations, more than 1,100 Ellucian clients are now in the cloud. Laura Ipsen, President and CEO of Ellucian states that "[t]he pandemic did not create this need but has been a clear accelerant especially as more than 160 million students moved online globally."
We will, of course, be able to make a better analysis of this trend once the pandemic is behind us, but we are wondering if cloud implementations will continue in an upward motion or will on-premise implementations make a return?
Also, to properly analyze this trend, we need to look at all systems: not just the ERP/SIS. Since we don't track cloud implementations for these systems (Financial Aid, Portals, Document Management, Degree Audit, etc.), we are unable to validate these numbers thoroughly.