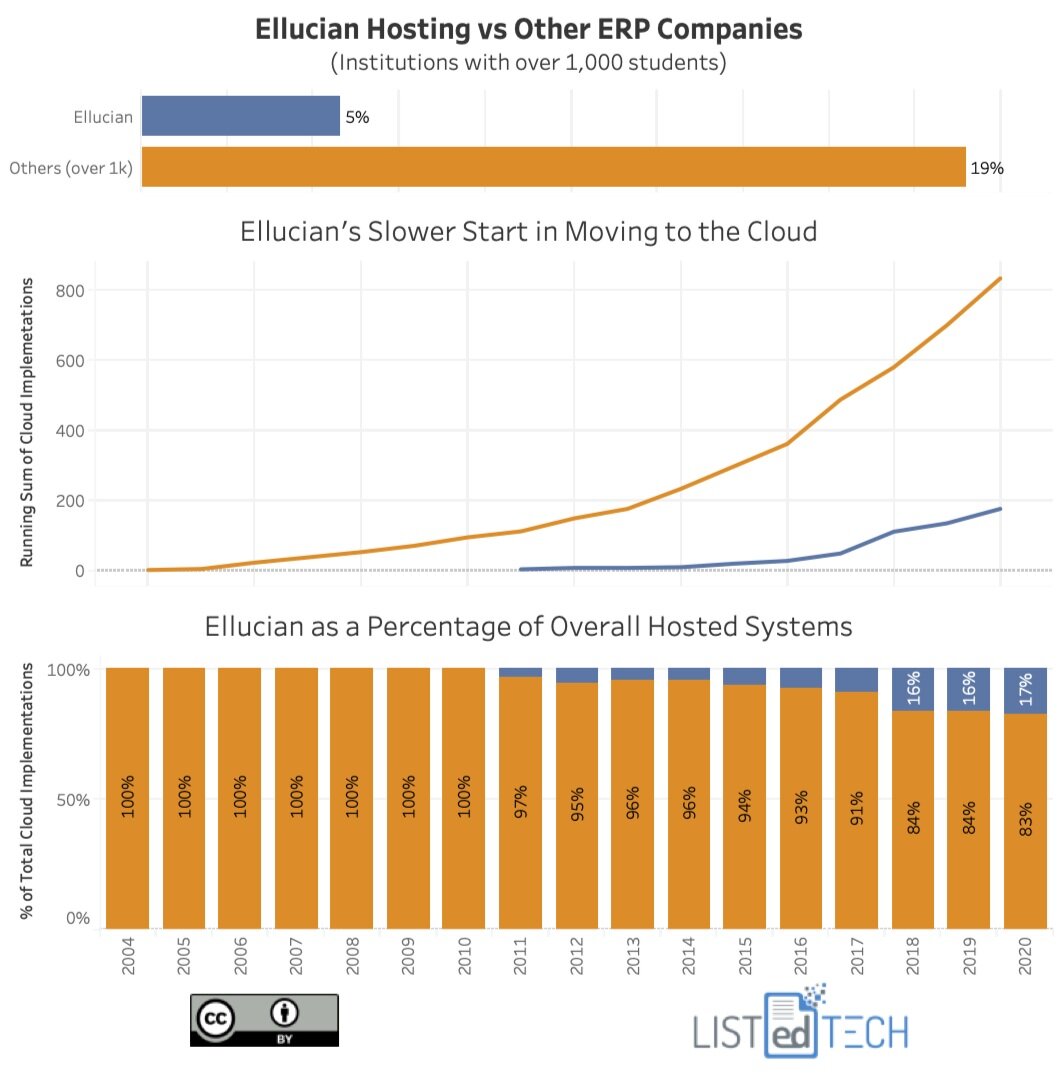 For this second monthly company profile, we look at the biggest ERP company in HigherEd, Ellucian. Formed after the merger of SunGard and Datatel in 2011-2012, this company is essentially known for three products: Banner (SunGard), Colleague (Datatel) and PowerCampus (SunGard).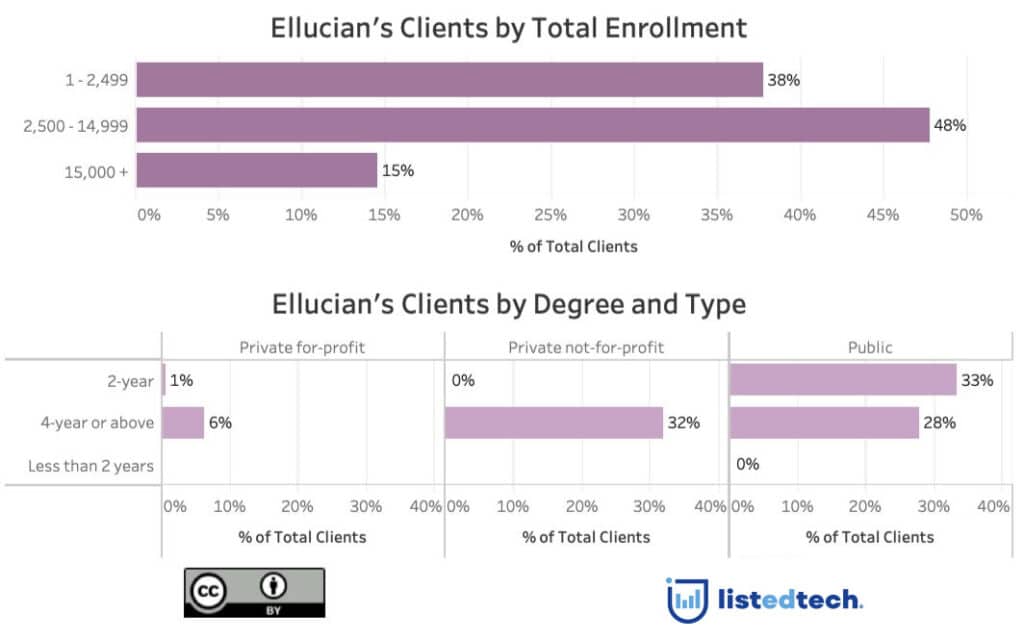 As we can see in the client graphs above and below, Ellucian gets most of its 2,700 clients from public institutions that have less than 15,000 FTE students. While most of its clients are in North America (mainly United States of America), we can find universities using its products in more than 50 countries located in South America, Europe (mostly United Kingdom), Middle East and around the world.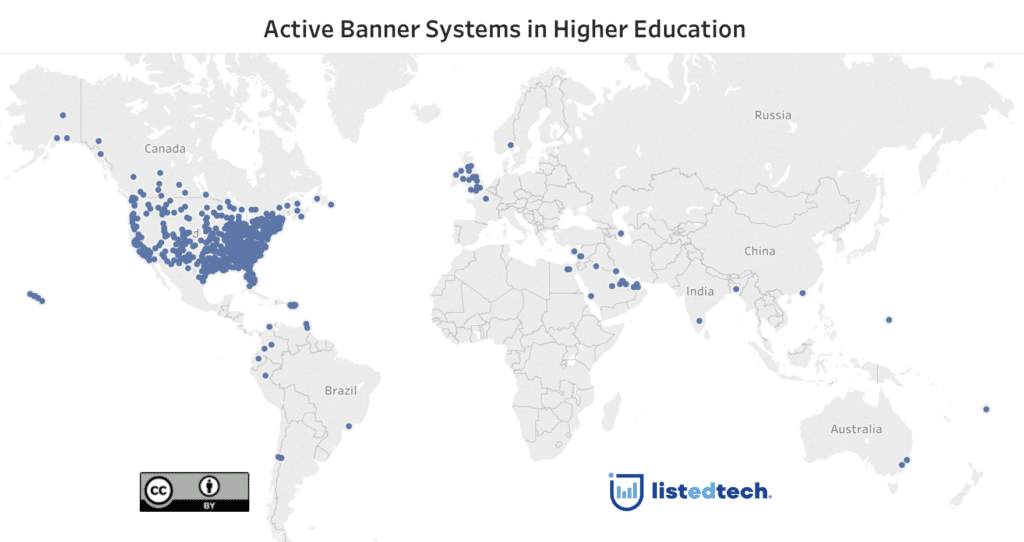 Up to 2011, the two massive ERP precursors of Ellucian were competing against each other and had a different approach to their growth. For SunGard, it was a matter of acquisitions. Between 1990 and 2010, the company bought over 150 different companies: Infinity Financial Technology (1997), Oshap Technologies (1999), Comdisco (2001), and SCT (2004) to name a few.

On its side, Datatel followed a more conventional growth path: it built its reputation by creating innovative products that attracted more clients. After more than a decade of building systems, Datatal signed its first HigherEd client in 1979 (Willamette University, a private university in Oregon). The same year, a first version of Colleague was in the works. By 1989, it signed its 100th Colleague client. The company continued to steadily grow until 2009 when it was acquired by Hellman & Friedman. In 2012, the merger with SunGard was finalized.
Despite the merger and the need to remain innovative, several data analysts noticed that Ellucian was late in the game of cloud implementations, especially when we compare it to other ERP companies. To add to the burden, it started cloud implementations about a decade after some of its competitors. In December 2020, Ellucian currently only has 5% of its clients in the cloud compared to the average 19% for the other firms in this product category (implementations over 1,000 FTE). But, on the bright side, the company is really catching up; over the past three years, Ellucian cloud implementations represent 17% of total cloud-hosted systems, compared to 6% just five years ago.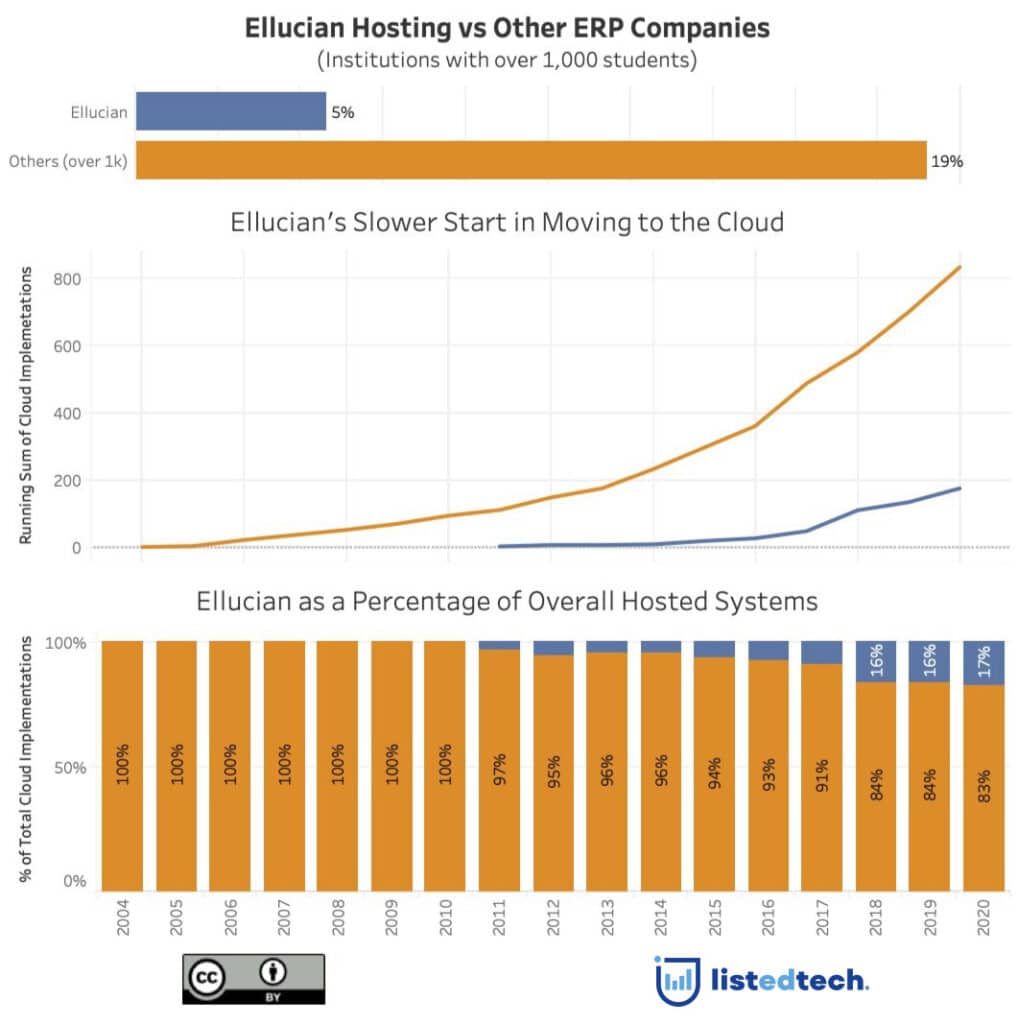 When looking back at the merger, we see that SunGard brought knowledge and expertise in security, network infrastructure, and clientele in the financial service industry while Datatel came in the deal offering what seems like a stronger client base in education and better financial health via its owner, Hellman & Friedman. At the time of the acquisition, SunGard had more than 8B USD in debts. Since the merger, the company was acquired by TPG Capital and Leonard Green and Partners in 2015. For the past year or so, the two private equity firms are looking to sell their ERP company. With the current volatility of the stock market, the question remains: who is strong enough to acquire this company and continue to grow the company while offering the services to HigherEd institutions?