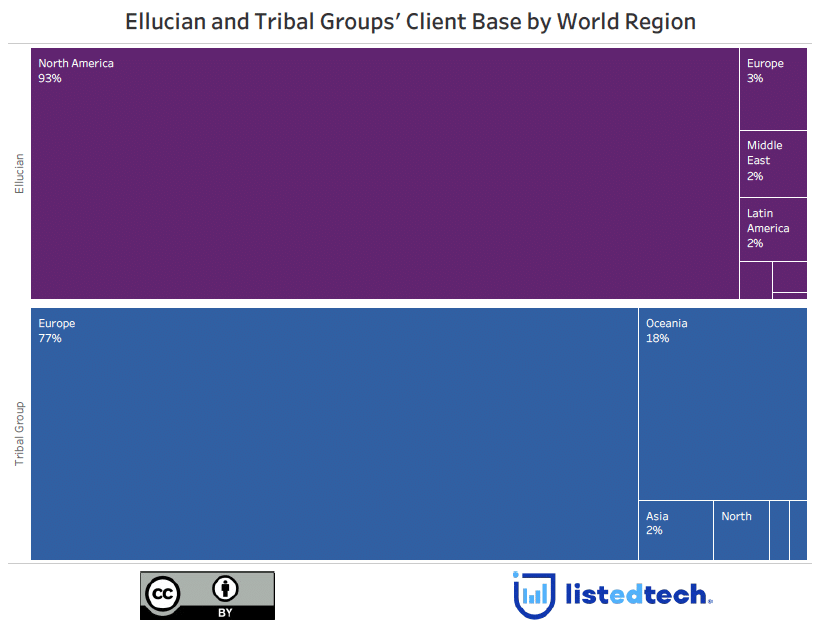 When Ellucian announced the acquisition of Tribal Group on October 5th, I wondered what this could mean for the Virginia company. Ellucian is known for its three suits of products (Banner, Colleague, and PowerCampus), and Tribal Group is also active in ERP and CRM product categories, the two companies thus being a better fit than it seems.
Similar Clientele, Different Continents
At first, what distinguishes Tribal from Ellucian is its client base. Tribal Group's clients are European (77%) and Oceanian (18%). Ellucian is primarily implemented in North American institutions (93%). The overlap of clients is almost inexistent, and with this purchase, Ellucian adds approximately 10% of new clients. This transaction allows Ellucian to diversify its client composition in just a few weeks.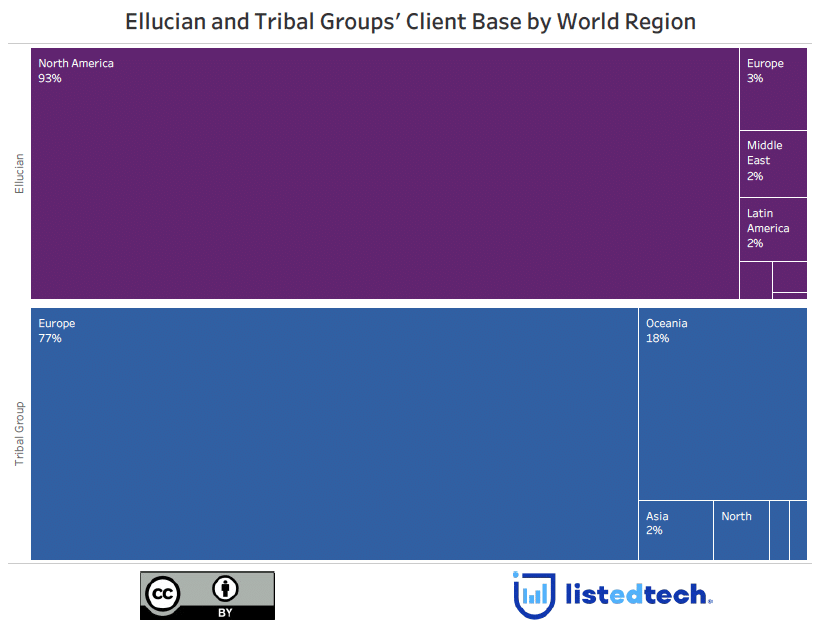 "The combination of Ellucian and Tribal will create a sophisticated international provider of innovative technologies for tertiary education across North America, Europe, South America, Asia, the Middle East and Africa," said Jeff Dinski, Chief Strategy and Corporate Development Officer, Ellucian. "Customers worldwide will benefit from an enhanced platform of modern solutions with deeper functionality, improved support services, and enhanced product development efforts."

Source: October 5th press release
This acquisition will likely halt the trend of recent years where Ellucian has been simply maintaining its market share. As mentioned in the Historical Evolution of the HigherEd SIS Market Share in September, Colleague and PowerCampus slowly decreased their share to Banner's advantage. Even though Tribal Group does not have a significant market share in North America and seeks similar clients to Ellucian, this transaction will help gain more clients internationally.

If the purchase is approved by authorities and Tribal Group's shareholders, the client base of the merged company will still mostly come from Ellucian's existing clientele. As previously mentioned, the reach on the international scale is the main reason for Ellucian to proceed with this acquisition. Ellucian has another reason to move forward with this purchase: Tribal Group's cloud expertise.
Tribal Group to Help Ellucian Going to the Cloud
In the press release, Laura Ipsen (Ellucian's CEO) also mentioned Tribal's transfer to the cloud [its SITS solution is offered as a cloud product and as an on-premises version] as one of the arguments in the acquisition. Indeed, the expertise developed by Tribal Group in the cloud will help Ellucian migrate more clients to its cloud services. "Ellucian believes that the research and development efforts of the combined business will lead to enhanced product innovation and a broader set of modern technology solutions for its customers and that together the businesses would provide improved product and support services to both sets of customers," mentions London Stock Exchange in the announcement of the recommended cash offer.
With a fourth product suite added to its solution offering, what strategy will Ellucian adopt to expand both on the North American market and internationally? As we have seen over the past few years, PowerCampus is less implemented and loses market shares yearly. Will it be phased out? It will be interesting to see how institutions react to this acquisition.