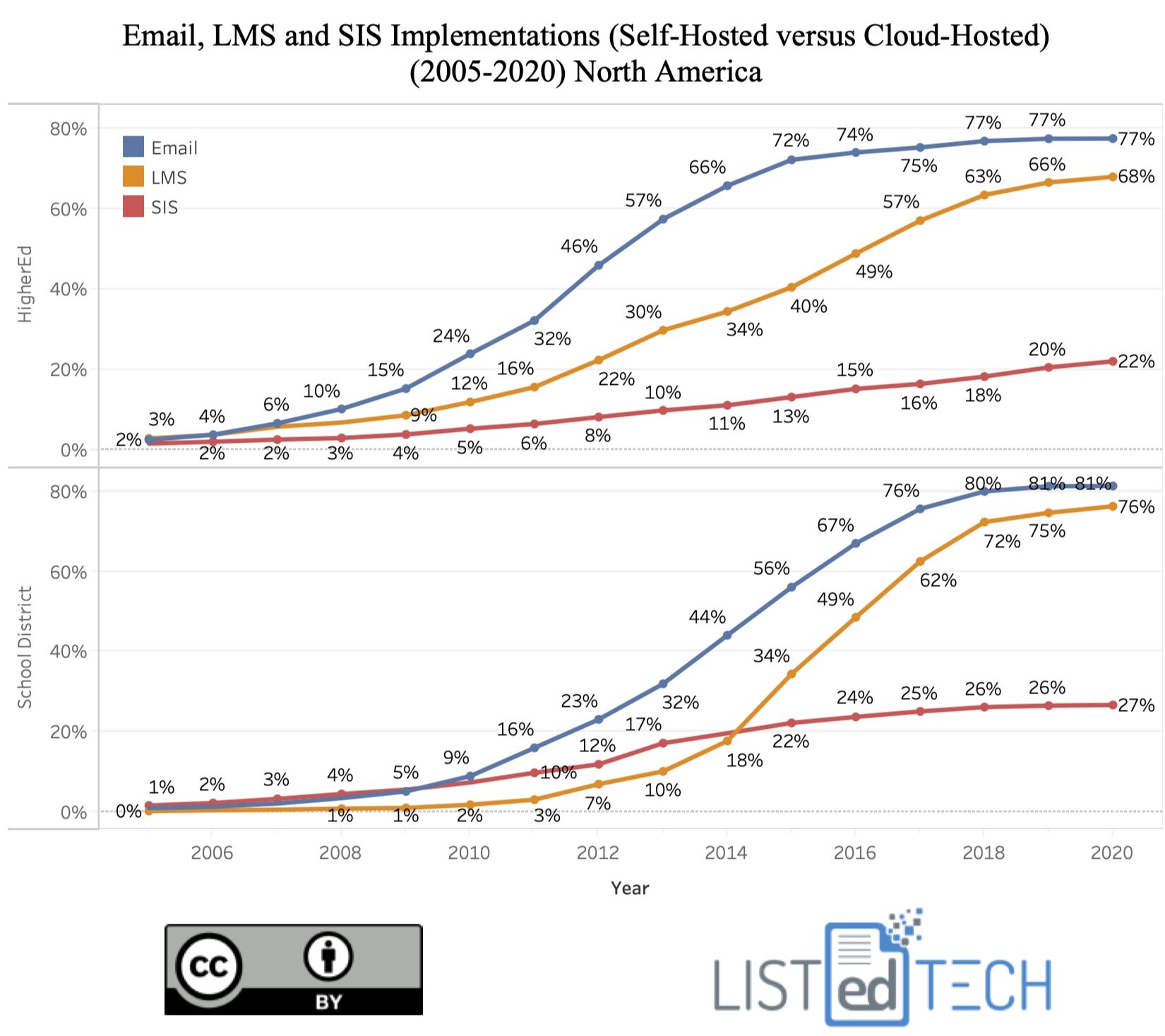 Over the past 20 years, the educational technology landscape has changed drastically: numerous educational institutions abandoned their homegrown solutions to select commercial options. During the same period, some of them have considered ditching their server rooms to the profit of cloud solutions.
In January 2019, I wrote a post about Canadian institutions moving to the cloud. I had mentioned that some Canadian institutions were reluctant to select a cloud hosting solution because of the US Patriot Act. This is now in the past thanks to the hosting companies having web farms in several cities across Canada.
For this week's post, I decided to give an update on the evolution of self-hosting and cloud-hosting in North America. As we can see below, since 2005, HigherEd institutions have started to use cloud hosting for their email solutions, then for their LMS and more recently for their SIS.
This decision was mostly vendor-driven. At first, Goggle and Microsoft, companies with large server capacities, offered "free" email services to their customers. Then, companies like Moddleroom and Instructure, which operates as a software as a service (SaaS) using mostly cloud web services, gained several new clients. This trend was then followed by cloud-only ERP solutions, like Workday.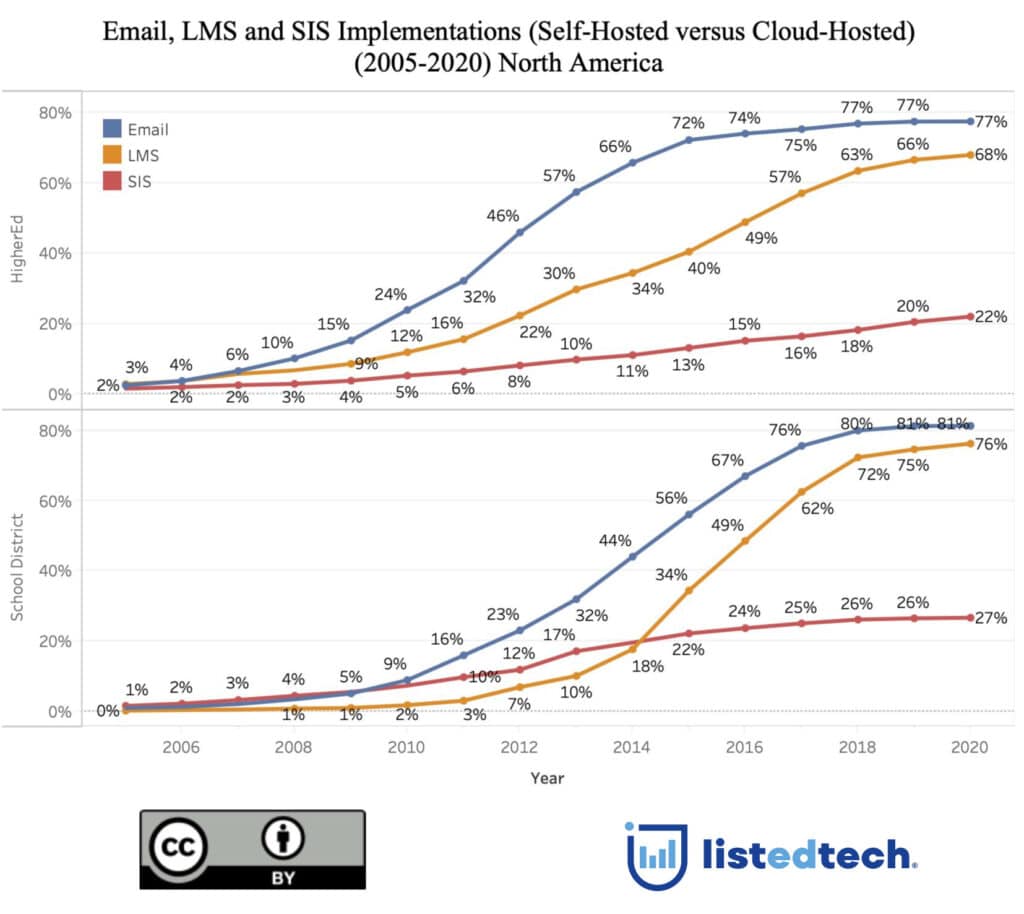 In the graph above, you can see the evolution of cloud hosting as a percentage of total active implementations. Note that school districts started the move to the cloud about two years after higher education but transitioned at a faster pace. They have now surpassed overall percentages when it comes to cloud hosting in the three categories selected (Email, Learning Management Systems, and Student Information Systems).
I believe that educational institutions are now at the tipping point of moving most of their systems to online servers. To support this reasoning, we can track the institutions' decision to move their website to a cloud solution. In other words, if the cloud has proven to be cost-efficient (email), reliable (LMS), and secure (ERP), educational institutions will eventually decide to move "simpler" systems to the cloud, for example, their main website.
To prove our point, we pinged almost 47,000 websites (30,000 HigherEd and 17,000 school districts). We got different results based on the geographical location of the institutions: while we see that more than 35% of school district websites are hosted in the cloud, less than 5% of African and Asian HigherEd institution websites have migrated to the sky. With the almost daily power outages in some regions of the world, a cloud solution may be proven beneficial to them.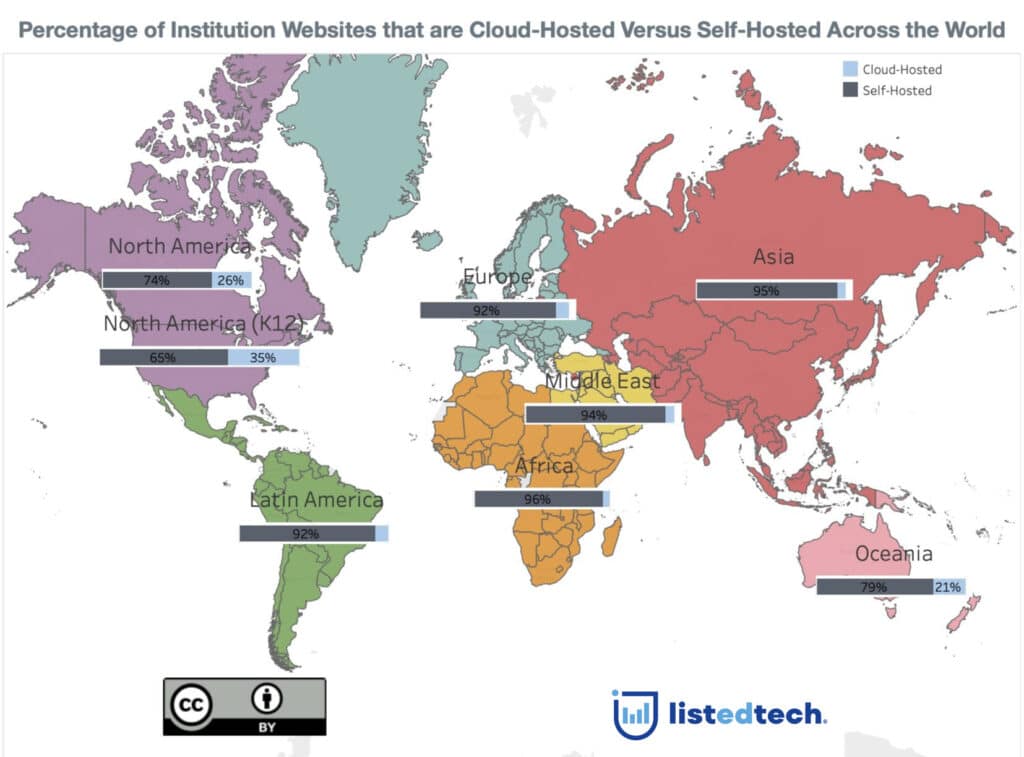 Data note: we have collected the data for this graph in August 2020.