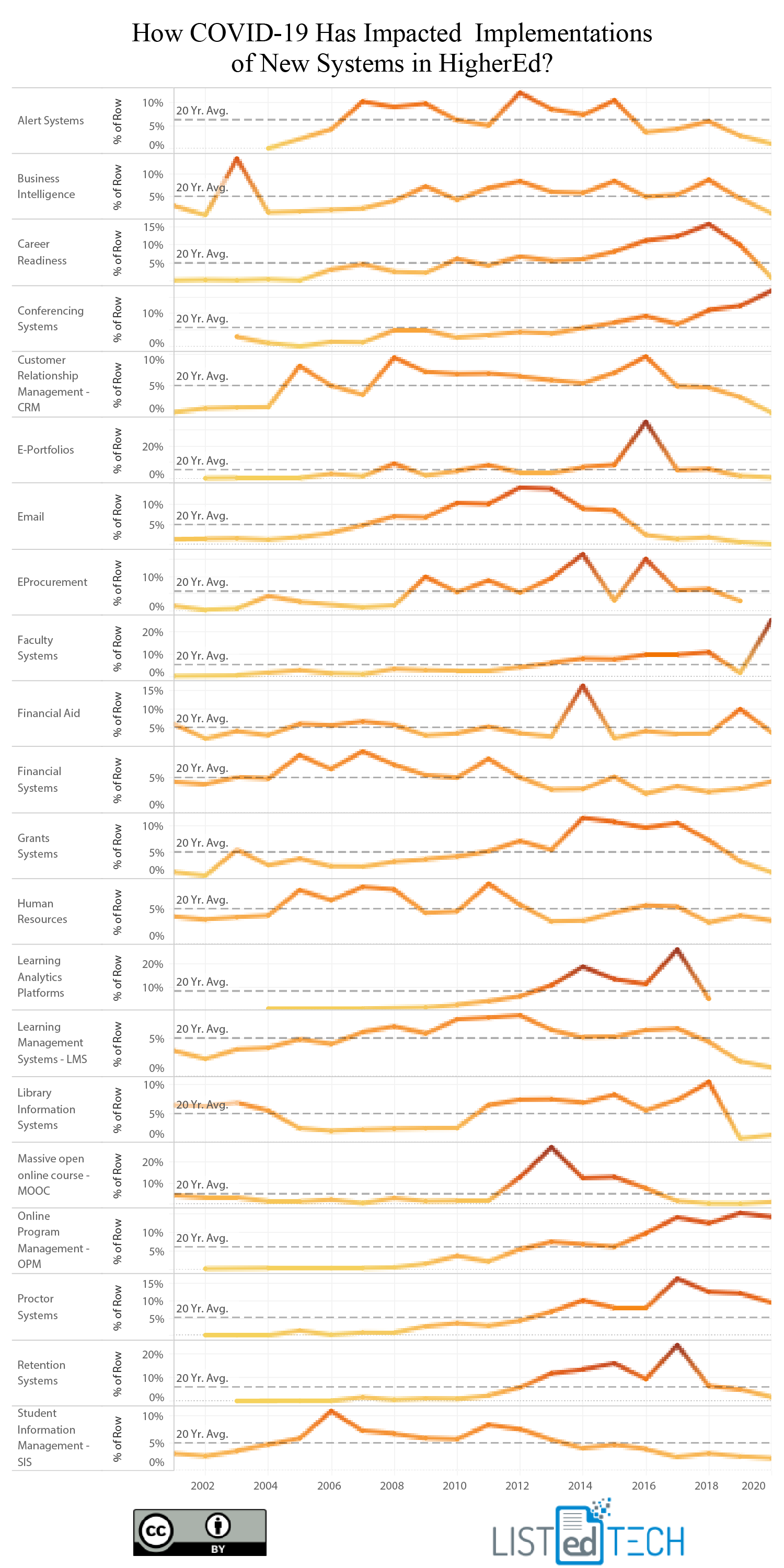 Back in January, I created our first historical implementation graph showing, amongst other information, the peak year for each of the systems we track. One takeaway was that institutions' core systems (like HR, SIS, Financial Aid, Financial to name a few) are well spread across the twenty-year span since they need to be planned well in advance. I also noted that some new system implementations followed what we could call the flavor of the month.
With this post, I wanted to offer you an update on this year's implementations. We all know that 2020 is everything but normal. Between March and July, many things have changed in our daily life, but also on new system implementations. At first, we could think that, since everybody was working remotely, new implementations would revolve around communication and collaboration tools (like Microsoft Teams and Slack) or around conferencing systems (like Zoom, Google Meet, Adobe Connect). But it was more than that.
As you can see in the graph below, the global pandemic had a negative impact on the new implementations of career readiness, MOOCs, and CRM. We can explain the drop in implementations for the first two by simply stating that institutions, like people, needed to focus more on keeping their heads above water. Offering workshops on how to prepare for the workforce or proposing free courses to the general population was not the top priority. We can also note that most new email system implementations have peaked around 2015 and this market is pretty stable (not to say flat) for the past five years.
On the other hand, not surprisingly, new implementations of conferencing systems surpassed any stats from the past twenty years. In the first six months of 2020, we observed more implementations for these systems than for the whole of 2019, which was already the best year. Other systems that saw big increases in new implementations were Faculty Systems, Online Program Management Systems (OPM), and Proctor Systems. With teaching going fully online for most of the HigherEd institutions, these universities and colleges needed to rely on efficient systems to convert regular in-class courses to online courses, to evaluate these online course offerings and to limit plagiarism in a context where professors are not always looking over students' shoulders during exams.
For other systems, COVID-19 did not have a great impact. These systems, as mentioned earlier, are planned well in advance, are costly, and their selection is based on a process that involves many stakeholders in their respective institutions. Therefore, no notable changes are seen in new system implementations for Financial Systems, Financial Aid, HR, SIS, Retention, Portfolio, LMS, and BI. These systems' implementation trends simply follow the trends they had been on.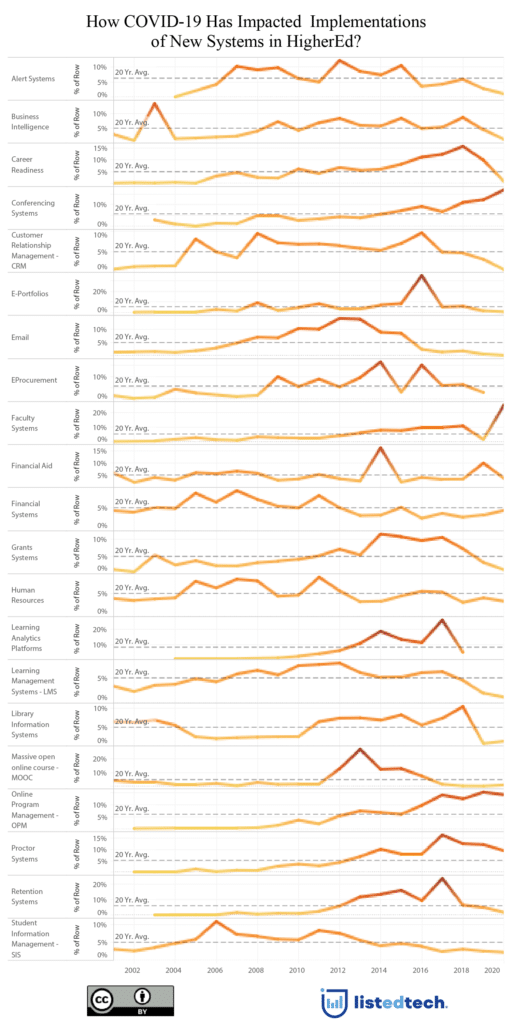 An important note on the data:
This is a mid-year overview of system implementations. We should expect more system implementations in many product categories. Will the data for the 2020 year double? Probably.

The data used in the graph is only for the USA and Canada higher education institutions.