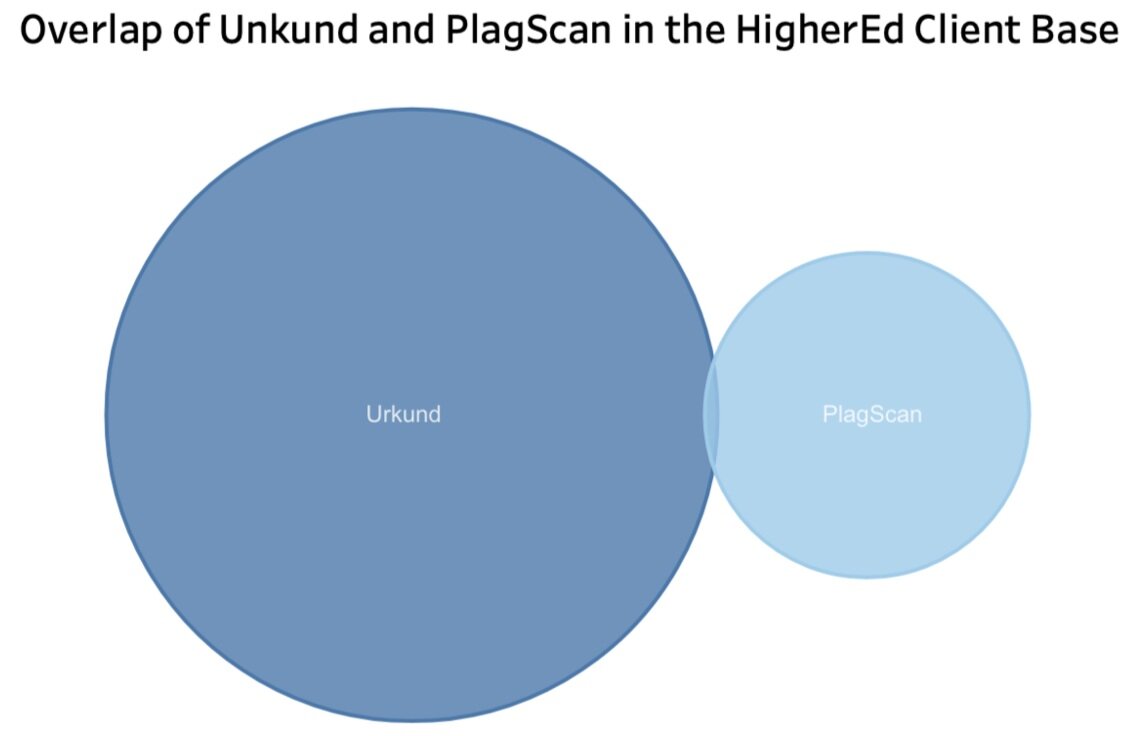 The plagiarism solutions market has been mostly dominated by Turnitin for the past 20+ years. This may not be the case for much longer as Ouriginal, a merger of Urkund and PlagScan, was publicized on September 1st, 2020 (see the press release).
As stated in the Testing of Support Tools for Plagiarism Detection study (Foltýnek et al., 2020, p. 3), "[p]lagiarism constitutes a threat to the educational process […]". Since more books and articles are readily available each day thanks to online library projects (like Google Books), professors and institutions need to find computerized solutions to avoid lengthy manual verifications across online articles and monographs. This is what triggered the creation of plagiarism detection software in the late 1990s.
For the sake of this article, I use plagiarism detection software when in fact I should use text-matching systems as the data and graphs shown below solely focus on this aspect of plagiarism. For those less familiar with text-matching systems, these systems produce "report[s] with all the passages that are identical or similar to other documents highlighted, together with links to and information about the potential sources." (Foltýnek et al., 2020, p. 3). These reports cannot be used on their own as a human being needs to confirm if plagiarism actually occurred. In fact, text-matching systems will sometimes flag complex text structures or faulty quotations as plagiarism when there is none.
The study conducted by Foltýnek et al. offers a thorough overview of the different systems in this product category. I am copying some of the information in alphabetical order, including the year of introduction, the home country, and client data for each product, when available.
| Company | Year of Introduction | Home Country | Clients | Notes |
| --- | --- | --- | --- | --- |
| Akademia | 2018 | Kosovo | | |
| Copyscape | 2004 | Gibraltar | | |
| Docol©c | 2004 | Germany | 300 institutions in Germanic countries + 20 around the world | Mostly for German content |
| DPV | 2013 | Slovenia | | |
| Dupli Checker | | | | Free tool for up to 1,000 characters |
| Intihal.net | 2017 | Turkey | | Focus on the Turkish language |
| PlagAware | | German | 39,000 active users | For businesses and institutions. Search through 10 billion online documents |
| Plagiarism Software | 2012 or 2014 | Pakistan | 500,000 users | |
| PlagiarismCheck.org | 2011 | United Kingdom | 77,0000 users in 72 countries | For English content |
| PlagScan | 2009 | Germany | 1,500 institutions (mostly K-12) | |
| StrikePlagiarism.com | 2002 | Poland | 600 universities in 20 countries | |
| Turnitin | 1999 | United States | 15,000 institutions in 150 countries | Bought Ephorus in 2014. In addition to online research, it searches across its database. |
| Unicheck | 2014 (as Unplag) | Cyprus | 1,100 institutions in 69 countries | |
| Urkund | 1999 | Sweden | 800 Swedish high schools + clients in 70 countries | Full-automated text-recognition system |
| Viper | 2007 | | | Free solution |
When we compare Turnitin and the new Ouriginal, they offer the same type of features:
Verification of submitted documents with the help of online research and their database;

Integration with several LMS;

Willingness to educate students to prevent unintentional plagiarism;

Free up professors' time to concentrate on the course delivery and assignment evaluation.
When it comes to partnerships, Turnitin's website mentions Elsevier, IEEE, ProQuest, Taylor & Francis as well as Crossref, Core, and others as content partners. Urkund and PlagScan, with their merge, currently focus more on attracting integration partners as well as resellers. They do not publicly showcase their content partners.
Update:
Ouriginal has reached out to let us know that they have licensed content from the biggest scientific publishers like Springer, IEEE, Wiley, BMJ, Gale, Taylor & Francis, among others.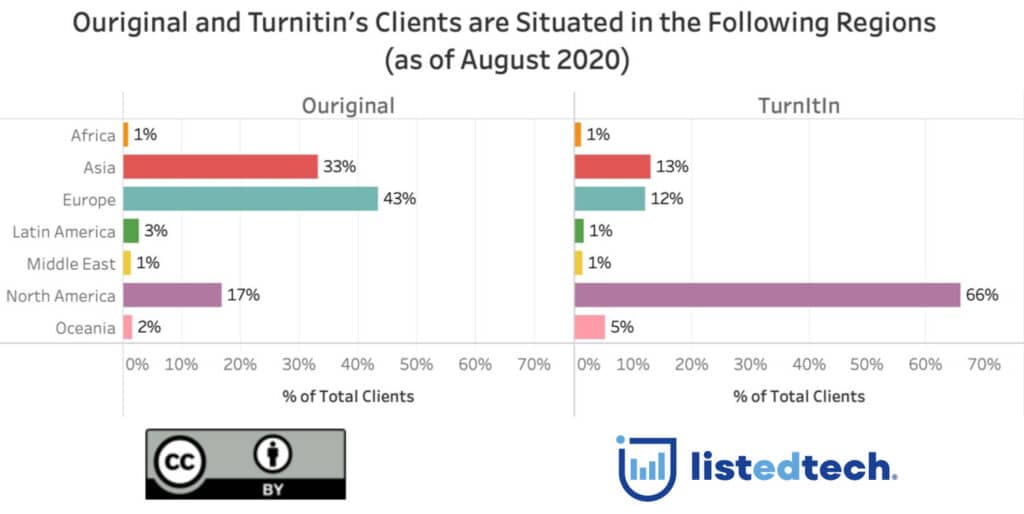 When it comes to geographical penetration of the two products, we can see that both companies are well implemented in their continent of origin. However, Ouriginal shows more diversity than Turnitin (e.g. 33% of its clients are in Asia), while both companies have similar clients based in Oceania, Latin America, Middle East, and Africa.
Even after the creation of Ouriginal, Turnitin still has more than double the higher education client base. This can be partially explained because Unkund and PlagScan were mostly successful with high schools.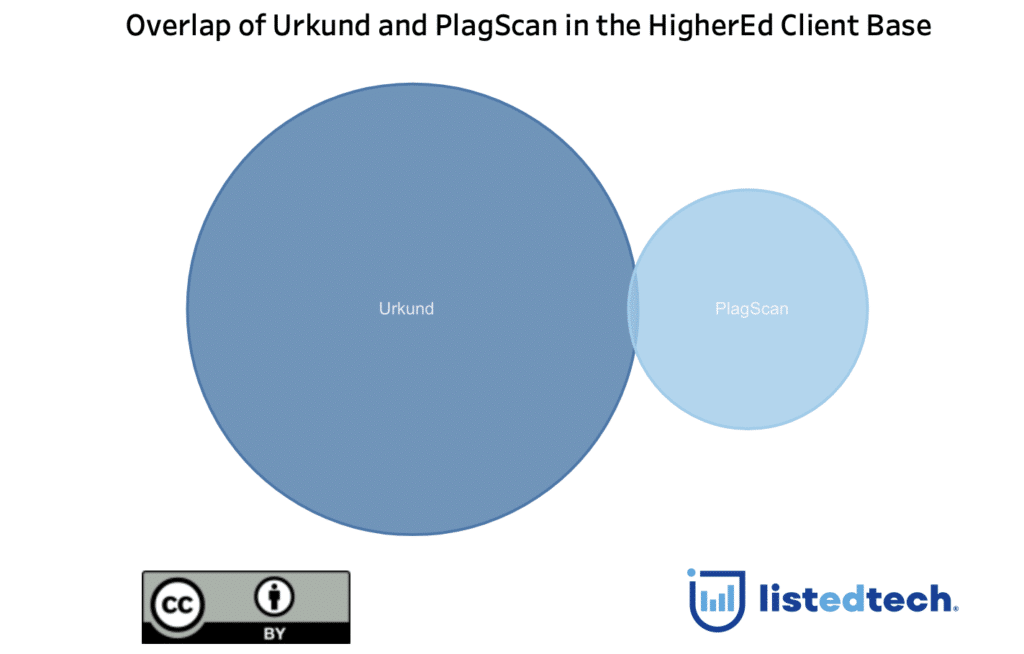 When a merger occurs, we often see clients having products from the two companies. In the case of Ouriginal, only a few clients had a contractual agreement with both companies. For this new company, this means that they are ready to expand their combined experience and knowledge in other markets.
Ouriginal may not have as many HigherEd clients as Turnitin in 2020, but it will be interesting to follow the plagiarism detection solution scenery in the next couple of years. I believe we may be surprised.