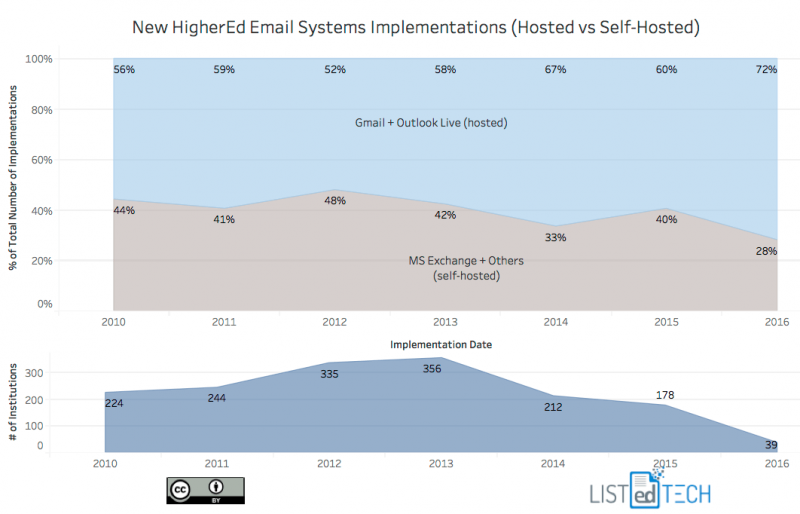 HigherEd email scene is divided between two main providers: Microsoft and Google. Combined, their products are implemented in more than 90% of HigherEd institutions. Clearly, offering a free service does help. Smaller companies like Novell, Zimbra, SquirrelMail, Wimba, Horde and Roundcube (plus another 20) help create the long tail of higher education email systems.
One interesting aspect of the HigherEd email systems is that we see a clear distinction between email used by employees and students. For employees, a majority of institutions use Microsoft Exchange. When it comes to students, Gmail and Outlook Live have the biggest market shares.
Why do they use Microsoft Exchange? Since it is a self-hosted option, it offers more control and security to its users. Several institutions want to maintain control of their employee emails. On the other hand, student emails are over 85% in the cloud.
Interested in HigherEd Technology? Sign up to receive our free weekly newsletter! We hand pick the most relevant, interesting and important stories affecting HigherEd IT professionals in product selections, implementations as well as system retirement.
The new implementations (see graph below) are more and more in the cloud. To better understand the hosted and the self-hosted implementations, we only consider Gmail and Microsoft 365 (formerly Live@edu) as hosted. In the past few years, HigherEd institutions have switched from local hosting to cloud hosting.
Key dates
If we show all active email systems on a world map, we can notice that Google and Microsoft have a wide coverage. A few things:
There is a higher concentration of other systems in Asia.

Microsoft products dominates the UK market.
Note: The graphs above are based on the data of roughly 4,000 HigherEd institutions.