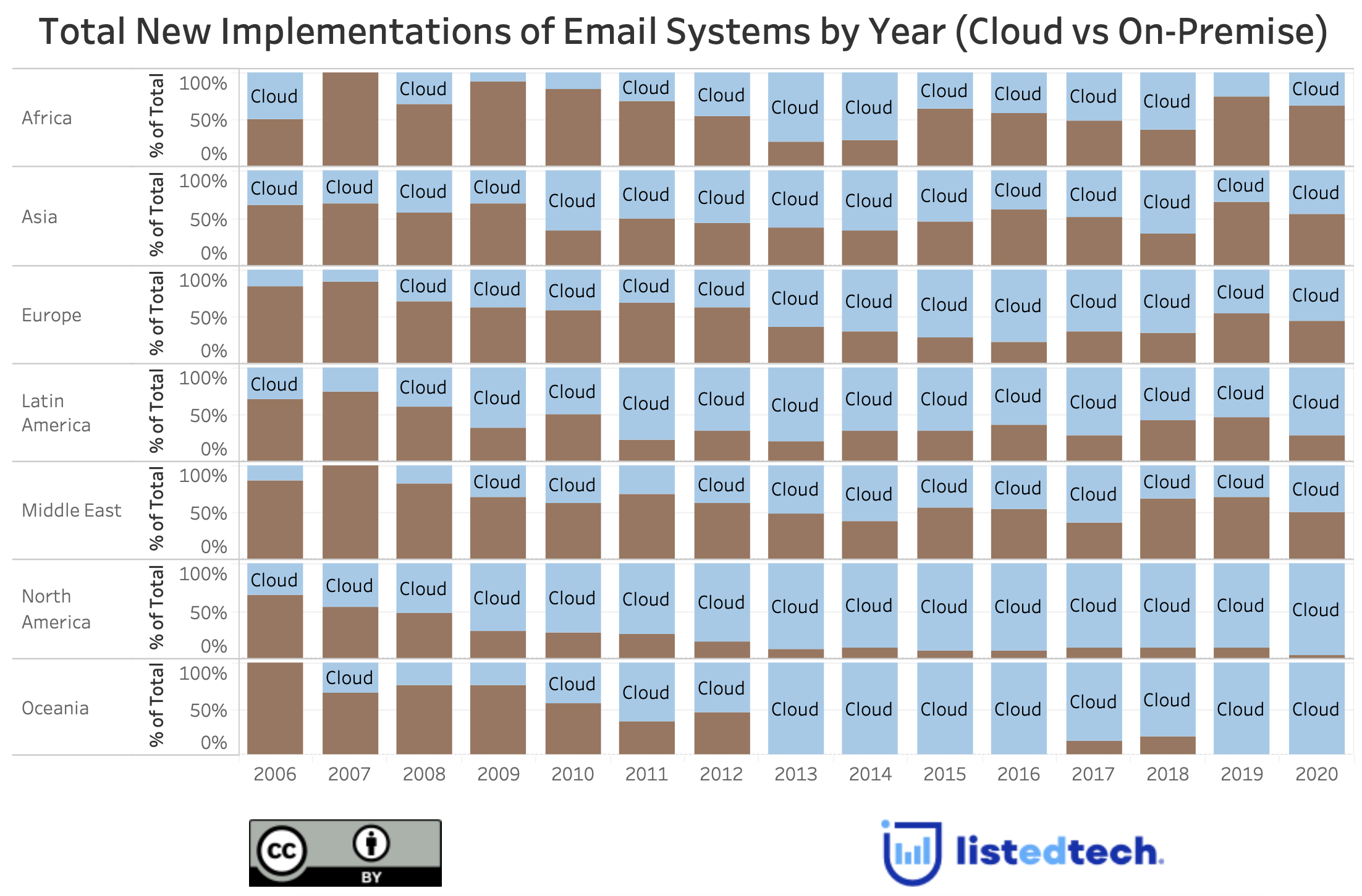 As North Americans, we often think that the email product category is pretty much stagnant: it's either Microsoft or Google or if you prefer Outlook versus Gmail. This is true in North America, but the rest of the world has a different email software landscape. Before going into details, let's add an important note: our world data is not as extensive as the data we have for North America. Therefore, in terms of absolute numbers, it's normal to see that Microsoft and Google dominate the graphs.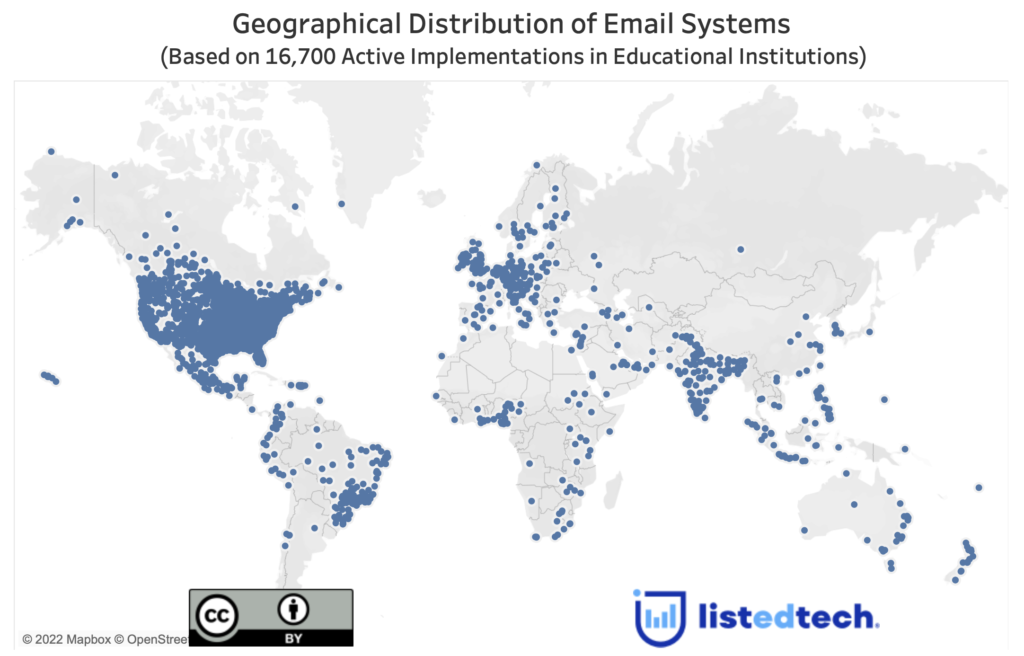 North America and the Rest of the World
As mentioned in the introduction, the email market is very different when we look at active implementations in North America, Oceania and Europe versus active implementations in the rest of the world.
To make the graph more legible, we have merged the two products from Microsoft (Exchange and Outlook) as well as all of the other solutions (the Others), with the exception of Google. We notice that the Others dominate the African, Latin American and Asian markets while Microsoft takes the leads in North America, Europe and Oceania. Although Microsoft also leads the Middle East, the battle is much closer with the Others.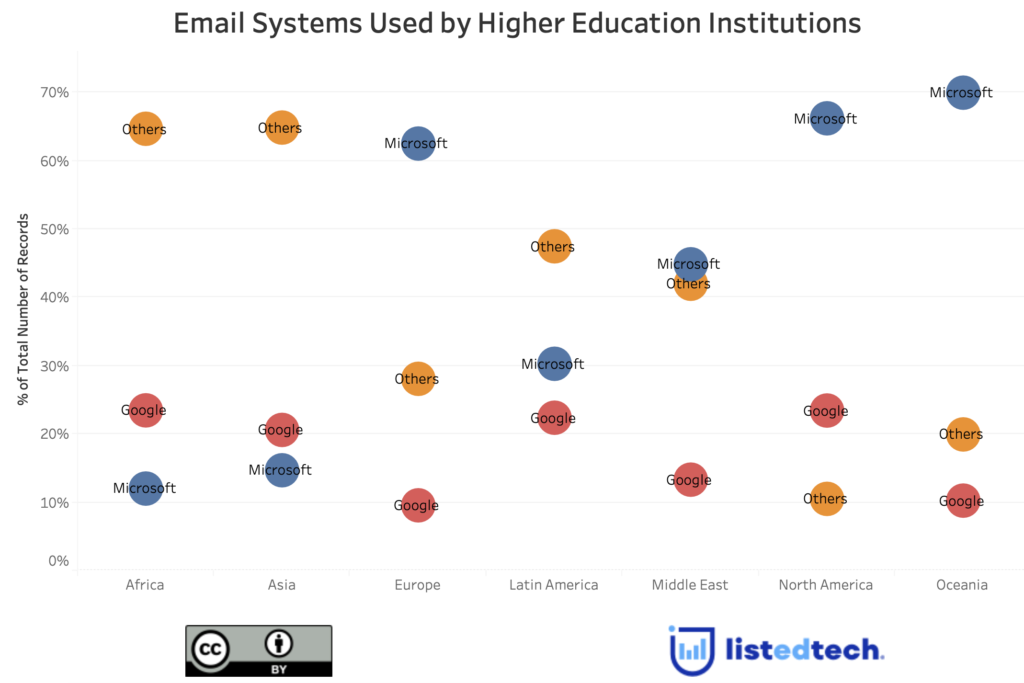 In North America, Google and Microsoft represent over 90% of all HigherEd implementations. Smaller companies like Novell, Zimbra, SquirrelMail, Wimba, Horde and Roundcube (plus another 20) help create the long tail of higher education email systems.
The email landscape has changed in North America. In the early 2010s, Google was the go-to solution for students while Microsoft was implemented for almost all employees in HigherEd institutions. In more recent years, we have seen a switch in new implementations. Using data from North America, almost 90% of institution employees use Microsoft, but when it comes to students, Microsoft also took the lead with over 55% of active implementations.
Cloud implementations are more popular than ever. To represent the cloud versus on-premise implementations, we only consider Gmail and Microsoft Outlook as hosted. As shown in the graph below, in the past few years, HigherEd institutions have switched from local hosting to cloud hosting.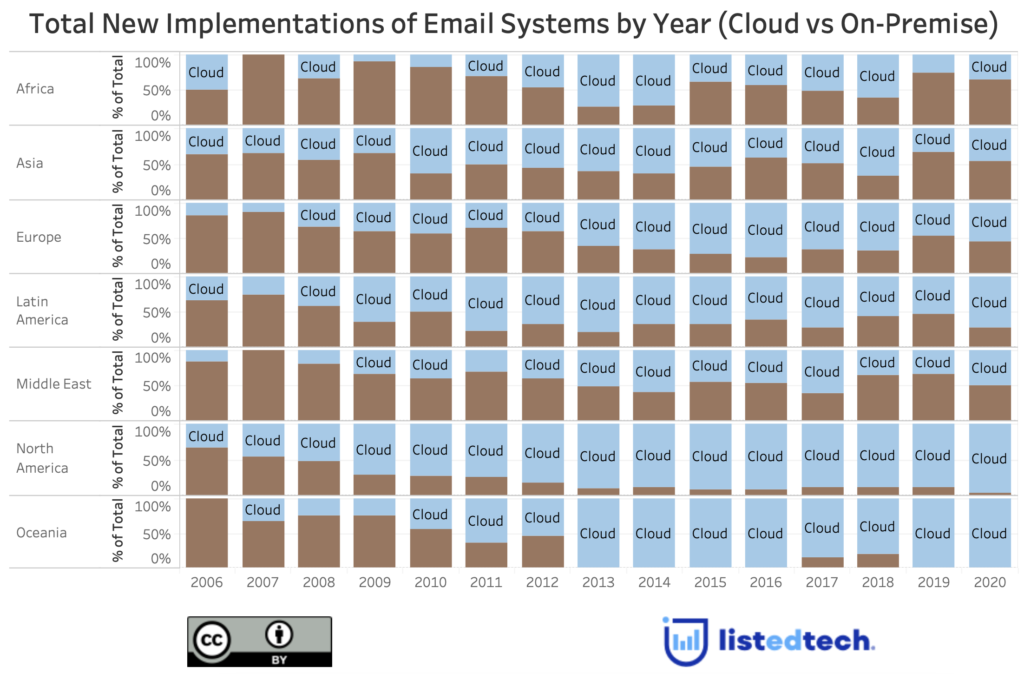 Note: The graphs above are based on roughly 10,000 HigherEd implementations.