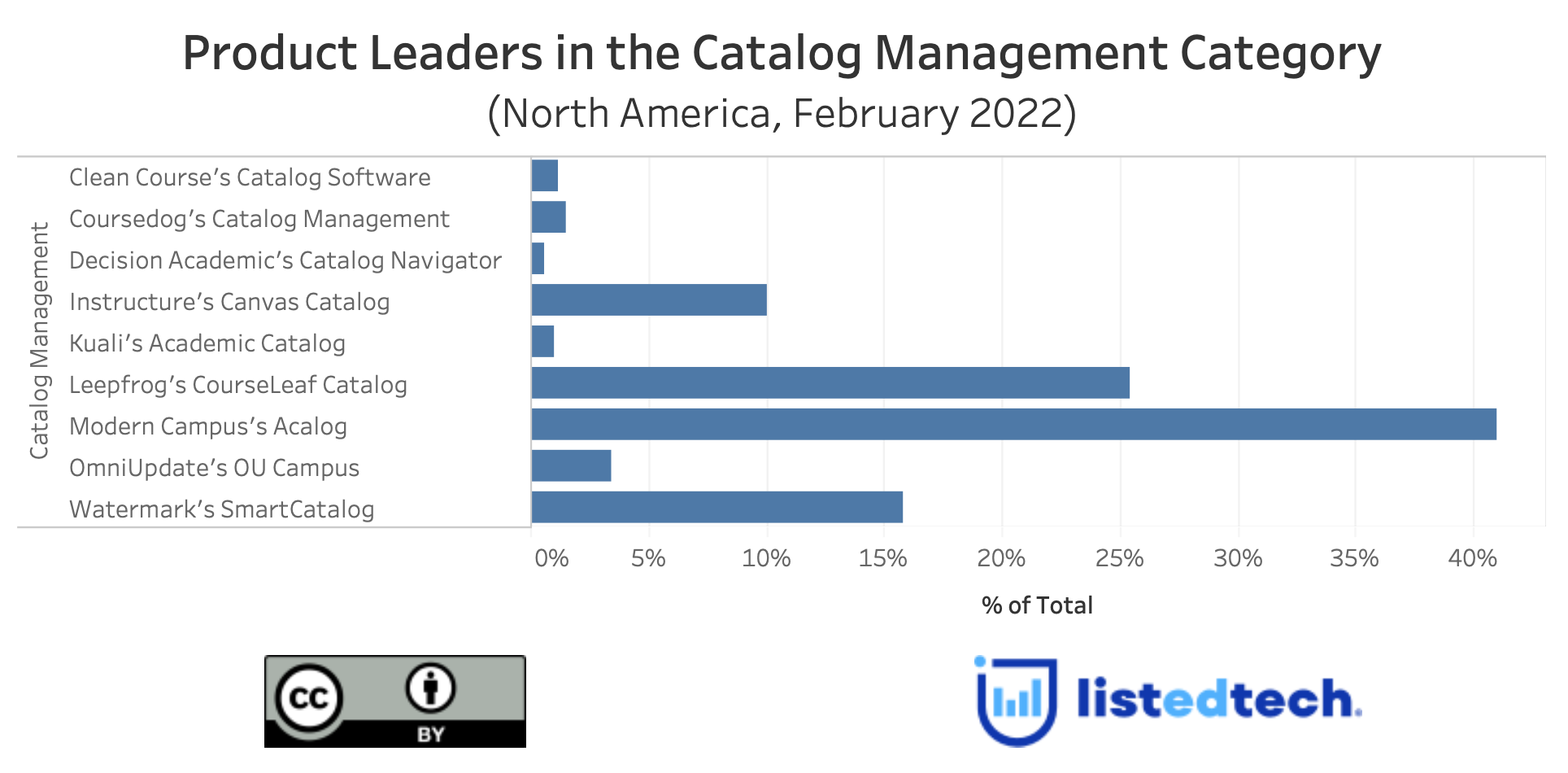 The once-a-year schedule of updating academic catalogs has been curbed as catalog management solutions have made an appearance in postsecondary institutions.
Over the last few years, we received requests from institutions and edtech companies to start tracking these catalog management tools and we are pleased to provide you with some data on this product category.
What is Catalog Management?
A course catalog (also called program catalog, academic catalog and sometimes program calendar) presents information about an institution's programs. It may include several marketing details like professor lists, admission requirements or even contact information, but the crux is the program requirements, i.e. courses students have to complete to receive their degree.
When printed catalogs were transferred on websites, it was often PDF copies of the previously printed materials. These days, the software may include interactive functionalities to help students find the right courses and explore new academic pathways. Some solutions even have the capacity to include photos and videos to enhance interactivity.
A catalog management solution supports universities and colleges to eliminate manual data entry by automating review and approval workflow. The systems will include a way to manage who participates in content creation, when they participate and how they participate. Most of the solutions offer the possibility to work on current catalogs as well as future catalogs, depending on the institution's needs. All solutions also include an archive capacity to ensure students can follow their own program path.
Product Leaders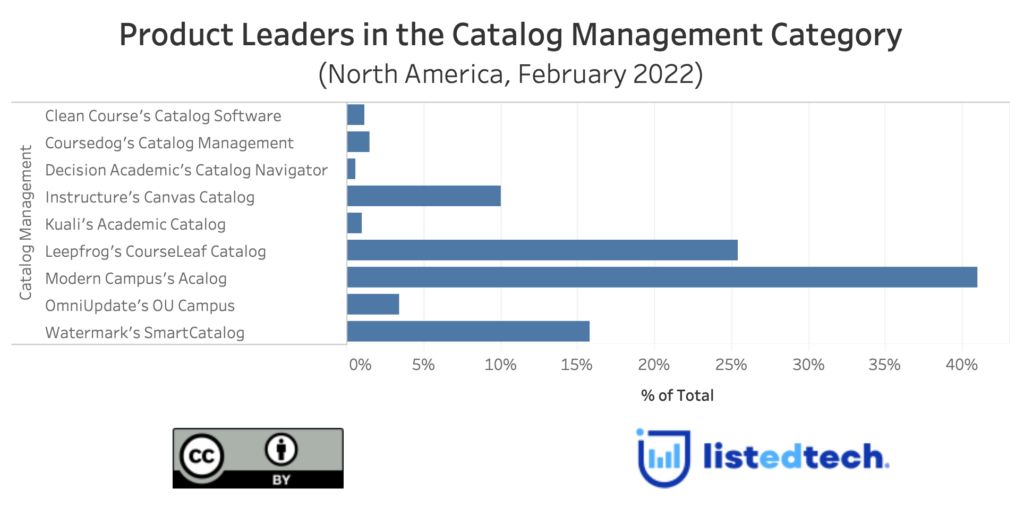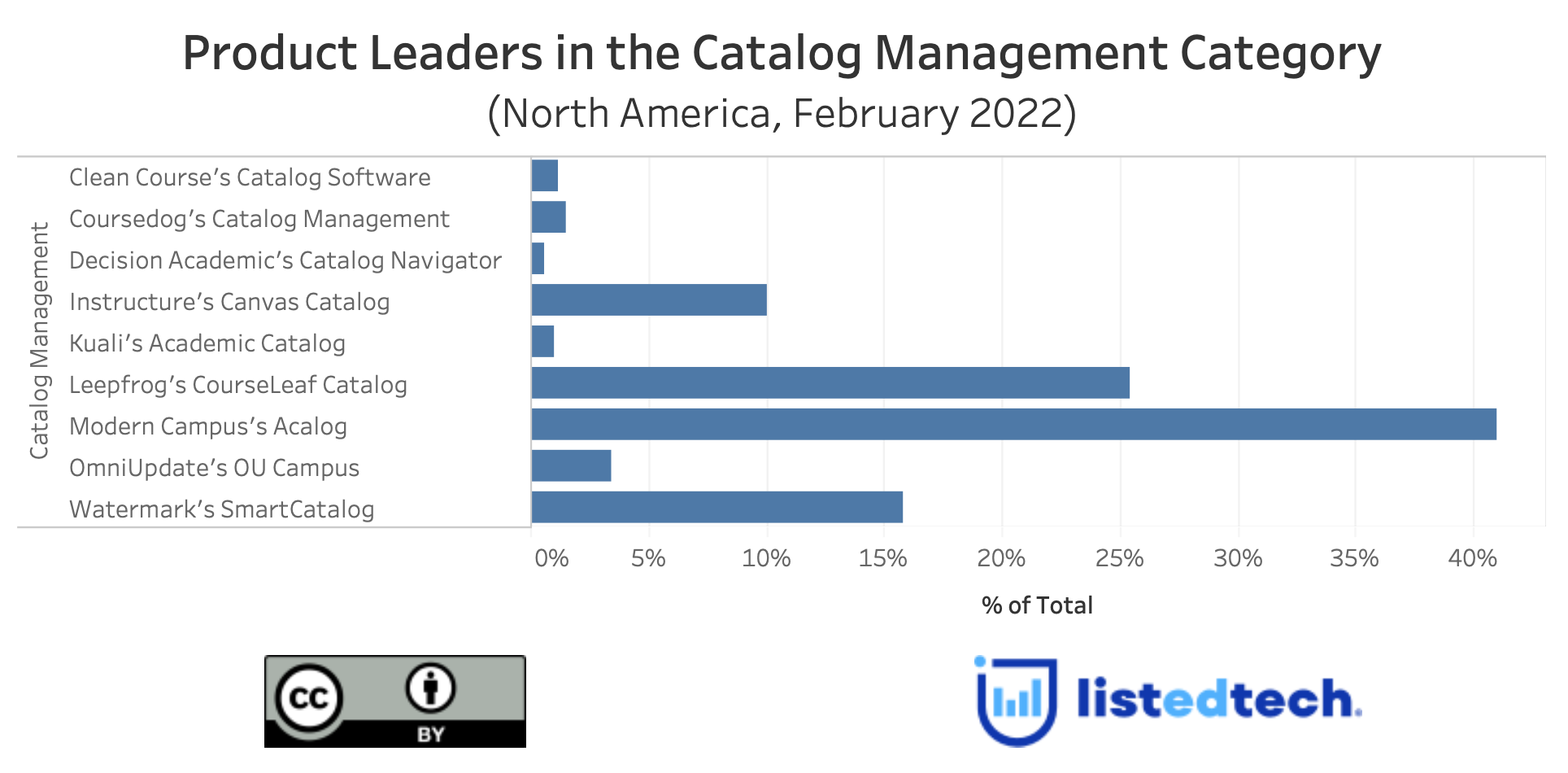 Only a few companies are active in this product category. Out of the product leaders, two companies control over 65% of the market shares: Modern Campus (that bought Digarc and its Acalog product in June 2021) leads with 42% while Leepfrog Technologies (and its CourseLeaf Catalog solution) takes second place with 25%. Watermark and Instructure also have a fair amount of market shares with 16% and 10% respectively.

The distribution of implementations across enrollment sizes does not show any specificities. While most enrollment bands are well represented, it looks as if the larger band (20,000 and over) is not significant, but keep in mind that the number of larger institutions is smaller.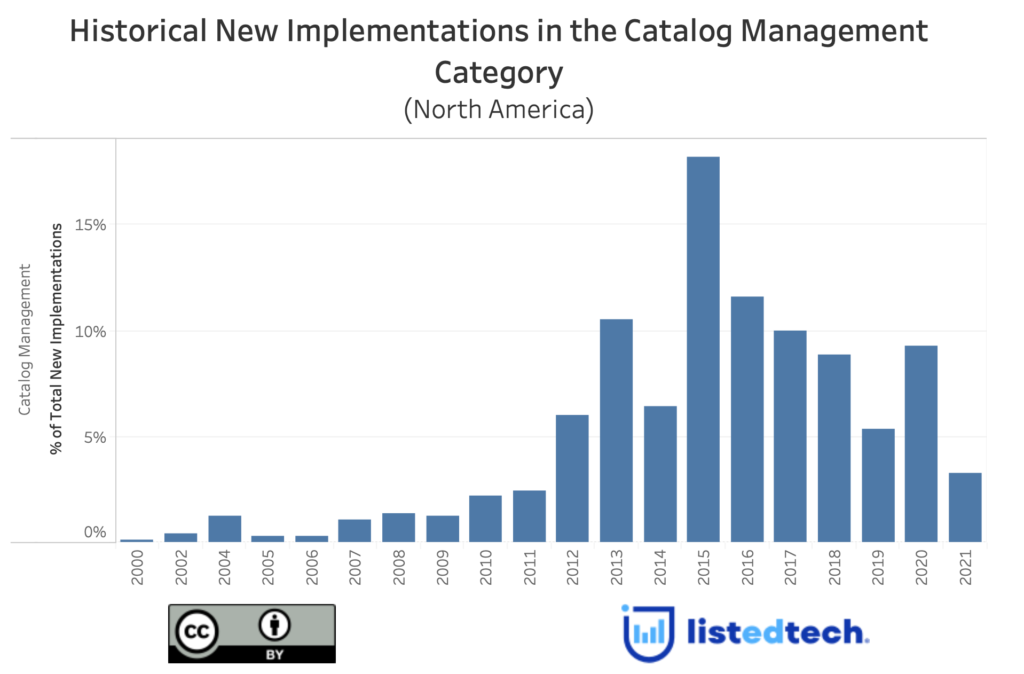 As the historical implementation graph shows, these solutions started to be implemented in 2000 with a significant increase in 2010. Despite the pandemic, universities and colleges continue to implement this type of software.
Like several other product categories, the catalog management category is here to stay. Students are more demanding when it comes to understanding their program requirements and structure and these solutions will help them achieve this goal.
Our portal users will soon have the possibility to select the Catalog Management category. Still not a portal subscriber? Explore the institution plan and the industry plan.