About a year and a half ago, we did our first post on the Implementation companies that are often used to help implement new ERP/SIS systems. At the time, we had data for about 400 implementations within the last 10 years. This new post will look at just over 300 implementations in the last 5 years. It's a more restrictive look at what is happening in the short term.
Not all higher education institutions use implementation partners. Many have their own implementation teams. For the purpose of this post, we will define implementation companies as a company that helps implement a new system. So, this will exclude system upgrades and system add-ons.
We don't have data for all the implementations but it does represent about 1/3 of the new implementations we have in our database.
The first graph illustrates the companies we found that have implemented systems in the last 5 years.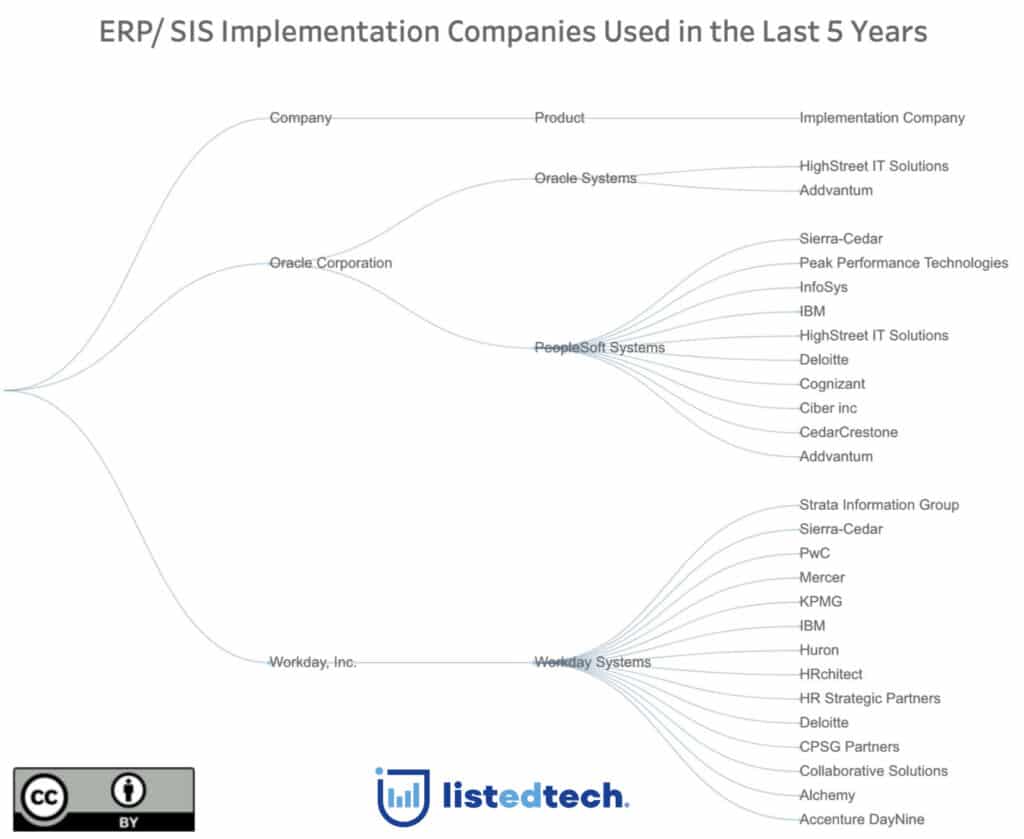 The table below shows the same data but has a size component to it. The size refers to the number of implementations done within the last five years. The companies with the most implementations are Alchemy, Ciber, IBM, and Sierra-Cedar.
ERP/ SIS Implementation Companies Used in the Last 5 Years

Oracle Corporation

Workday, Inc.

Implementation Company

Oracle Systems

PeopleSoft Systems

Workday Systems

Accenture DayNine

M

Addvantum

S

S

Alchemy

L

CedarCrestone

M

Ciber inc

L

Cognizant

S

Collaborative Solutions

S

CPSG Partners

S

Deloitte

S

M

HighStreet IT Solutions

S

S

HR Strategic Partners

M

HRchitect

S

Huron

S

IBM

M

L

InfoSys

S

KPMG

S

Mercer

S

Peak Performance Technologies

S

PwC

S

Sierra-Cedar

S

L

Number of Implementations

S = Small

M = Medium

L = Large