The story behind Jenzabar is strongly linked to its CEO and Founder Chai Ling. Chai, a Chinese native came to the US in 1990 to study public affairs. She then worked at Bain & Co. where she met her future husband Robert A. Maginn Jr. By the end of the decade, she received an M.B.A. from Harvard and founded Jenzabar ("best and brightest" in Mandarin) thanks to her partner and two other angel investors: Paul B. Fireman (Reebok International) and Stephen Perlman (co-founder of WebTV).
At the time, the mission of Jenzabar was to create an internet-based portal to enroll in courses and follow up on assignments. Nowadays, we would categorize these solutions as learning management systems with course enrollment functionalities. When the new millennium started, a few colleges were already testing the software.
After Chai and Maginn married in 2001, they laid down a new business plan for Jenzabar: gain customers by acquiring them. After Maginn quit Bain & Co and amassed $40 million from his own New Media Investors firm and others, Jenzabar quickly acquired four companies that specialized in college administrative support software. The path was already setting in: offer a one-stop-shop solution for colleges and their students. There was some backlash from the higher management of these acquired companies since it wasn't clear which software would survive the acquisition phase. Following the acquisitions, Jenzabar decided to slowly consolidate its resources.


Difficulties Ahead
Several competitors, as well as the media, highlighted how Jenzabar handled these difficulties in the early 2000s. The company also explored other markets and business paths by acquiring an online travel agency and a computer training company. Even though these acquisitions led to more revenue generation, the actual profits were minimal.
But after this turmoil, Jenzabar seemed to get back on the right path. The company fought hard to gain more customers from its biggest competitors SCT (now Ellucian; which had 35% of the SIS market), Datatel (now Ellucian; which had roughly 20% of the market shares) and Peoplesoft (now Oracle; which had 8%). In comparison, Jenzabar had about 10-11% of the SIS market shares. These numbers are for the North American HigherEd market of the early 2000.
Once competing with the biggest players in the SIS market, Jenzabar has developed a niche in the smaller institution submarket. It represents 20% of the 1-2,499 enrollment band and 12% of the 2,500-4,999 band. It is almost nonexistent in the larger institutions (5,000+). In 2022, Jenzabar's main competitor is more Anthology and Ellucian than Oracle because of their implementations in the enrollment bands they serve.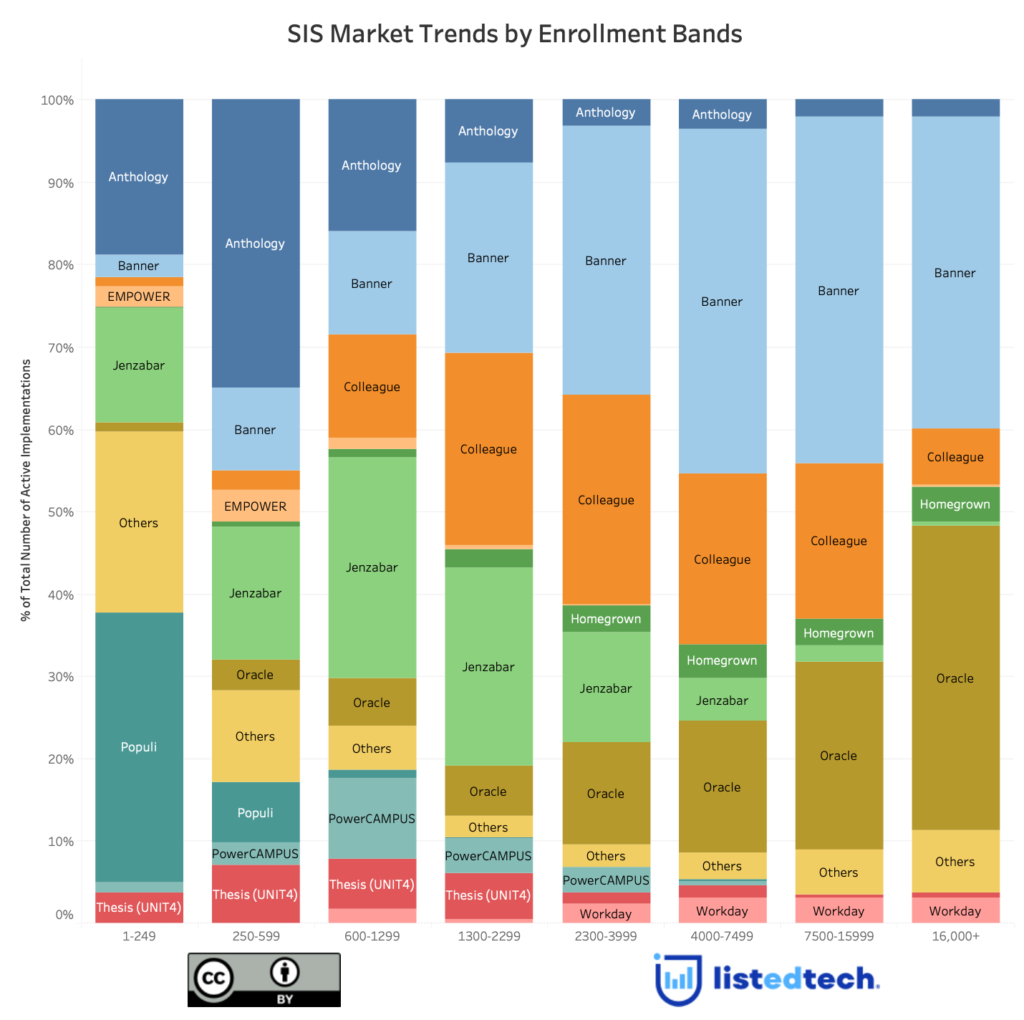 From Several Components to a Unified Product Suite
As mentioned earlier, Jenzabar initially offered a portal to support course enrollment and homework assignments. Today, the American company accomplished its goal of providing a unified solution: Jenzabar One. This product suite includes advancement, analytics, chatbot, communications, eLearning, finance, financial aid, human capital management (HCM), recruitment, retention, and student information system in a unified platform. Jenzabar's current strategy is to migrate all existing clients to the One platform without losing customers. The platform has also the advantage of fully integrating data among the different components of the suite.
A Constant Business Model Over the Years
Since its inception in 1998, Jenzabar was very quick at renaming acquired products to build up the Jenzabar brand. With this strategy, they rebranded several products: Jenzabar PX (from Poise, Campus America), Jenzabar CX (CARS), Jenzabar QX (Quodata). Another major acquisition Chai and her team made was the RJM Systems (SONIS) in 2015. This is the only product that kept its name after being purchased. In addition to numerous acquisitions, Jenzabar signed partnerships with companies over the years. In 2018, it joined rank with Docubase, a document management solution. Jenzabar also signed an agreement with Gray Associates to deliver academic program analytics in May 2019. Right before the start of the pandemic, SoftDocs was added to the partnership list to bring comprehensive digital records to the Janzabar community. Later that same year, Jenzabar signed another partnership, this time with Emsi to help student align their academic path with career goals.
Over the years, the press release section of Jenzabar website focuses on partnerships, new client announcements and enhancements to current solutions. The recent acquisition of Spark451 shows that Jenzabar wants to retain customers by providing them with additional services they would normally outsource elsewhere. "By acquiring Spark451 and bringing them into the Jenzabar Family, we can better help institutions build future-proof enrollment strategies that allow them to find, attract, and engage with their best-fit students while simultaneously extending their reach toward the fast-growing, non-traditional student population", said Ling Chai Maginn in the press release.
Company Profile (as of April 2022)
Founded in 1998. The company is led by the Chai-Maginn couple since its inception.
Jenzabar is used by 100,000 faculty and staff in more than 1,300 campuses worldwide.
Mostly implemented in smaller HigherEd institutions (5,000 students or less).