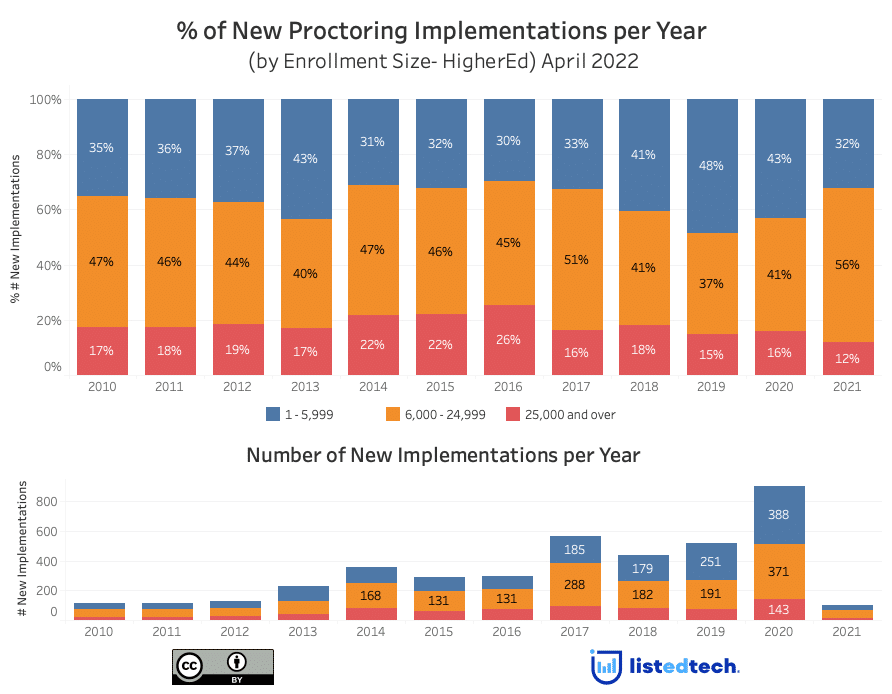 COVID-19 accelerated the evolution of higher education, and the accessibility of online courses like none could have predicted. Across the United States of America and Canada, distance learning was always pegged to play a significant role in the future of education. When staying at home became the new norm for millions of learners in March 2020, online education was the only option to teach students.
Distance learning is not quite as simple for academic institutions and service providers as providing study aids, learning resources, and one-on-one support via digital channels. It also brings the challenge of moderately and appropriately monitoring students during tests and exams into the mix. Subsequently, online proctoring systems have likewise grown throughout the COVID-19 pandemic.
Types of Online Proctoring Systems
It is becoming the norm for some of the more forward-thinking universities in the United States to conduct thousands of examinations online each month. In such instances, there is simply no realistic possibility of getting by without online proctoring systems.
Each institution needs to consider the various solutions available to them, which in some instances offer a wide variety of features and functionalities. The extent to which each is used (or practical to implement) will always vary from one school to another. Still, these are nonetheless the 'standard' components of a proctor system that can help prevent cheating among remote learners:
Automatic authentication
An alternative to manual authentication, automatic authentication saves time and frees up resources by automatically verifying the identities of those taking part. A selfie is snapped and uploaded along with a shot of their ID card and answers to a couple of questions to verify who they are.
Automated proctoring
The institution can usually adjust the intensity of the system to suit its requirements. Auto proctoring can be used for primary monitoring purposes or to conduct detailed real-time analysis using webcams and microphones to detect any potential indications that the learner is trying to cheat.
Live proctoring
Where the required resources are available, many institutions still consider live proctoring the best approach. Live proctoring is when one or more individuals connect with candidates via webcams and microphones, monitoring and interacting with them in the same way they would do in a traditional exam hall.
Record-and-review proctoring
In a similar system to live proctoring, candidates are recorded throughout the test and footage is subsequently reviewed by one or more faculty members. The institution can take action if there are indications of cheating in the recorded footage.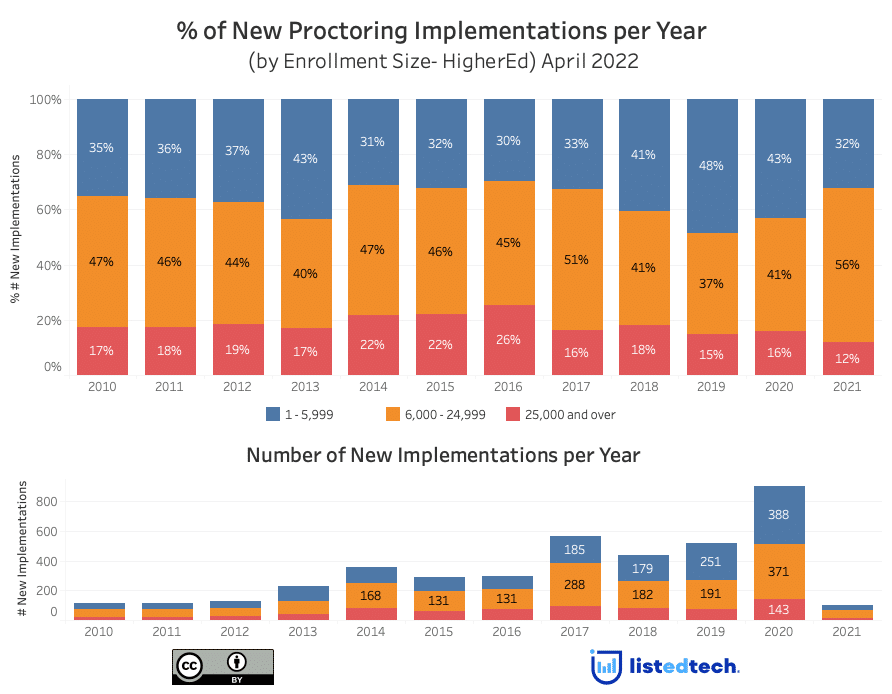 The pandemic did not offer another choice but to implement proctor systems to survive in this online education world. As we can see in the graphs above, proctor system implementations have seen a huge increase in the past decade. Over the years, the distribution of implementations between enrollment sizes remains similar despite the peak in implementations in 2020. Since our first evaluation of this data in 2021, we added 300 implementations that corroborate what the initial analysis suggested.
A High-Pressure Environment
One of the primary concerns shared by both students and faculty is that proctor systems create a disproportionately high-pressure environment for those taking tests. For many students, having their every move watched and recorded – often by a computer rather than a human being – is off-putting in the extreme.
In addition, many experts agree that the added pressure placed on students through using some types of proctoring systems makes it much more difficult for them to perform at their best. Worse still, some believe that the more restrictive and disconcerting a proctoring system is, the more likely the student body is to find ways to cheat it.
Cheating Scandals on the Rise
Throughout 2020, several high-profile instances of cheating scandals propelled the subject of proctoring firmly into the spotlight. Two of the most widely-publicized examples involved students at the Georgia Institute of Technology and Boston University – both institutions having sought assistance from third parties to investigate suspected foul play.
The combination of instances like these and the general unease among those who do not appreciate having their every move watched creates demand for a fair, amicable, and effective proctoring system everybody can get behind.
Cheating situations did not stop after the first year of the pandemic. In April 2022, Inside HigherEd published a study of the cheating situation in HigherEd since the pandemic. The numbers are pretty negative: 6.6% of students have cheated in the past year, fourteen times what we observed before COVID-19. Students have cheated in many ways: using resources that were not allowed for the test, someone being present in the room during the examination or someone else taking the evaluation on behalf of a classmate.
Students are savvy enough to understand that specific measures need to be taken to prevent some candidates from taking advantage of their remote locations when taking tests and sitting exams. Likewise, faculty members acknowledge that literally scrutinizing every move a candidate makes when taking a test is not particularly motivating.
A solution with 5% of the overall market shares and mostly implemented in larger universities, ProctorU caught these situations. Jarrod Morgan, founder of ProctorU, "said rates of cheating would likely be even higher at universities that did not use online proctoring, and he expressed concern that such high levels of rule-breaking could devalue students' qualifications." It could, in fact, represent a de-evaluation of degrees received during the COVID-19 pandemic.
Despite student misconduct, it is clear that online education is not a trend but rather a new way to offer education. Before the peak of 2017, proctor systems were also massively implemented in 2014, a year after the Obama administration announced a plan targeting community colleges to support the implementation of new online programs.
The Takeaway
COVID-19 has brought forward the evolution of online learning, giving higher education institutions in North America no choice but to respond accordingly. As the popularity of online education grows, the institution requirements, student expectations and faculty members' ease of use for proctor systems will too.