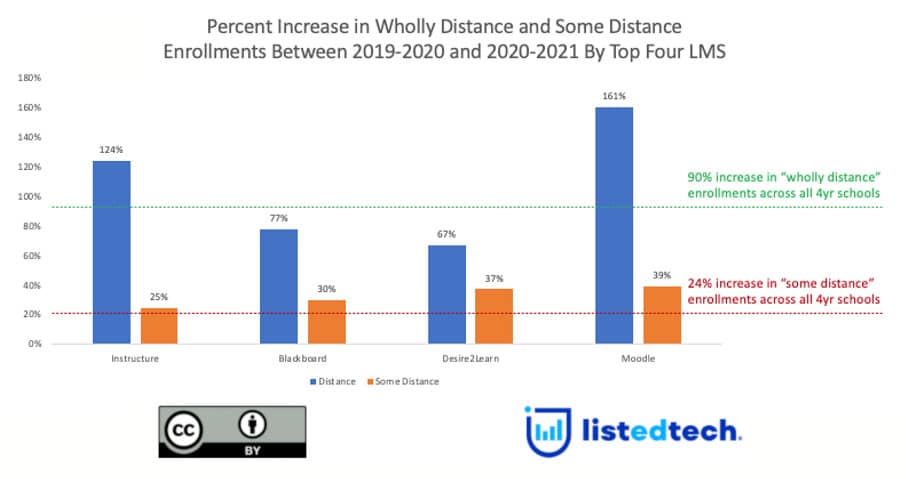 With the late August release of IPEDS enrollment data, we have new, important views into the enrolment shifts that have occurred across US higher education. Specifically, another year of 12-month enrollment data was released- allowing for more segmented measurements of how the impact of the pandemic has been playing out in terms of shifting enrollments and the continued migration and acceleration of wholly distance (online) learning.
On a national level, according to IPEDS data, wholly distance enrollments across public and private four-year institutions in the US (including both for-profit and not-for-profit institutions) nearly doubled between the twelve months measured in 2019-2020 to 2020-2021. All of this was within an environment where total enrollment, across all modalities, declined by almost 1%.
With this large-scale migration now detailed at an institutional level, we wanted to begin to look at how certain institutions using specific solutions have made their pivot to online learning. We also looked at how their enrollment evolved during these unprecedented years in which a macro backdrop of declining undergraduate and increasing graduate learners clashed with the immediate and ongoing impacts of COVID-19.
The shift to online learning took many forms, from the impressive (in its speed at least) deployment of emergency remote learning to expanding courses and programs that universities designed to be delivered online, meeting quality metrics in online learning (distinctly NOT ZoomU). There is not likely a single solution more impactful or impacted in the migration to online learning than the LMS. As such, this analysis starts with learning management systems.
The Pandemic Impacts All Solutions
In terms of enrollment, the four most widely used LMS providers are Instructure, Blackboard, Desire2Learn, and Moodle (Community and Rooms). Figure 1 below demonstrates the share of enrollments represented at institutions using each solution and the cumulative percentage of registrations at institutions using all other solutions. An important note: a handful of institutions of all types use more than one LMS. If an institution used more than one LMS, each system was credited the total enrolment at that institution.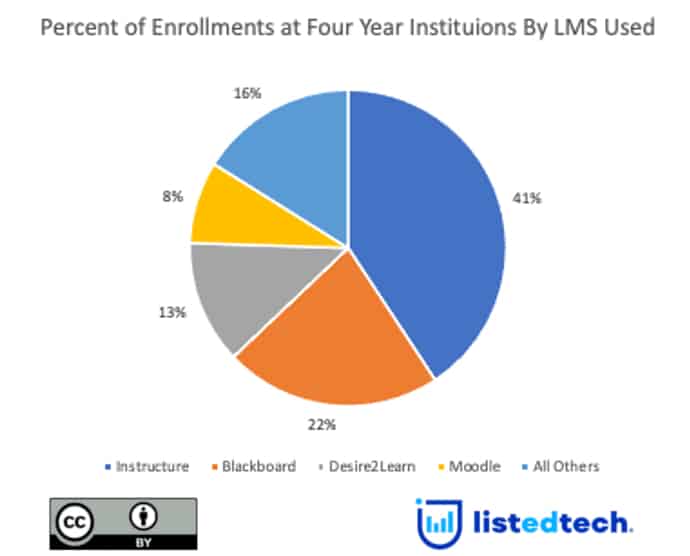 Now, for the fun part. Figure 2 shows how the total enrollment shifted between 2019-2020 and 2020-2021 at institutions using the four most widely used LMS solutions in the US.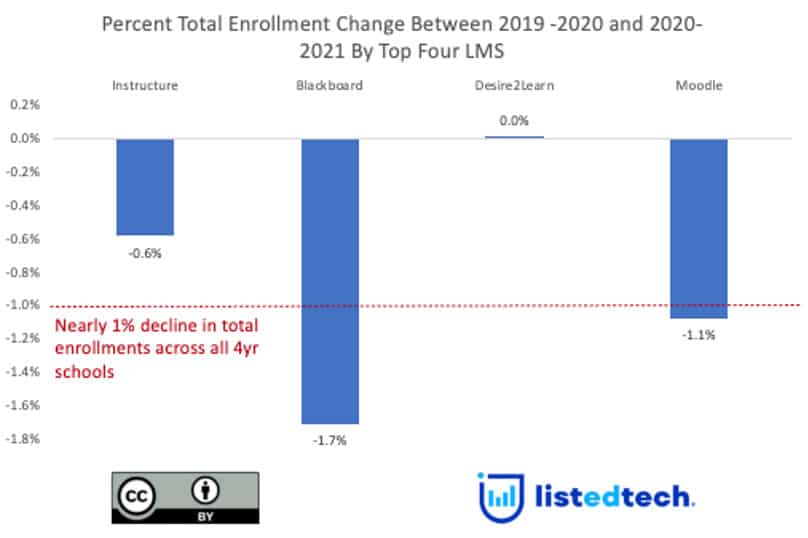 Institutions using D2L averted enrollment declines while institutions using the three other LMS providers saw declines, with Blackboard institutions registering the most significant drop, at -1.7%, Moodle with -1.1%, and Instructure with -0.6%. All of this took place in an environment where all 4-year institutions saw a nearly 1% decline in total enrollment, again, using IPEDS 12-month enrollment counts.
Institutions Shifted to Online Learning
But what about distance education? Many institutions pivoted to online learning over this time. Wholly distance enrollments across the same four-year institutions rose by 3.7 million, or nearly 90%. 'Some distance' enrollments were up by 1.2 million, or 24%. Figure 3 depicts the migration to some or wholly distance enrollments and indicates that those four-year institutions using Moodle saw the most considerable increase in both categories. D2L institutions had the lowest increase in wholly distance enrollments, with 67%.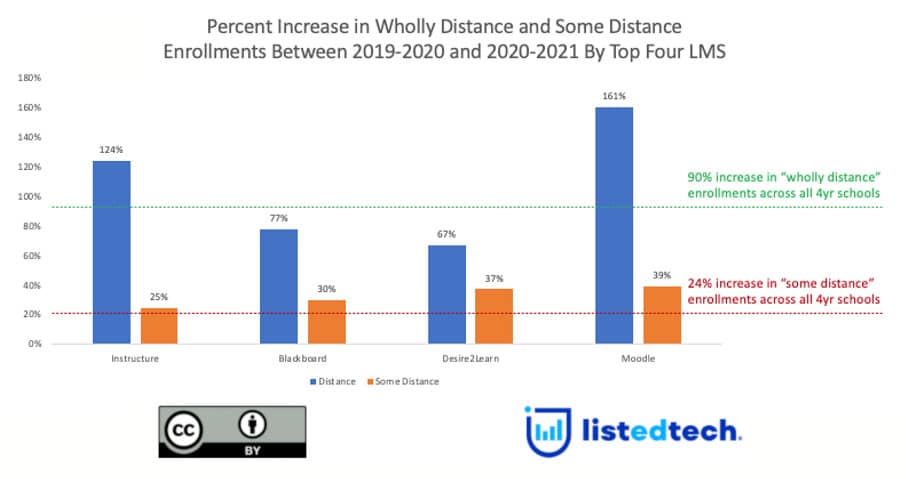 Documenting the use of LMS in the large-scale migration of students learning in some or wholly online environments or changes in total enrollment is not a simple exercise of cause and effect. Instead, it helps us understand what is happening across institutions using specific solutions and how they have navigated these unprecedented years with the workhorse of learning delivery, the LMS.
Note: We could explore this data further by institution, by region, and by different solutions. Comment on social media if you want us to drill down the IPEDS data.