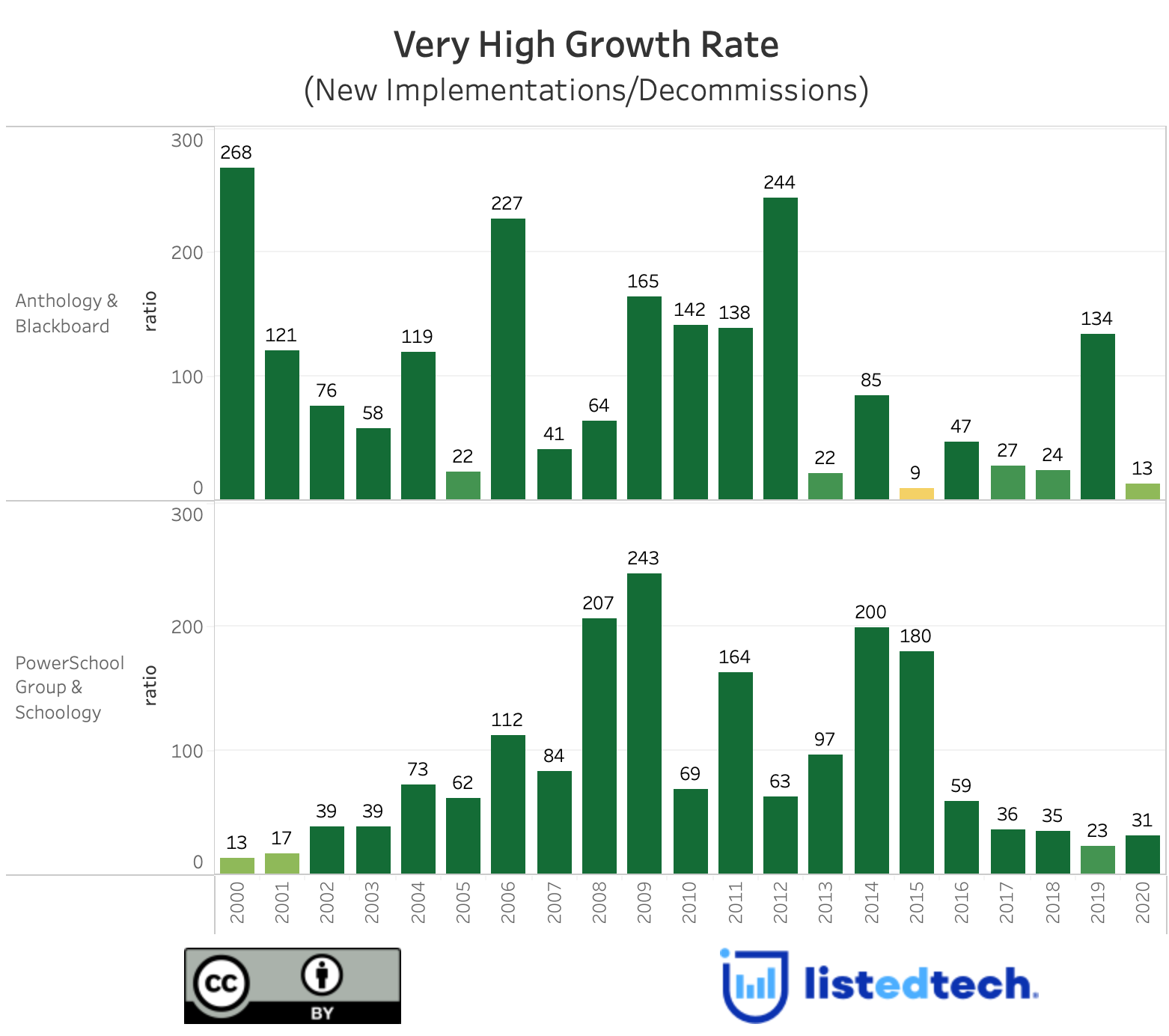 Last week, I was at ASU+GSV Summit for the first time. I had the opportunity to meet with several clients, friends and new acquaintances. On the flight back, I was looking at my notes and noticed that two companies I had met had referenced each other. They were saying that only the other company has the same user base and tech stack to aspire to accomplish the same goal: offer a holistic technology approach to the educational world. If you haven't read the title of the article yet, I'm referring to Anthology and PowerSchool.
Because of their dual referencing, I decided to look more closely at the two companies. What do they have in common? What can distinguish them from the rest of the enterprises?
The two companies have large product lines covering everything from:
Applicant tracking
Assessment and evaluation
Career readiness solutions
Customer relationship management systems
Financial systems
HR systems
Learning analytics
Learning management systems
Portals
Retention systems
Student information systems
By looking at the number of clients, we could believe that Anthology (with 5,000 clients) has a much smaller footprint in the business than PowerSchool (with about 13,000 clients). However, since PowerSchool aims at school districts and Anthology at higher education, the latter has a larger enrolment per institution. So while PowerSchool offers educational solutions to 45 million students, Anthology has more than 40 million students using its products every day.
Similarities in the Business Development Model
When it comes to business development, both companies share a similar vision. In one of its quarterly reports, PowerSchool mentions: "We're also seeing heightened focus on providing an integrated academic, behavioral, special need and a social emotional support to give a holistic view of the student. Kickboard, our behavior solution acquired recently in November, helps districts identify students who need behavioral support. And we are further innovating to enable a holistic multi-tier system of support process for districts."
The goal for PowerSchool is to have each of its clients use at least four products in order to help them get a 360-degree look at their students: understanding learning outcomes from SIS to LMS or assessing health situations.
Anthology, also with a holistic vision, acquired Blackboard to complete its product suite. It is also doubling down on the completion of the Ultra LMS.
The two companies have a cross-selling strategy. Since they have both acquired multiple companies in the last few years, they have a great potential to upsell their other products. To help do this, Anthology and PowerSchool are investing significantly in their business as a strategy to help keep their current customers and attract them to other products they offer.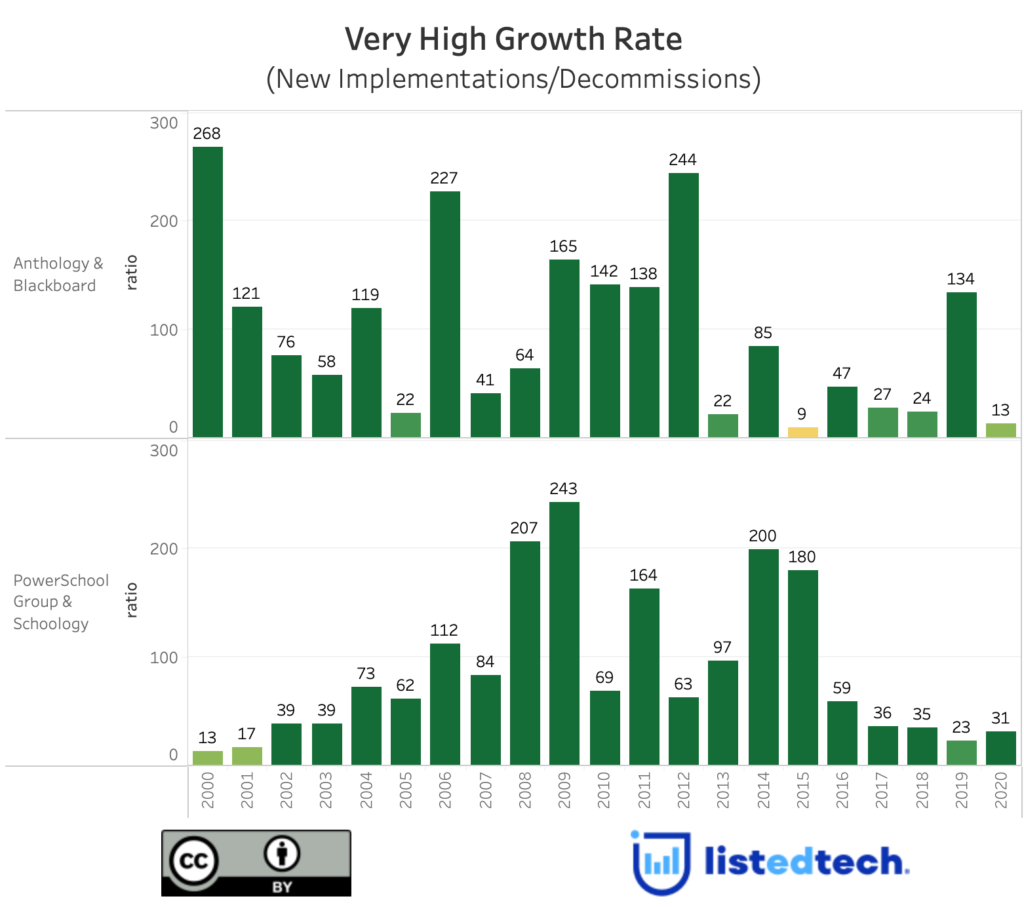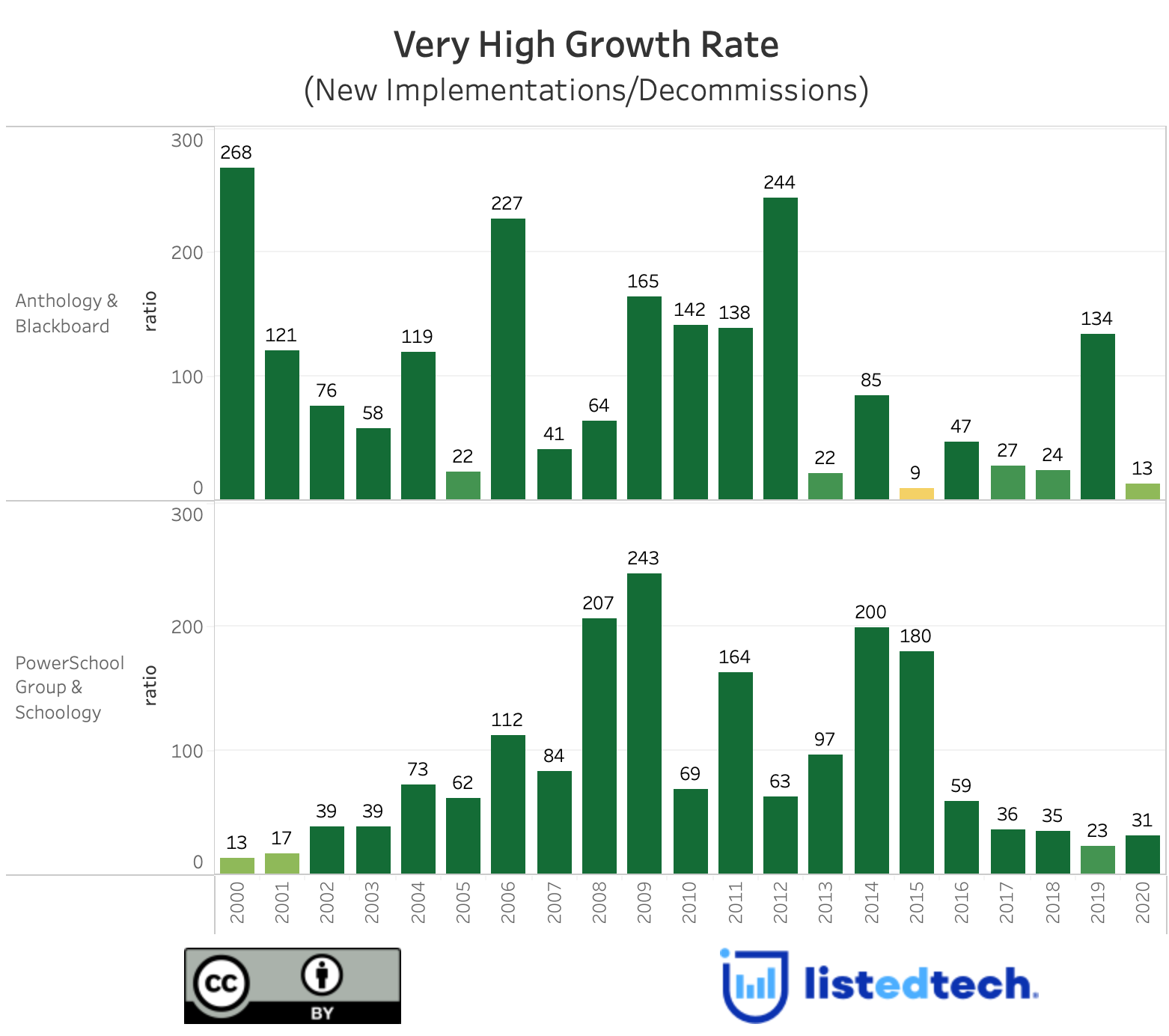 In the graph above, we show the high growth rate of the two companies. This calculation is based on the number of product implementations divided by the number of decommissions. A simple example would be for a said year: 150 new implementations / 10 decommissions = 15. If you have a high decommission rate, your ratio gets small very quickly.
As you can see, most years are very positive for both companies. We consider a rate of 30 and above as exceptional, a rate between 20 and 29 as excellent, a rate of 10-19 as very good and a rate of 5-9 as good. As you can see Anthology and PowerSchool are well situated. We haven't had the time to compare these companies to other enterprises, but this preliminary analysis of their growth looks promising.
Market and Technology Research
These two companies look to be investing a lot of money in acquisitions but also in research. Anthology and PowerSchool have said that they are investing massively to ensure they offer the best products to their customers. For PowerSchool, its product offering can be combined with other solutions in order to encourage clients to test the solutions. The bet is that they will like the products and want to implement other systems of the suite, helping the company to upsell.
Based on our discussion, the goal of Anthology and PowerSchool is not to maximize profits in the short term, but rather to invest in long-term strategies to enhance the educational technology world.