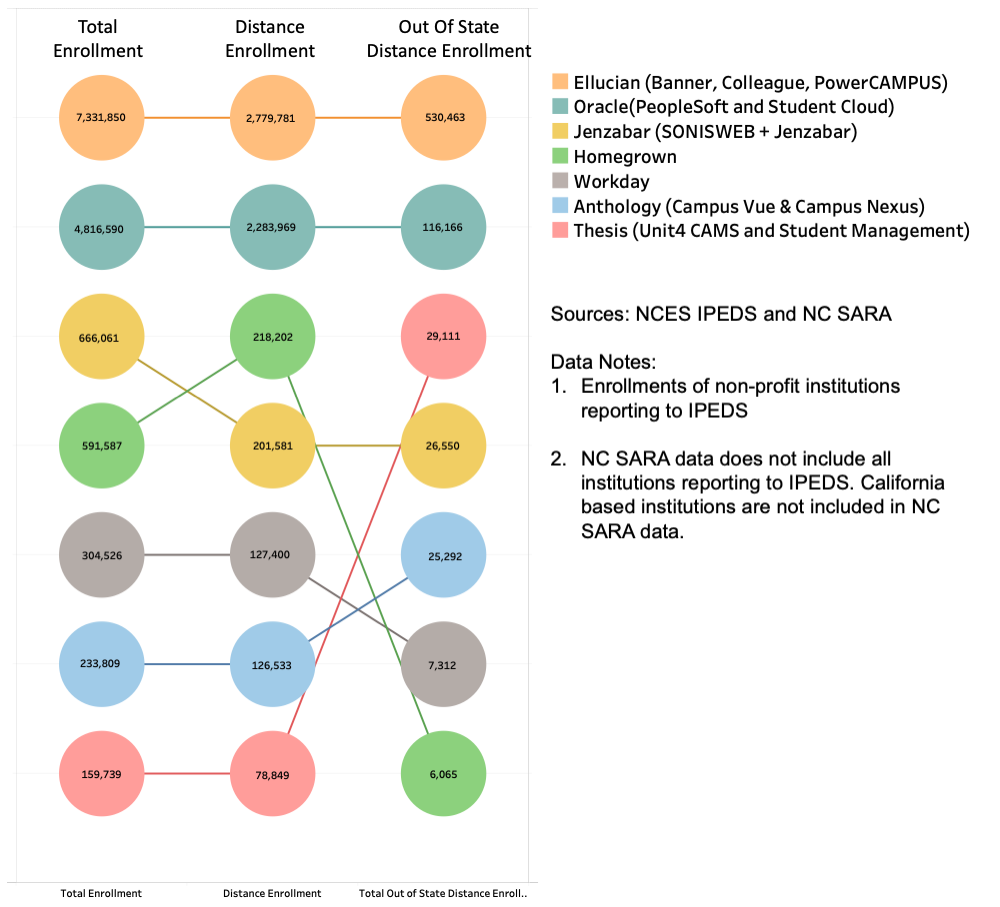 We have written a good deal about the SIS market, particularly around the market share, as defined by the number of higher education institutions that a given solution works with and how schools of certain enrollment sizes tend to use particular vendors' solutions.
This post will look at the SIS market through a slightly different lens- the number of students enrolled at public and private 4-year institutions within the US. We focused on three categories of enrollment for this analysis: the cumulative total enrollment at institutions, total distance enrollment, and finally, the total enrollment of distance students who are out of state (non-residents).
Student enrollment data comes from two sources: IPEDS for total enrollment and total distance enrollment and NC SARA for out-of-state distance enrollment.
Why Look at the SIS Market in This Way?
For one, we wanted to explore relations between online students and specific solutions. Institutions and their technology will be called upon to perform familiar tasks, e.g. course registration and scheduling- differently when students are online.
Secondly, this view of the number of student enrollments gives essential context to market share and the total addressable market for the SIS space. The size of the institution, and the number of students logging into a solution, certainly impacts the size of the contract between institutions and SIS vendors.
Finally, this was an experiment. To our knowledge, such analysis has never been done. Perhaps for a good reason! But down the path we went with open eyes. This is what we noticed.
The chart below ranks each of the major SIS providers (Oracle, Ellucian, Workday, Anthology, Jenzabar, Unit4) and homegrown solutions in each of the three enrolment categories.
SIS Vendors Ranked By Number of Students Enrolled: Total Enrollment, Distance Enrollment, Out-of-State Distance Enrollment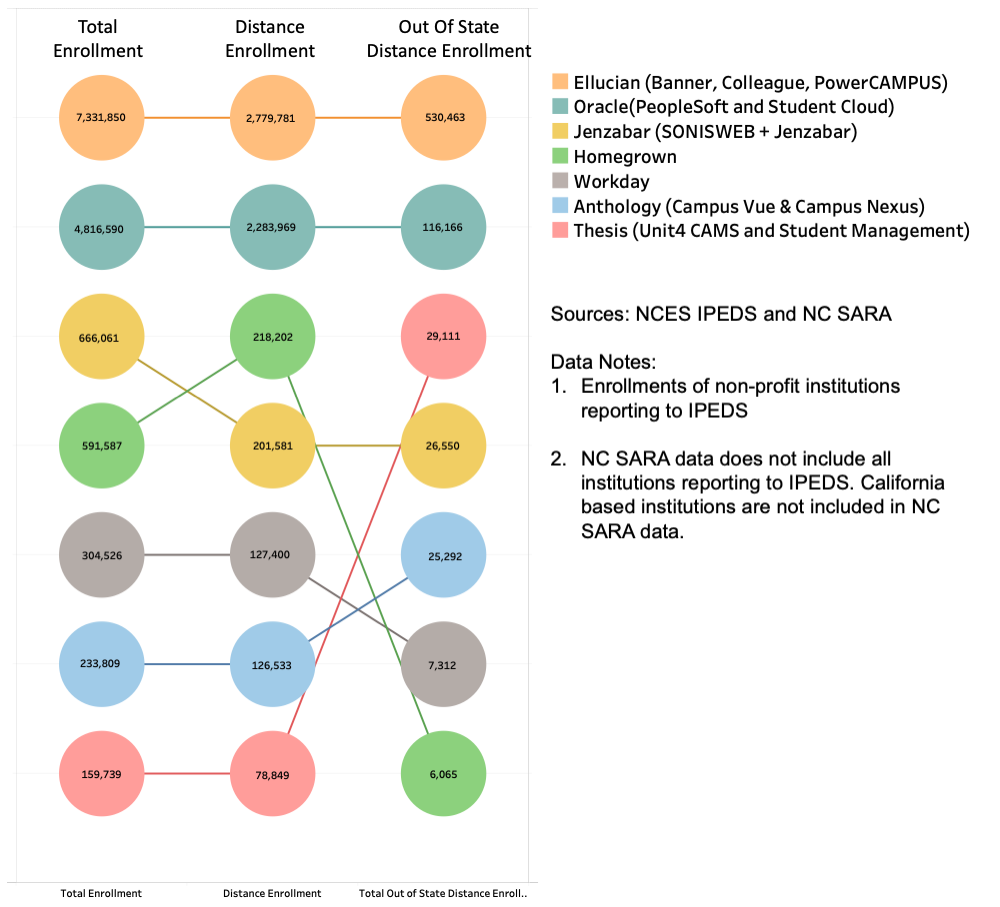 To no surprise, the highly enrolled, predominantly large, research institutions that (in many cases) have long used Oracle and Ellucian products serve the bulk of students in the country regardless of their learning modality. Though this analysis includes such non-profit giants as SNHU and Western Governors, the rankings would not change much – Oracle and Ellucian dominate the space in terms of enrollments.
Homegrown solutions appear to fall well off in jumping from distance enrollments to out-of-state distance enrollments, likely due to homegrown solutions being used at several large state institutions with predominantly in-state students. Jenzabar, which has far more implementations than homegrown solutions, follows a similar, though less dramatic, trajectory.
Anthology and Unit4 products climb up the rankings ladder for out-of-state students. Their footprint among smaller schools indicates their growth in online learners beyond state borders. Many of these institutions are successfully adapting to expand geographies and educational offerings.
Overall, this data helps to add context to the SIS market, not just the variety of schools that use a particular SIS but also the diversity of students. The online learner is undoubtedly not a monolithic persona, but does often similarly ask institutions, and thus their technology, to operate differently.
Of all the solutions in an institution's tech ecosystem, it is the SIS, along with the procedures and operations that bring faculty, staff, and students to utilize it, that is not only doing a lot of this work but has historically been challenged to adapt to increasing changes in modalities and everything that entails.
The continued maturation and adoption of online learning will only add to the importance of all technology vendors' continuous adaptation to support a variety of institutions and their evolving needs.