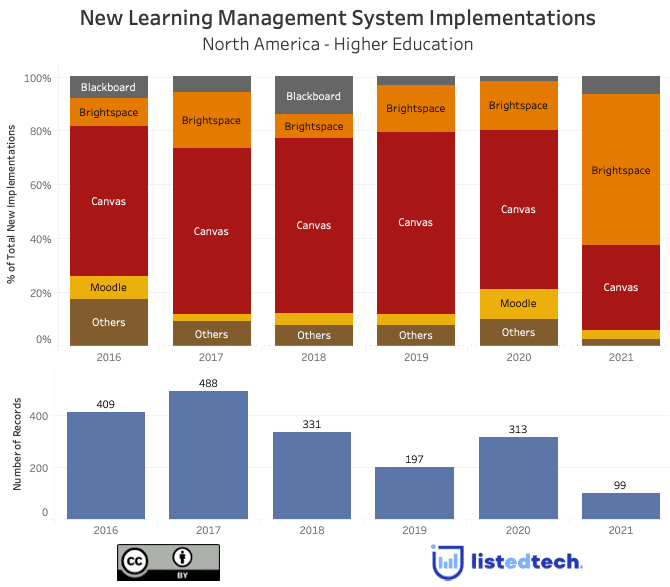 Last week, SUNY announced that it had selected D2L Brightspace as a common LMS throughout the entire university system. With more than 400,000 students enrolled at SUNY, switching to this system could have a ripple effect on the LMS market.
Following the SUNY announcement, we wanted to look at the LMS new implementations over the past few years. In the following graph, we have included SUNY as a Brightspace client even if the implementation of Brightspace at SUNY has not yet been done. This product selection shows the impact on the LMS market for 2021.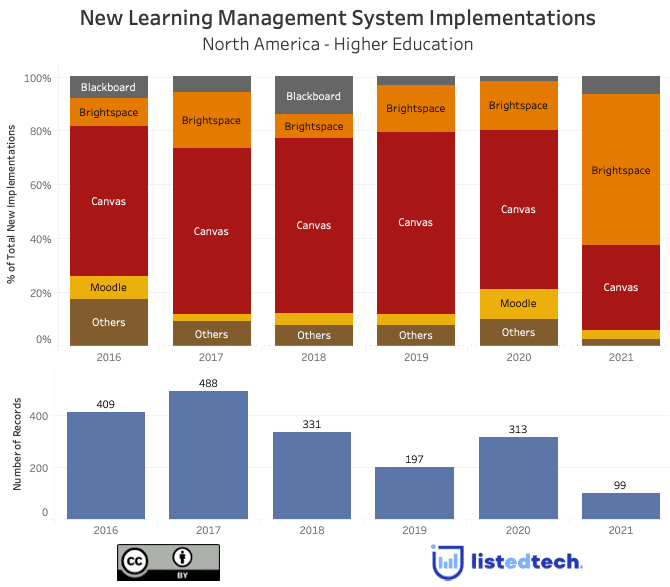 Before the recent contract between D2L and SUNY, the state university did not have a centralized LMS. Each campus was able to implement an LMS of its choice. Before last week's announcement, this decision structure explained why some SUNY campuses already used Brightspace. In our database, before 2021, we identified Brightspace in a handful of campuses only. With the upcoming implementations for the remainder of the campuses, Brightspace would represent 57% of total new implementations for 2021. With this agreement, Blackboard loses just under 50 institutions.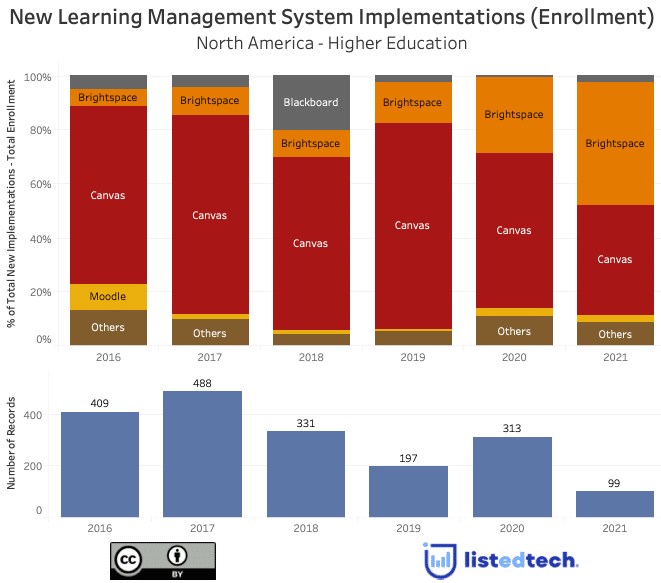 When using the number of students instead of the number of institutions for the new implementation graph, we see that SUNY's decision to select Brightspace has a smaller impact since many of SUNY's campuses have under 5000 students. Of course, Canvas and Blackboard are still the overall leaders in market share. This may change, however, as many institutions consider SUNY an example in technology adoption. SUNY's decision to select Brightspace system-wide may impact LMS selection processes across America. It will be interesting to follow the LMS market in the near future to see if D2L's win rate vs Instructure increases.
Data note: 2021 data is preliminary as our data always trails a few months. The best representation for 2021 will occur at the end of the first quarter of 2022.