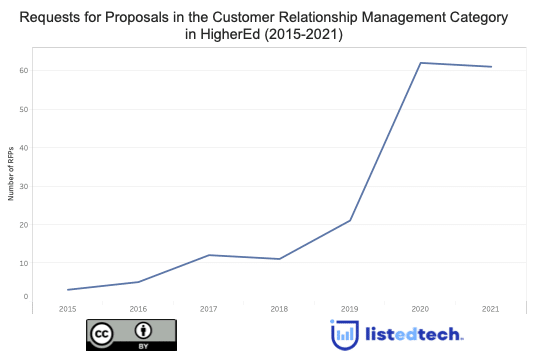 Any recruitment officer or admission officer knows the struggle to get a lead down the admission funnel. Over the years, IT companies have tried to offer a solution to overcome this challenge, but many failed. For this month's company profile, we showcase Element451, a CRM that amalgamates in one place the different steps of this essential core business for any HigherEd business.
Initially started as a side project of a marketing agency from Raleigh (North Carolina), Element 451 has been tested and improved over the years thanks to work done for dozens of HigherEd institutions. Built to offer an all-in-one platform for all marketing needs, the CRM accompanies future students through their year before college. Its features include searching for a program of study, inquiring about it, applying to the right university, and finally accepting their offer of admission. Every step carries a smooth and personalized experience for the students.
Element451 is marketed as a student engagement CRM from the institution's standpoint, but it offers many more characteristics than a traditional CRM. Focusing on acquiring new students, this all-in-one tool provides plenty of attributes that we will present in two categories: communication-recruitment and admission.
Within the communication-recruitment group, Element451 has built-in components to:
Acquire leads through personalized websites and landing pages powered by the platform;
Reach out to students using their preferred communication tool (web, chat, email, etc.);
Create online or in-person events.
When it comes to the admission stream, this CRM proposes:
Easy-to-design application online forms with document management capabilities;
Admission processes including professorial committees;
Enrolment operations;
In-depth analytical insights;
Automation tools using artificial intelligence.
This CRM features integrations with the most popular IT solutions on the market: all major student information systems, Zoom, Cashnet, Google Sheets, etc.
All These Tools for a Small Price
What distinguishes Element451 from its competitors is the low investment required to implement the solution. With an annual budget of as low as $20,000, colleges and universities can integrate this CRM into their day-to-day operations. The actual amount to be paid is based on the number of applications an institution receives each year. The cost includes unlimited user accounts, free training and implementation fees.
Element451 also puts pride in its fast implementation timeframe. New clients can send email campaigns in as fast as one week, and the full implementation typically takes four months. Since the platform has been tested and retested, the easy-to-use and straightforward campaign builder shows results quickly.
Recently, Element451 has started to offer communications and marketing tools to current students in addition to its core business. It helps institutions pursuing their mission of better communicating with their students. The platform is so powerful that it can replace many systems used:
Email campaign builder (Mailchimp);
Admission review software (TargetX);
Landing page creator (Unbounce);
Survey designer (SurveyMonkey);
Event management platform (CVent, Hopin);
SMS/MMS capabilities via 1-1 or mass texting (Mongoose);
Listservs of currently enrolled students;
Weekly admission statistics reports.
The philosophy of Element451 is to provide the right message to the right person at the right time. With this mentality and the desire to provide the best solution to institutions, we believe that Element451 has a bright future ahead of them. We predict that its client base of 50 institutions across the US, the United Kingdom and South America will soon expand to other parts of the world.
Added Context: The Current Situation in the CRM Product Category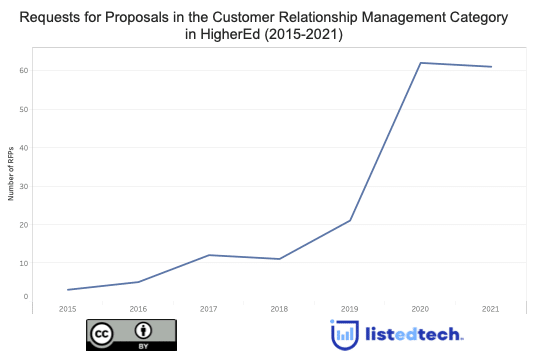 Since 2019, the CRM product category has seen a more considerable influx of requests for proposals. We can assume that many of these RFPs are related to the COVID pandemic. It is harder to keep track of the students' interactions and needs without a proper communication management tool, especially in a distance learning setting. We also believe that specialized CRMs (versus those bundled with ERP systems) are increasingly dominating the market. These new systems help institutions adopt a revised approach of their communications.