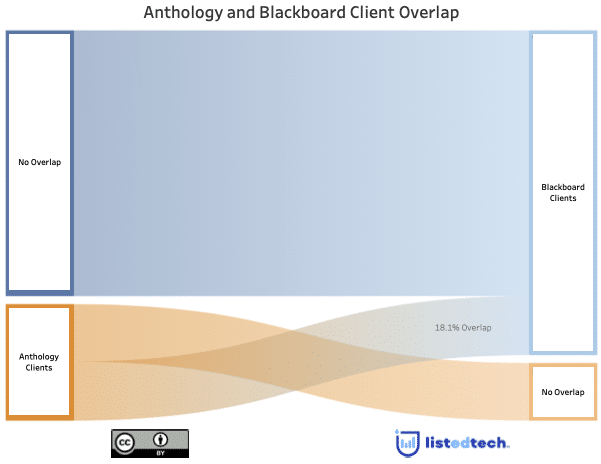 On September 13th, Anthology and Blackboard announced they will merge by the end of 2021. This transaction will "create the most comprehensive EdTech ecosystem across academic, administrative and student engagement applications", mentioned the joint press release. This mega-company will serve more than 150 million users spread over 4,000 campuses in 90+ countries.

A long-time learning management system leader, Blackboard is still recognized as one of the top forerunners in this product category. In North America, Blackboard currently has 21% of the market share for higher education (it had 33% in 2012). Its client base is spread among almost 90 countries. Anthology is not as present worldwide and has most of its clients in the United States. As mentioned in last year's blog post about the Anthology creation, almost half of Anthology clients are smaller institutions that have under 2,500 students, and 35% are private-for-profit institutions. Both Blackboard and Anthology are present in Asia, but Blackboard is more implemented in the South East Asia region.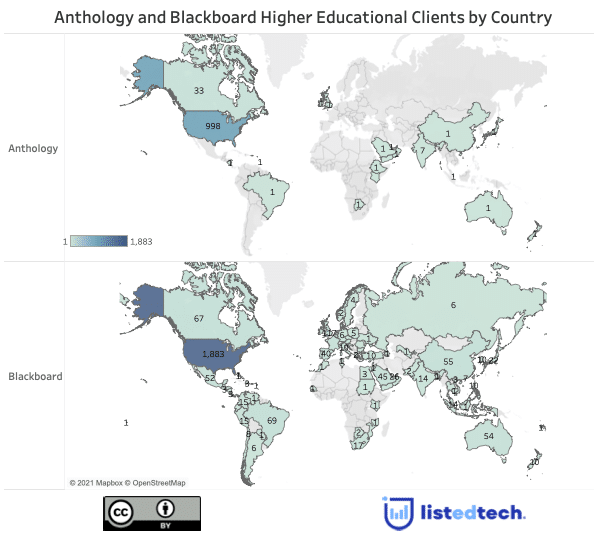 Product Integration
The list of Anthology products, before the merger, includes several CRM solutions and HR, Financial and Financial Aid software in addition to the SIS, retention and career readiness systems. Despite this predominance in several product categories, one core component is missing from Anthology's portfolio: a learning management system. By merging with Blackboard, it gains a robust LMS to complete its product offering.
However, Blackboard is not only an LMS company. It offers other solutions in several product categories: conferencing systems, proctor systems and alert notification systems. Also, in the plagiarism detection category, Blackboard is the only real competitor left after the acquisition of Ouriginal by Turnitin.
While Anthology has a strong presence in the HigherEd market, Blackboard covers the entire education spectrum. Several school boards have indeed adopted the Learn product offered by Blackboard.
Growth Opportunity
The merger offers excellent business opportunities for Anthology, although PhilonEdTech presented it more as a cross-selling of products and services. As shown in the graph below, under 20% of Blackboard clients are Anthology clients. It has impressive growth potential, primarily when companies these days prefer to market their product line as one suite. We can assume that Blackboard will soon add a better integration of Anthology products and vice versa. Despite this merger, both companies should continue to support other LMS and SIS integrations.
Using the well-established network of Blackboard offices (22) across the globe, Anthology could expand its clientele. When we compare the office list of both companies, we could expect that some offices will join forces, especially in London (United Kingdom).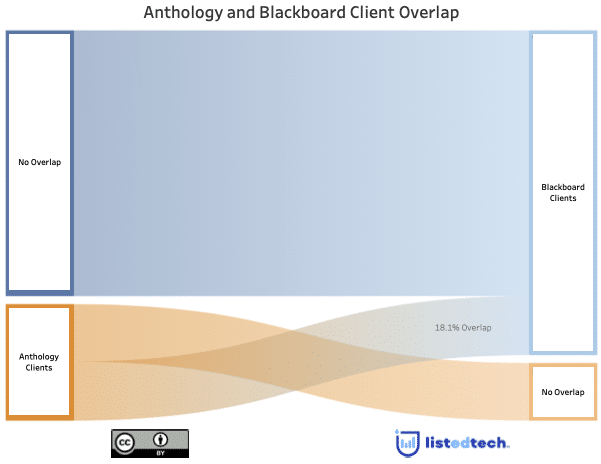 At the time of the announcement, the financial terms of the merger were not disclosed, but Bloomberg announced a potential $3 billion deal, combining the value of both companies. Still, the new ecosystem will become one of the biggest edtech companies, especially in the HigherEd sector.