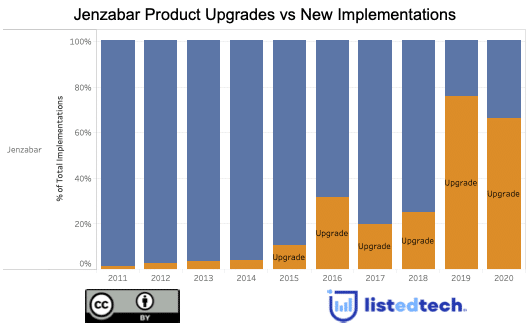 At LISTedTECH, we often talk about new implementations and their impact on company market share. We define new implementations as the initial implementation of one company's product in a specific product category.
When an institution selects, for example, Blackboard Ultra after it initially implemented Blackboard Learn, we don't flag it as a new implementation; we flag it as an upgrade.
The graph below shows:
Blackboard Collaborate being upgraded to Blackboard Collaborate Ultra; and
Blackboard Open upgraded to Moodle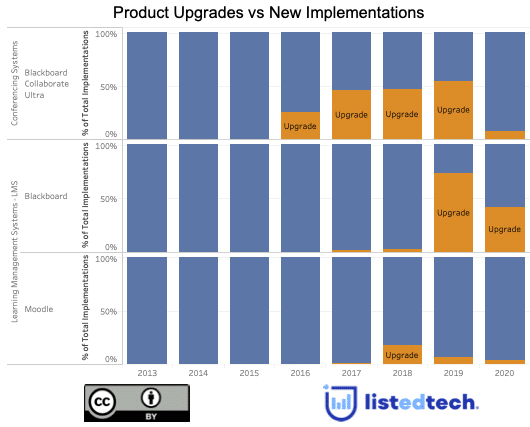 Since we follow new announcements, we believe we better represent the market trends if we distinguish an institution selecting a new product from simply upgrading to a new product from the same company.
Over the years, we saw different types of upgrades. Some companies rename products, especially after a recent merger, like Anthology. Others will migrate from one product to another, like Ellucian Colleague to Ellucian Banner: same company, different product.
From the 220,000 implementations in the LISTedTECH database, we observed that one company had a high volume of upgrades. That company is Jenzabar. We see a high volume of upgrades to the Jenzabar One product. In 2019 and 2020, these upgrades represented more than 66% of all implementations for Jenzabar.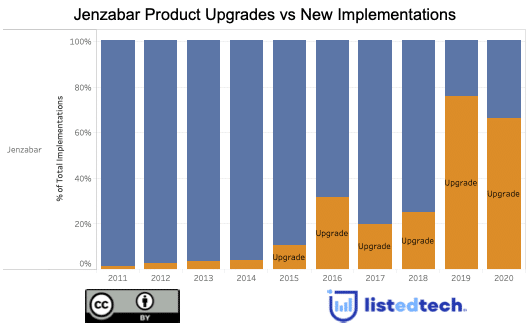 Product upgrades can indicate a company's ability to retain its current clients, and therefore, demonstrate their satisfaction towards the product. In Jenzabar's case we can also see how the company is streaming it's multiple product groups (EX, CX, JX, PX, QX, TE) into Jenzabar One.