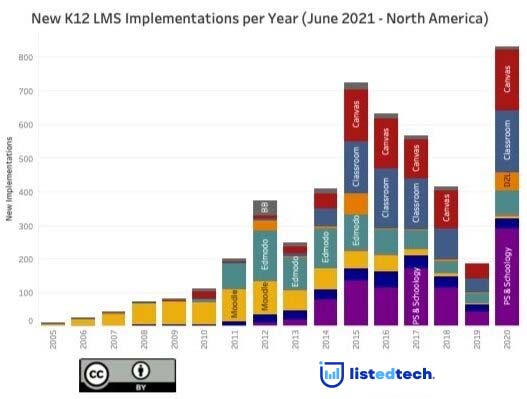 It's been over a year since we updated you on the K-12 learning management system (LMS) market. At that time, the pandemic had just started, and no one could expect how LMS systems and online instruction would become the new norm.
PhilonEdTech wrote an article in September 2020 on what would become the craziest year for LMS implementations. Now that this year has ended, we wanted to update our previous articles on the subject with the most recent data. To fully explore the K-12 market, we included private school districts for the first time. Please note that this private school board data is preliminary as we are still working on getting more data for this submarket.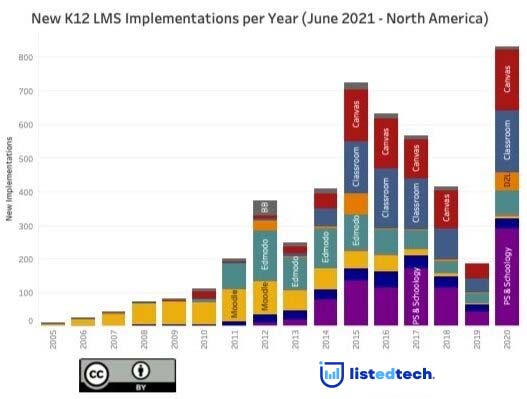 As you can see in the graph above, new LMS implementations peaked in 2015 and have steadily slowed down since then. However, another peak was seen in 2020, one that was even higher than in 2015 when Schoology, Edmodo, Classroom and Canvas were the K-12 market leaders. Within those five years, where Classroom, Canvas and D2L declined then went back to their 2015 numbers, Schoology doubled its 2015 implementation numbers.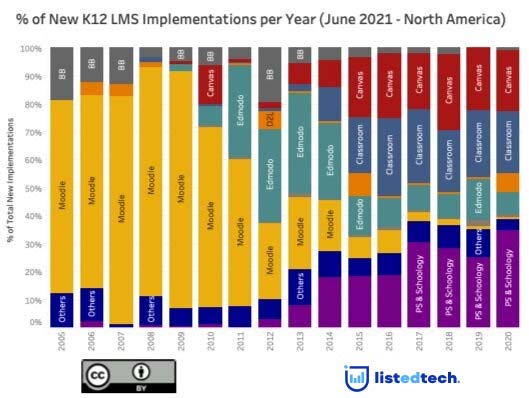 Once the market leader, one company almost disappeared from the K-12 market: Moodle. At first, when LMS was newly deployed, Moodle dominated the new implementation of the market, and this situation persisted for half a decade. The turning point was in 2011 when Edmodo became a strong competitor, replaced (to a certain extent) by Schoology, Classroom, Canvas and D2L in 2014. Since then, Moodle's decline has been constant.
K-12 Data: A priority for 2021
As mentioned earlier, we are still increasing our K-12 data, and we are focusing more on the private school districts. Although we are in the early stages of getting the data, we collected data for about 200 private districts. This is still small compared to the 5,500 public school districts for which we have LMS data, but we aim to proportionally represent the North American K-12 market.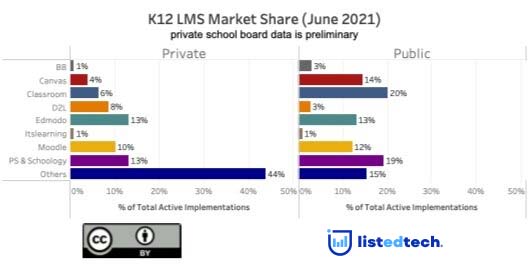 Looking at the product table by institution type, please note that the "Others" category for private districts has lots of Agilix Buze, Edsby and Finalsite. We are still investigating to see if the significant representation of the Others group is due to preliminary data or if these three companies are big players in this market. We will surely update you in the next few months.