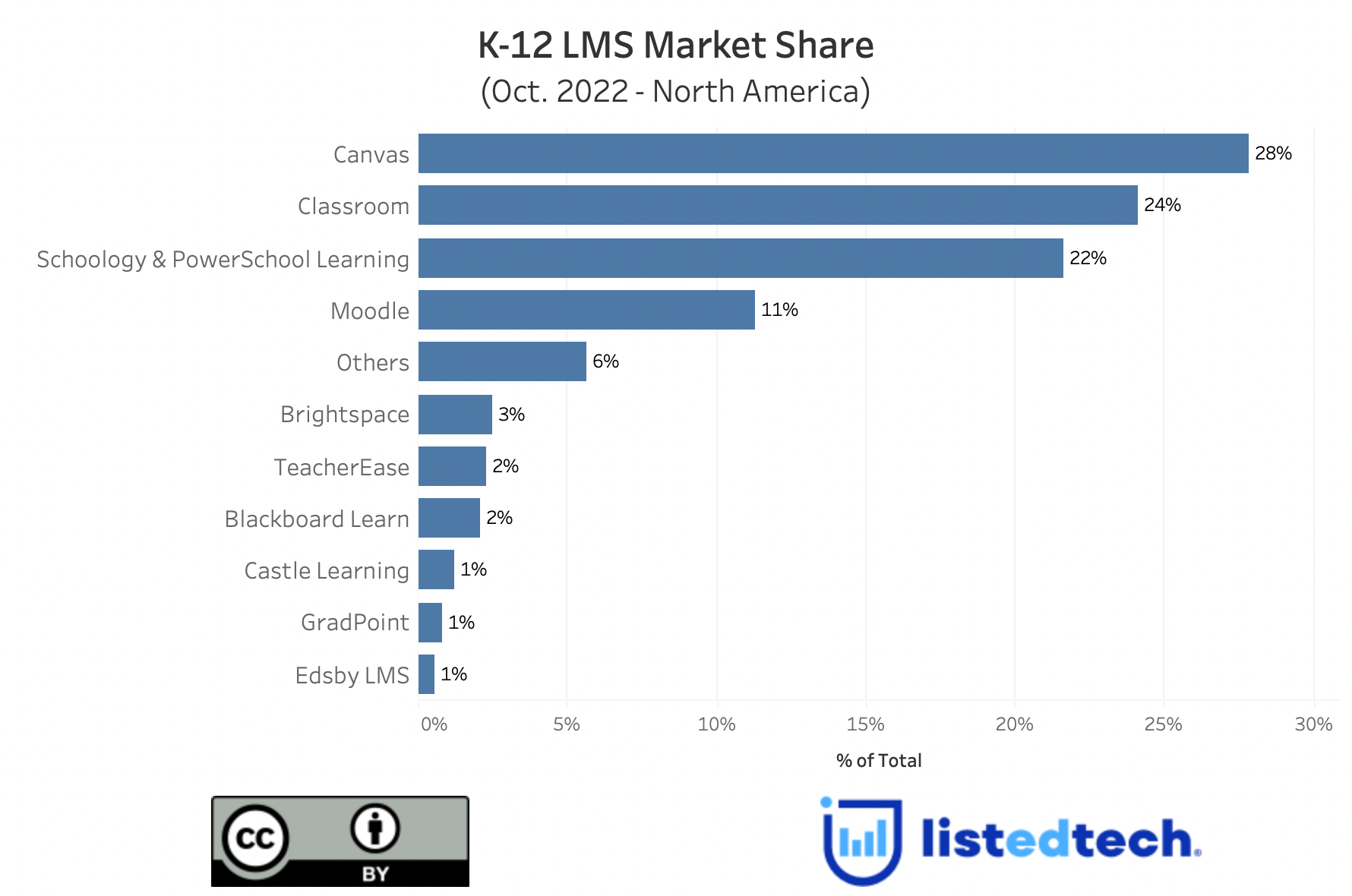 In June 2021, we published an update on the K-12 learning management systems. At the time, we had not noticed that some numbers did not adequately represent the market. Having adjusted our scrapers at the end of 2021, we then published an update. This post presents the most recent data we amassed on K-12 LMS implementations over the years.
What Is New Since the December 2021 Update?
Since the last update, we added another 1,700 LMS implementations for the K-12 submarket. One of our clients mentioned to us that our K-12 LMS numbers seem low. At ListEdTech, we aim to cover 80% of the market in each product group. Before our recent data adjustments, it was not the case.
What we did to improve our numbers?
We updated our public school district list.
We added numerous private school district URLs that were absent in our database due to human error (that's what we call "the boss's fault!").
We modified our scrapers to ensure it finds the LMS implementations that use a single sign-on portal.
These simple steps improved tremendously the different system representation within the K-12 LMS market. Last year, our graphs and data showed that Google Classroom was the market leader. Now it's Instructure's Canvas. This change of paradigm comes from the additional 400 new implementations for the year 2020 (a total of 1,600+ implementations). Since Canvas got about 40% of these new implementations that year and Classroom got about 20%, the market leader has changed.
Impact of Edmodo's Disappearance
The market representation will soon change due to the recent Edmodo LMS sunset (September 2022). Since it had a 4% market share (with just under 400 implementations as primary systems), these clients will have to select another LMS promptly. If not already done, I encourage you to read our post on Edmodo sunset.
Current K-12 LMS Market Representation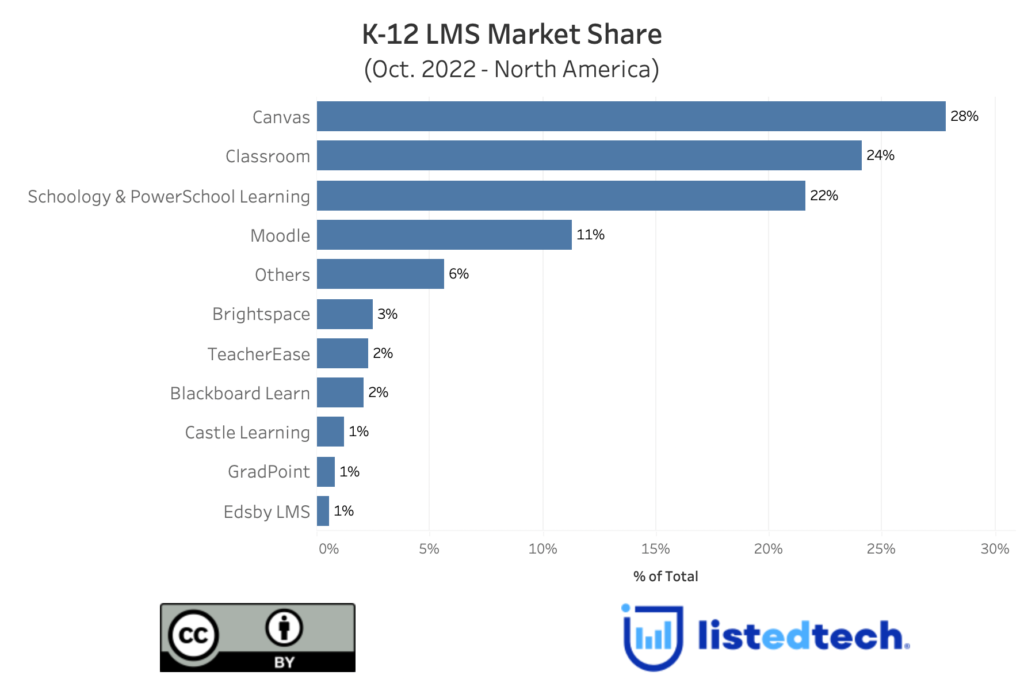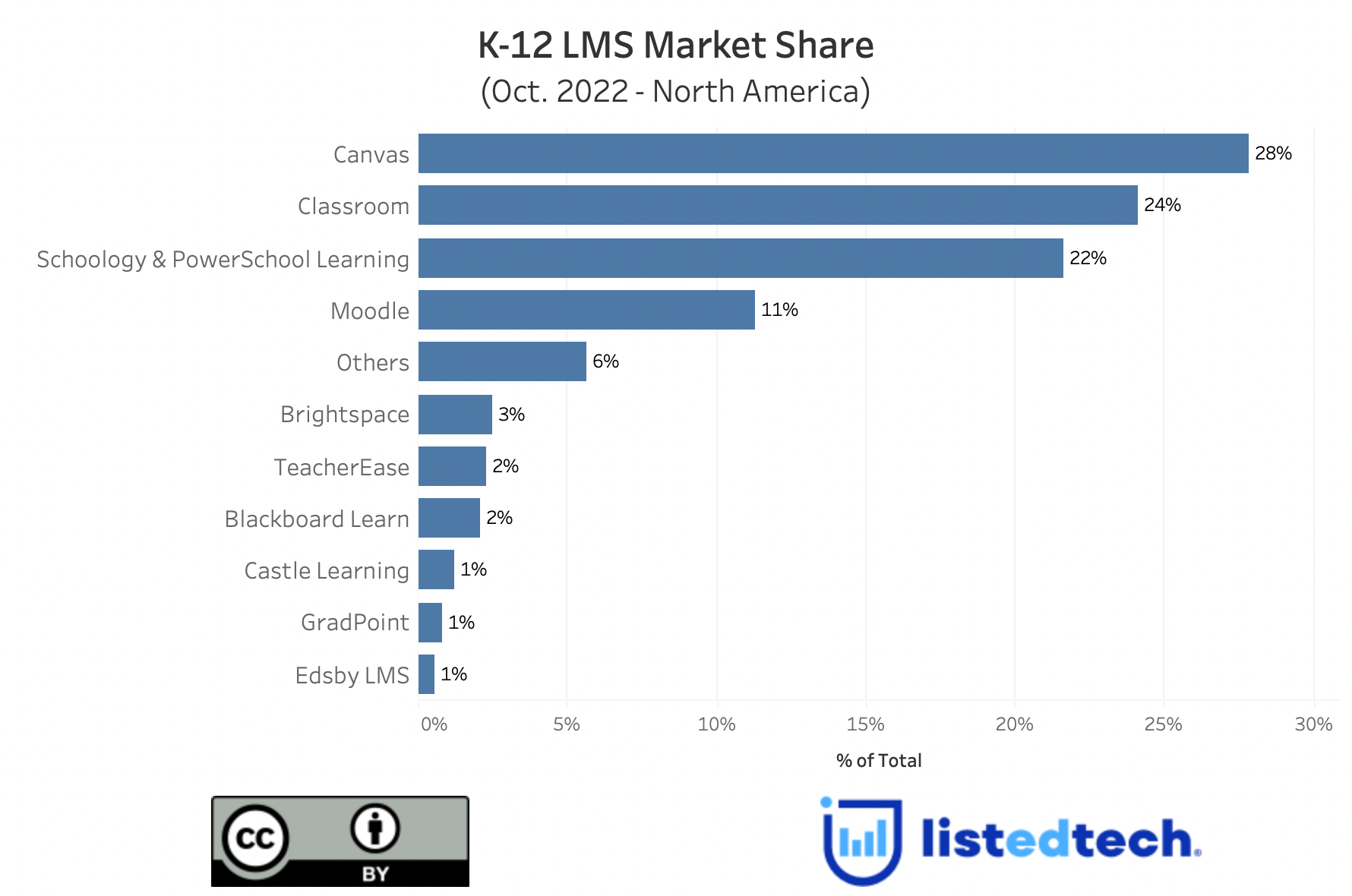 With these additional Canvas and Classroom implementations for the year 2020, the current market leaders are as follows: Canvas (28%), Classroom (24%) and Schoology/PowerSchool Learning (22%). Moodle, which had the most new implementations between 2005 and 2012 (see graph below from last year's post) is now hardly being selected.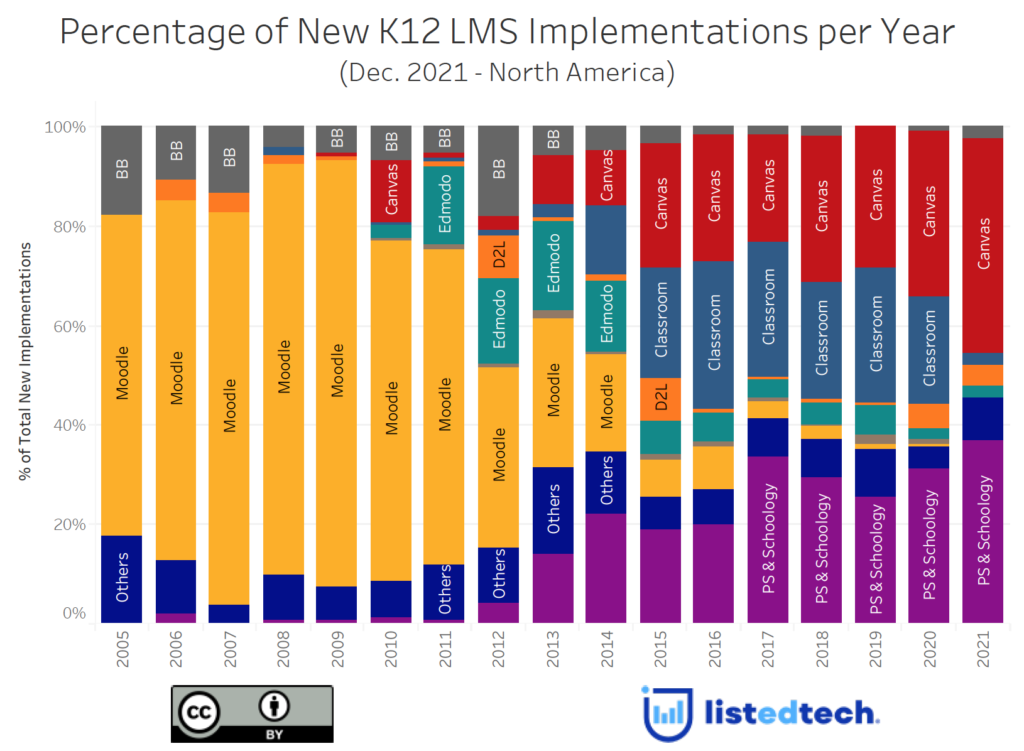 The Pandemic Impact on K-12 LMS Is Showing…
The pandemic had (and continues to have) a massive impact on education. We saw large numbers of new implementations in the K-12 market, especially for LMS systems and conferencing solutions. It is necessary to underline that many school districts and school boards implemented an LMS for the first time since they were forced to teach at a distance.
As we continued to acquire more data on the K-12 LMS market and, as we mentioned last year, we noticed that 2020 was out of the trend lines. From 2015 to 2019, the new implementation graph shows a downward trend. But when the pandemic hit the world, K-12 new LMS implementations skyrocketed to reach a historical peak. We estimated that half of these new implementations were done in school districts where no LMS was previously available to teachers and students.
When we look at specific product implementations over the years, we see a shift in the market leaders.
Once the market leader, Moodle almost disappeared from the K-12 submarket as a potential new LMS. At first, when school districts and school boards deployed learning management systems for the first time, they massively selected Moodle. The domination of Moodle over the K-12 market persisted for half a decade. The turning point was in 2011 when Edmodo became a strong competitor, replaced (to a certain extent) by Schoology, Classroom and Canvas in 2014. Since then, Moodle's decline has been constant.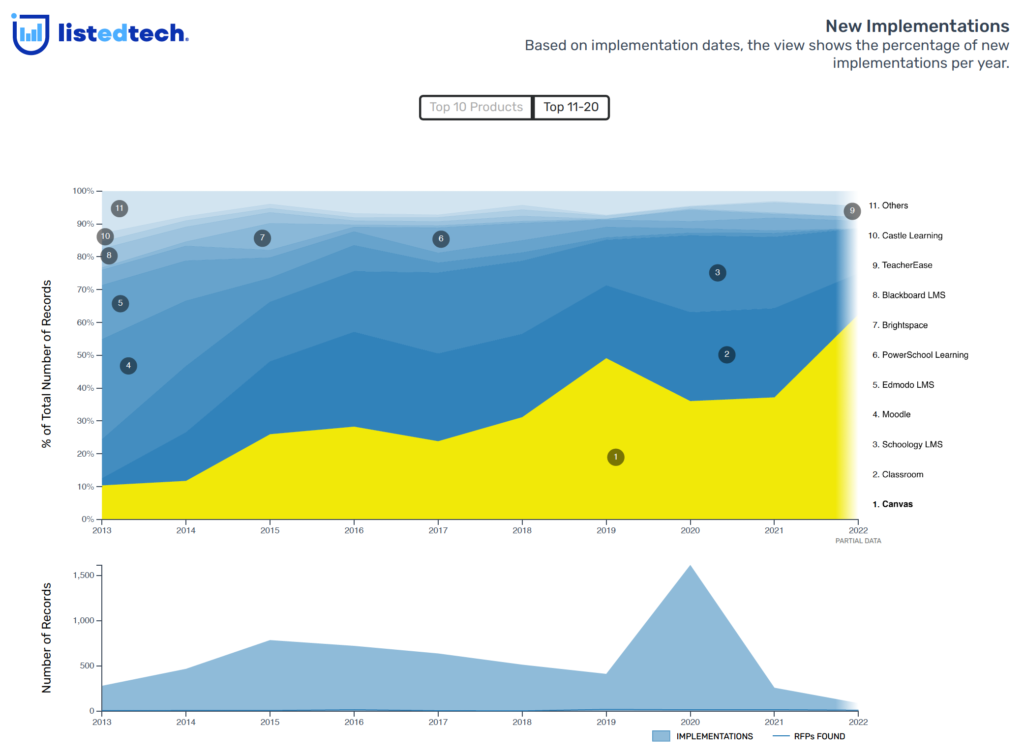 We are pleased to say that the new data that we added in recent months support our previous findings. As usual, please keep in mind that our new implementation data is delayed by about six months, so we shall notice slight variations for the 2022 data when we do our next update (in June 2023).
The initial version of this post was published in December 2021.