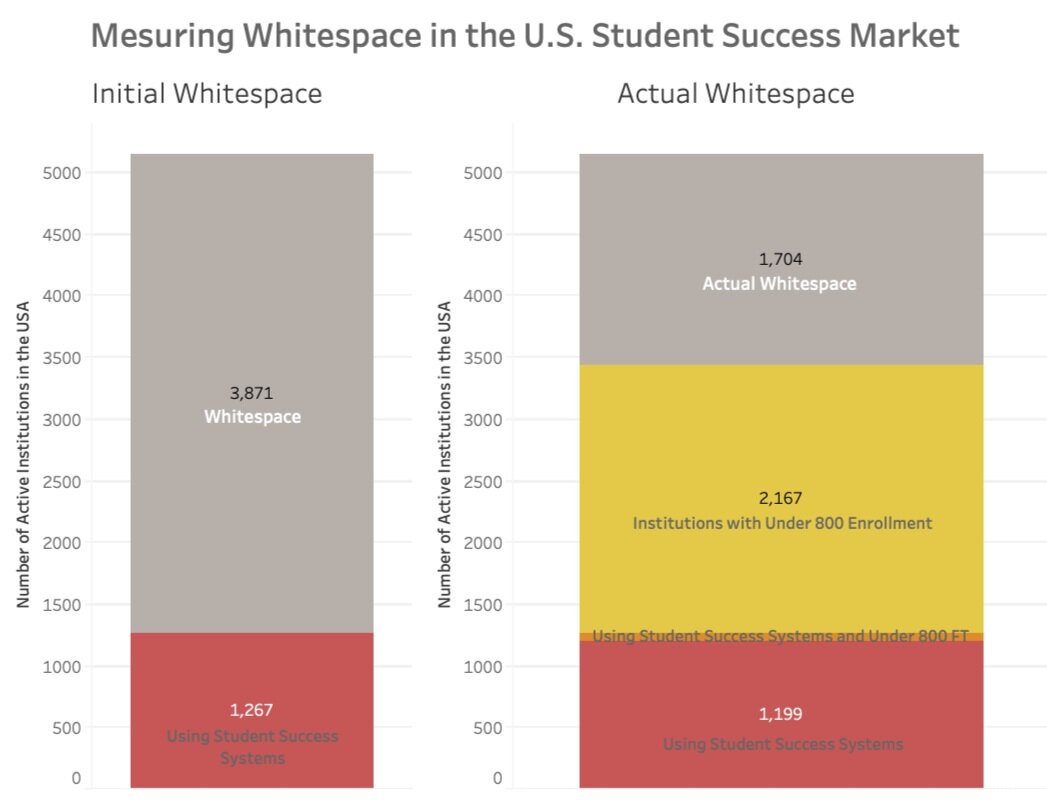 With the new year, I wanted to highlight one of the most common requests we got in 2020. With many companies looking to find creative solutions to expand their client base, we have offered to several clients our version of a white space analysis.
At its core, a company wants to grow. There are two options when it comes to growth: sell more products or services to existing clients or gain new clients. The latter implies again two choices: to acquire clients through mergers or acquisitions or to make use of white space to gain more potential clients.
HubSpot, the well-known CRM solution, defines white space as: "where the unspoken, unmet needs of customers are discovered in order to spark innovation. It's a business process used to uncover opportunities, like new audiences and product improvements." As mentioned in HubSpot's definition, growth in business is often linked to innovation because your customers' needs may not be met or even known.
There are several ways to be proactive in the business environment and to offer new services/products to clients. One could be to survey them to see if they already know an improvement to one of your existing products. Another one could be to target a new audience. Both ideas could lead to new opportunities for your company, but there is nothing better than conducting a whitespace analysis to know exactly your growth potential.
Why should you do a whitespace analysis?
A white space analysis indicates the current situation in a market segment: what institutions use what product? What institutions use no product/no commercial solution? This analysis also provides a user profile to identify potential buyers. This could be good insight information for your marketing team as per which population segment to target and with what kind of messages. By looking at the white space analysis, we have a better understanding of the current market and where to expand.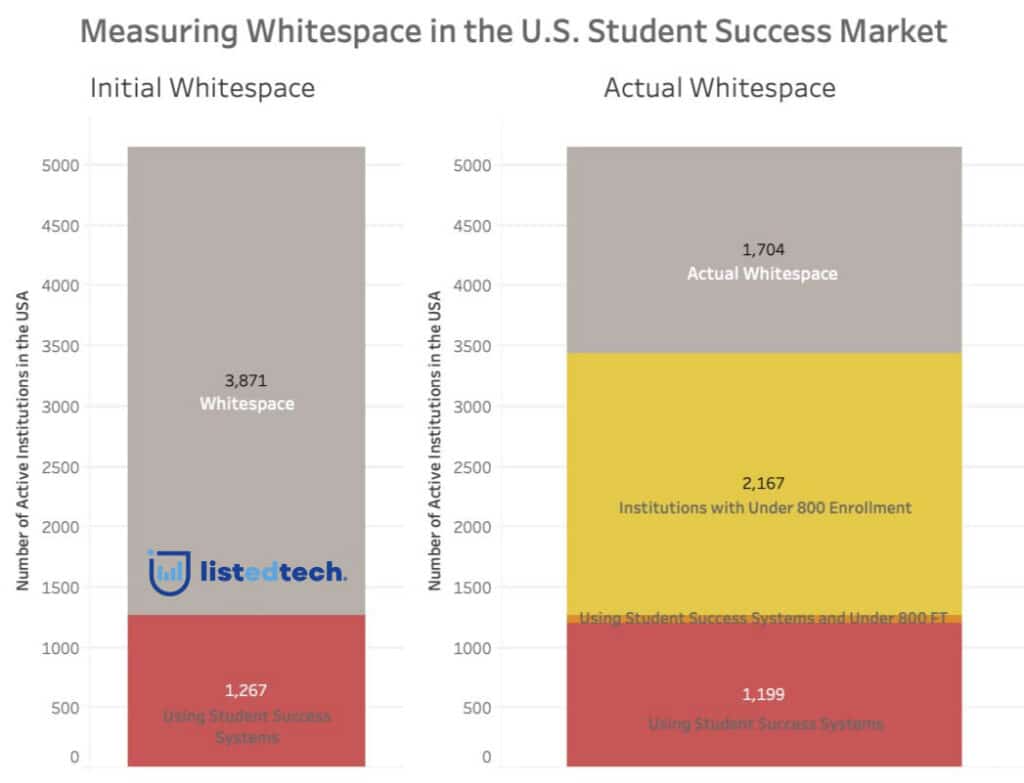 Above, you can see an example of a white space analysis graph. On the left portion, the whitespace seems considerable in the student success product category. But in fact, when we conducted our in-depth analysis, we found out that the opportunity to grow was not as big as we initially thought. One step of our analysis was to look at the profile of current clients in this product category. In this specific example, we noticed that there are very few clients in the "Under 800 FTE institutions" category and that more than 55% of the initial white space segment are institutions of this size. From 3,871 potential clients, the number is reduced to 1,704 actual prospective buyers. Not only do we have the list of these potential clients, but we also know their location, size, institution type, etc. to help you better communicate with them.
Here is an example of data extraction from LISTedTECH database of current clients in LMS, SIS, and CRM categories:
| Country | NAME | Region | Total Enrl | Degree Type | Inst. Type | Product Cat. | Company | Product | Impl. Yr | Decom. Yr |
| --- | --- | --- | --- | --- | --- | --- | --- | --- | --- | --- |
| USA | U of NY | New York | 11105 | 4-year | Public | LMS | Instructure | Canvas | 2015 | |
| Greece | Col. of Greece | Attica | 3822 | 2-year | Private | SIS | Ellucian | Banner | 2010 | 2019 |
| Canada | Col. Of Ottawa | Alberta | 13198 | School District | Private | SIS | PowerSchool Group | PowerSchool | 2018 | |
| Egypt | U of Cairo | Cairo | 5984 | 4-year | Public | CRM | Salesforce | Salesforce | No date | |
As part of our white space analysis, we can also add a historical implementation graph. Since LISTedTECH gathers implementation dates for all products in its database, we can help you understand what product is expanding and what product is not. We can also provide a list of clients using a competitor's product that is known to be losing market share.
Here is a high-level example of historical implementations for the same student success systems: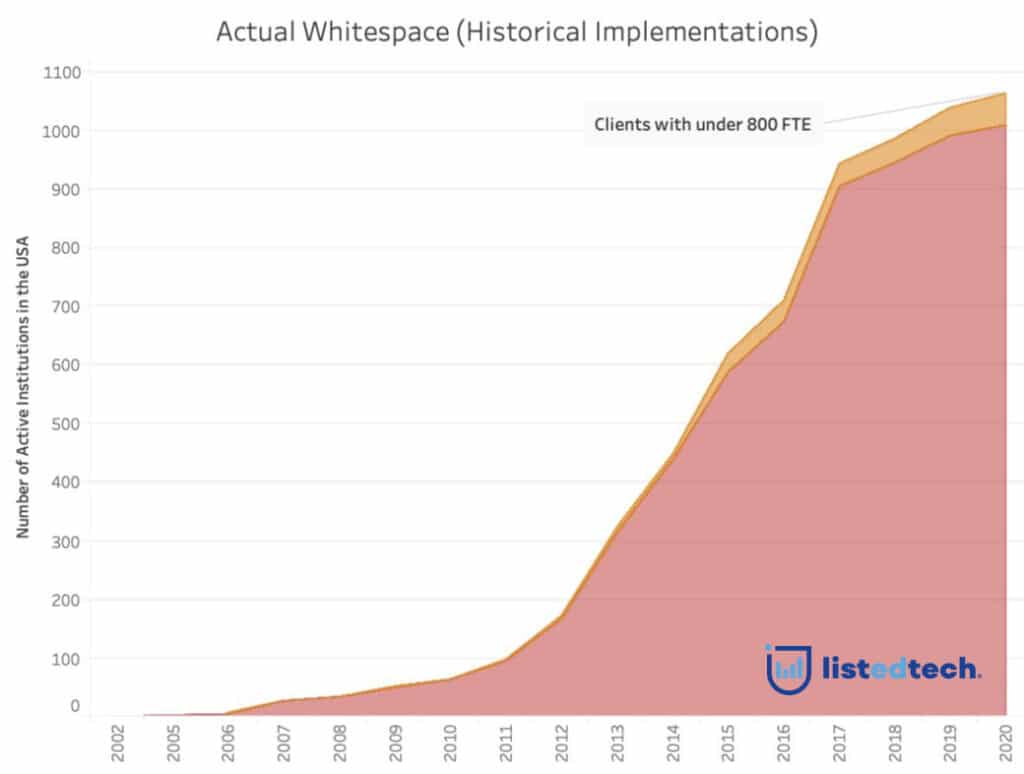 As you can see, the "Under 800 FTE institutions" segment is slowly growing since 2017 but represents only 5% of new implementations. This led to our above assumption.
Over the past few years, we received requests to do a whitespace analysis from two types of clients:
Companies looking to grow within a market segment;

Private equity firms that want to acquire one company in a specific product category.
On top of these two groups, we could also see requests coming from well-established edtech companies that want to build a new system in another product category and want to know if the market is saturated. In fact, whitespace analyses should be conducted as one of the first steps of a business plan. With our database of 30,000 HigherEd institutions and 25,000 school districts, LISTedTECH is well-positioned to help you gain this knowledge and envision your next step.
For the purpose of our white space analyses, we also include homegrown systems since the institutions using a homegrown system do not have a commercial contract with an external provider.