From a small LMS company gaining customers mostly from Canadian institutions 20 years ago to the second most implemented learning management system since the pandemic across North America, D2L (previously known as Desire2Learn) shows that David can become a contender to Goliath.
The Inception
D2L was established in 1999 by John Baker, a Canadian entrepreneur who served as the first CEO and President of Desire2Learn (D2L). Baker came up with the idea to establish D2L while studying systems design engineering at the University of Waterloo during his third year. His family of educators and personal experiences inspired him to think about learning as the foundation for progress. John realized that the work around education would have a positive impact that could span across generations, communities, companies, and cultures. With this vision, he founded D2L, intending to help millions and potentially billions of learners.
It was not always an easy road for Desire2Learn. In fact, less than a decade after its creation, the David Desire2Learn was sued by the Goliath Blackboard. At the time, it was the biggest company suing one of the smallest ones (66% versus 5% in 2006 market shares). When it obtained the Alcorn patent for "technology used for Internet-based education support systems and methods," Blackboard filed a patent-infringement suit against Desire2Learn. Blackboard's move was not well received among the IT community and the educator groups. If ruled in favor of Blackboard, this lawsuit would also impact Sakai, Moodle and other open-source software. Three-and-a-half years after the original suit, the two companies "settled the matter amicably." After a side procedure made by the Software Freedom Law Center requesting a reexamination of the patent, "Blackboard, however, made concessions to the open source community, releasing a legally binding pledge that it would never assert its patent claims against an open source developer." (source)
In retrospect, this lawsuit helped D2L gain visibility in the learning management system as well as the HigherEd IT community. We could ask ourselves why Blackboard opted to sue Desire2Learn at the time. Using our data, we understand that even though it only had 5% of the market shares, Desire2Learn was the biggest commercial threat to Blackboard; the other solutions (Moodle, Sakai) were open-source.
A Few Acquisitions
Over the years, D2L expanded its technology capabilities thanks to different acquisitions. In April 2011, D2L announced it bought Captual Technologies (originally developed at the University of Toronto), specializing in rich media webcasting. In June of the same year, D2L purchased Metranome, a Waterloo-based company that created "revolutionary technologies, applications, and services for the mobile video market."
Two years later, in early 2013, D2L bought two companies in three months: Degree Compass and Wiggio because of massive investments by New Enterprise Associates and Omers Ventures. "Backed by The Gates Foundation, Degree Compass offers a predictive analytics tool, which, like Netflix's recommendation engine for movies, helps students find classes, courses and subjects that fit their interests, skills and grade level and help them move towards their degree," mentions an article on TechCrunch.
D2L purchased Wiggio, a collaborative platform for students, to enhance its platform interactivity. At the time, this sale was expected to open the doors to the US market with the possibility of having an office in Boston. Years later, the D2L website does not list any physical location in the United States. It was also a logical step for the upcoming IPO, which would only happen in November 2021.
The last acquisition on the list is Knowillage Systems in September 2013. TechCrunch mentions: "[Knowillage is] an adaptive learning and analytics engine that aims to help teachers improve student performance." The objective was to remove manual processes within existing solutions and improve performance. The leadership team at Knowillage also included previous WebCT employees who helped Pearson build their education tools, which added value to the acquisition.
One Initial Public Offering (IPO)
Unlike other companies in the education IT sector, D2L never focused on acquiring customers or market shares but rather on building the company they wanted to see in the future. The D2L website did not announce any acquisition or merger in the past four years since the company was working on its initial IPO. We covered the IPO and the expanded partnership with Ellucian in October 2021.
The Boost from the Pandemic
The COVID-19 pandemic forced the whole education world to rethink teaching. Like other solutions in the learning management system category, Brightspace by D2L offered a way for school districts, universities, and colleges to pursue teaching activities despite the closure of buildings and maintaining physical distancing. When digging into our database, we saw a massive influx of new implementations for the Brightspace solution in 2021.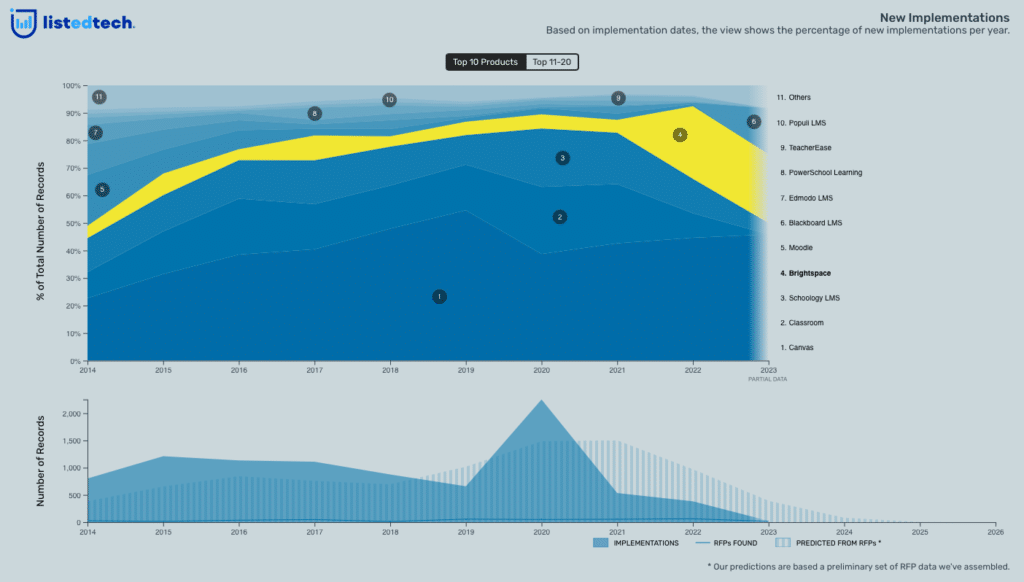 We have also noticed that Brightspace's decommissions are significantly smaller than its new implementations, offering a positive outcome. The new implementations come from Blackboard, Moodle, and Pearson.
Since the pandemic, D2L obtained big system-wide contracts such as SUNY in 2021 and CUNY in 2022, which explains the solidification of its second position in terms of new implementations behind Canvas.
Product Offering
D2L mainly offers two solutions: Brightspace and Wave. Wave is a discovery platform that enables businesses to select learning providers and programs that meet their requirements for upskilling and reskilling in order to promote education as a workforce benefit. Employee request, get approved and enroll in learning programs directly on the platform. The learning programs may or may not be offered through the Brightspace platform; Blackboard, Moodle, and Canvas may all be providers for D2L Wave. Corporations can manage their budgets, see analytics on how well their learning programs are being adopted, what demand for skills exists in their organization and much more.
Implemented in more than 1,300 colleges and school districts across North America and the world, Brightspace offers personalized learning experiences to unleash the true potential of individuals in an education setting. It is designed to instruct the students everywhere, eliminate routine tasks and reach all learners. It has built-in discussion boards, integrated assignments and marking, among other capabilities.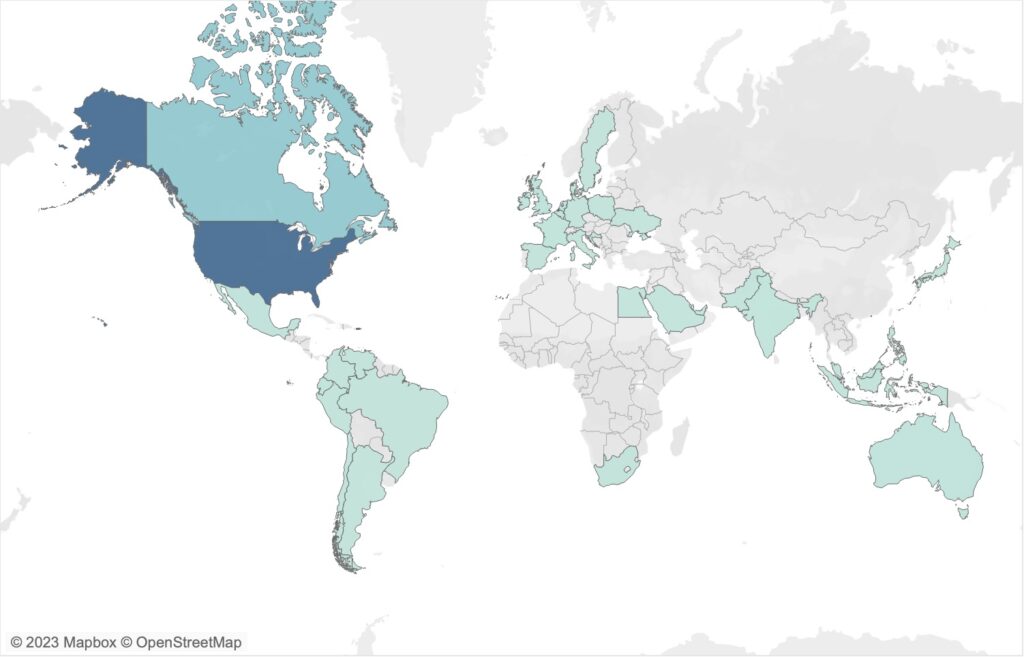 Two new tools have been developed over the past years: Creator+ and Performance+. Creator+ is there to support teachers, professors and teaching assistants to simplify the development of courses. This feature contains pre-made content templates, interactive elements, screen captures, and practice exercises that enable educators to create visually appealing and pedagogically effective content using the intuitive and familiar workflows of Brightspace. Performance+ offers learning analytics to support teaching staff and administrative personnel in understanding students' behaviours.
The Future of LMS and D2L
While the peak of the COVID-19 pandemic is (hopefully) behind us, the teaching revolution is here to stay. More fully online programs will continue to be created and offered by universities and colleges. Out-of-town/out-of-country students prefer hybrid learning to in-class attendance. These ways of teaching will ensure that learning management systems will remain a crucial resource to education establishments.
Zooming in on D2L's future, we believe it remains in the TOP 3 preferred vendors due to its current position and the trends in new implementations. By continuing to improve its Brightspace product with unique functionalities, D2L puts in the necessary efforts to remain competitive in this competitive market.
Note: the post's title is strongly inspired by the company's About page.