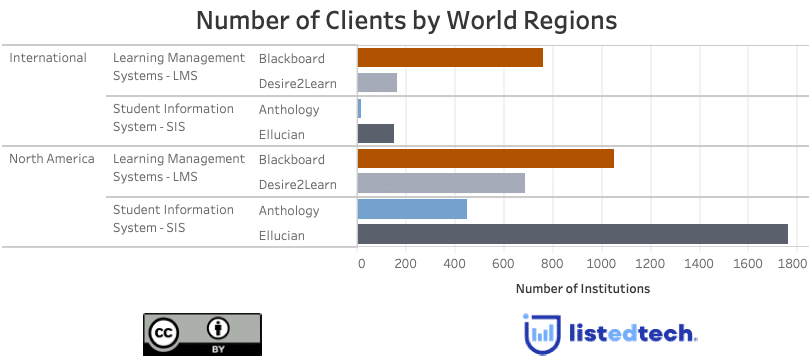 The last few weeks were worthy of a Hollywood movie for D2L. First, they announced at the end of September 2021 that they will soon go public. Then, we learned in mid-October that their initial public offering (IPO) would value them at over US$1-billion. And, as the icing on the cake, Ellucian expanded its partnership with D2L to ease integration between both company products.
To summarize Ellucian's announcement on October 26, this expanded partnership will "extend their existing technology partnership to be inclusive of enhanced go-to-market capabilities to better serve customers". The different API integrations will synchronize user, course and enrolment in real-time and in bulk. In other words, this collaboration creates a stronger connection between two leaders in edtech.
When we heard the news, we thought it was a great coincidence to announce this expanded partnership when D2L will soon be listed on the Toronto Stock Exchange. Knowing that D2L will be "fully" integrated with Ellucian suite adds to its attractiveness.
This announcement has some similarities with the merger of Anthology and Blackboard. Hear us out: the two stories are not exactly the same, but after all, it's one LMS company joining forces with a CRM-ERP-SIS company. In both cases, the balance of power is somewhat unequal. The major difference is that D2L and Ellucian did not announce a merger/acquisition in October; they announced a deeper strategic collaboration. Let's delve into some data to explore how the two announcements are congruent.
Client Repartition Around the Globe
When we look at the Geographic Region Graph, we see that all four companies are strongly implemented in North America. When we compare D2L and Ellucian in other parts of the world, they are equally absent (or almost) in Oceania and Africa. In Europe, they are neck and neck with around 50 clients each. The Middle East is probably the only place where D2L can grow with the help of Ellucian, but the numbers are nothing compared to North America.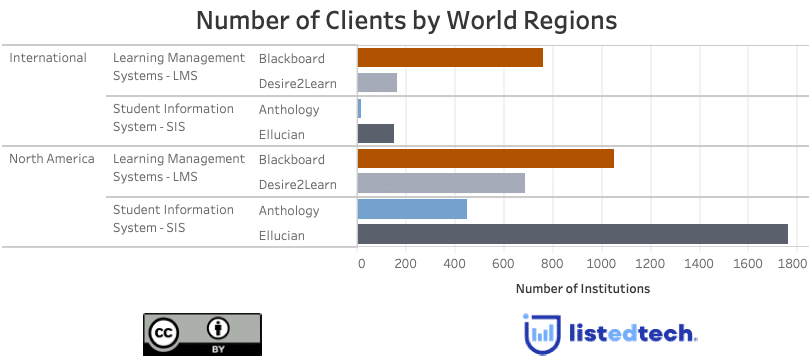 When it comes to the potential growth of the four companies, we notice that D2L has a better potential of acquiring new clients in North America thanks to its renewed partnership with Ellucian. When we look at Anthology, despite its dozen of offices across the globe, it has almost no clients outside of North America while Blackboard is strong abroad as well as in US/Canada.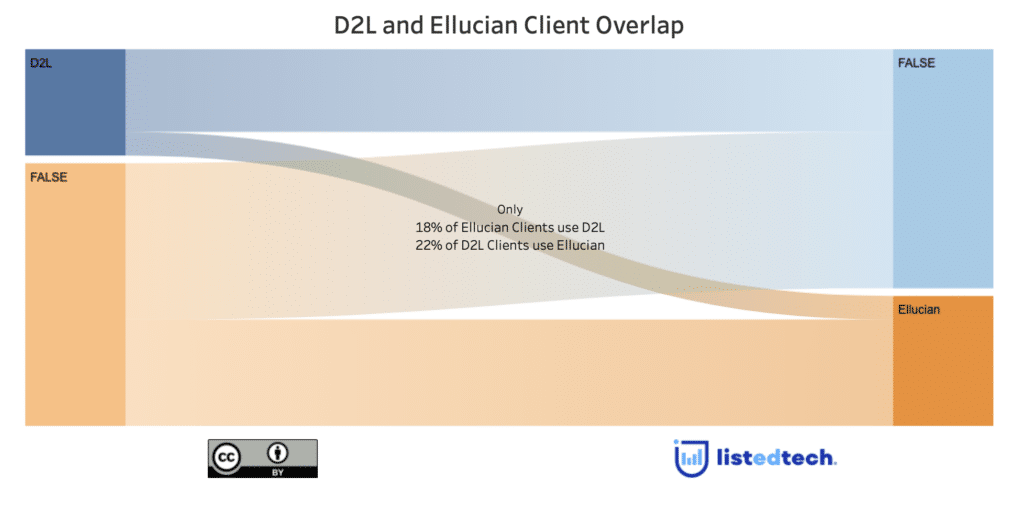 When we look at the Client Overlap graph between Ellucian and D2L, we can appreciate how these two companies can grow out of the client portfolio of the other. Announcing the continuous agreement (and even expanding it) might encourage institutions dealing with Ellucian to switch their LMS to D2L, especially if the integration is seamless, as the two companies proudly announced.
Does Size Matter?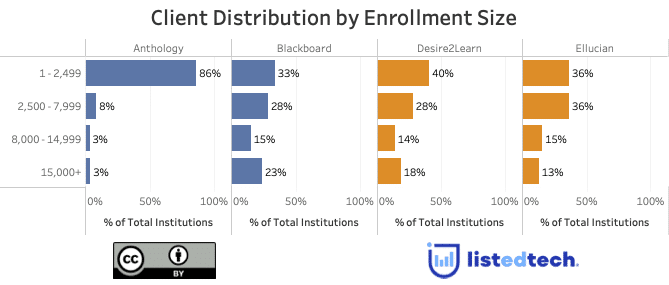 Another sociodemographic data we wanted to analyze is the enrolment size repartition of the clients. The first thing that hits all readers is the similitude of the enrolment repartition for the two LMS companies. For D2L and Blackboard, the spread across the different enrolment categories follows almost the same pattern. When we compare the CRM-ERP-SIS companies (Anthology, Ellucian), we have a completely different situation. Anthology is all about smaller institutions while Ellucian, even though it has 72% of its clients in small-ish institutions, can attract bigger clients like SUNY.
A Move to Enhance Ellucian's Image or One to Boost D2L's Value?
With multiple acquisitions and mergers over the years, Ellucian and Anthology have tried to gain more market shares. What can be worrisome for Ellucian is that, even though it dominates the market, it is currently on a downward slope for market shares and new implementations. It also has the oldest implementations in the SIS sector (only surpassed by homegrown systems). By renewing and expanding its partnership with D2L, it sticks to a company that will probably implement more LMS instances in 2021 than any other LMS company (in North America).
For D2L, this announcement was most likely done to help the company to attain a certain stock value at TSX when it goes public this week. However, on October 28, the Canadian LMS company announced that the stock value will be less than the $19-$21 target originally set in early October. It is now expected to trade at around $17 on opening day. Despite financial struggles, will the Canadian D2L succeed as a public company? Will it win the third position in the LMS product category in North America and pass Blackboard? The next months will be crucial for D2L and its partner Ellucian.