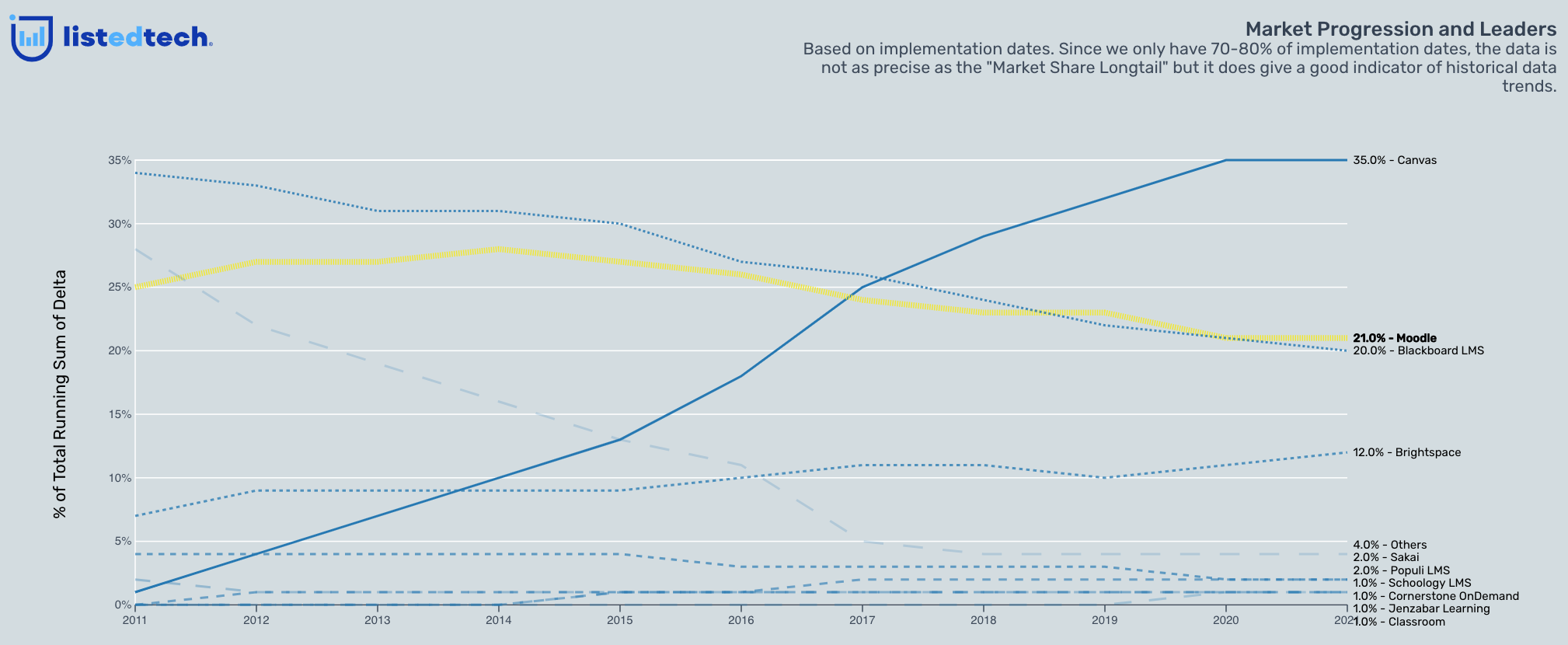 Early this week, Miami Dade College announced that Canvas will replace Blackboard as its main learning management system. For Blackboard, this is another important loss as MDC currently enrols more than 50,000 students. This is a continuation of Blackboard's slow market decline.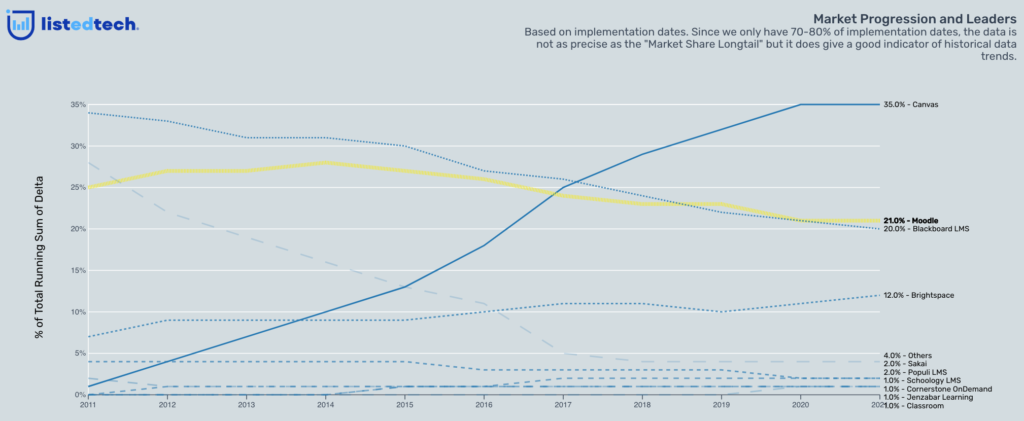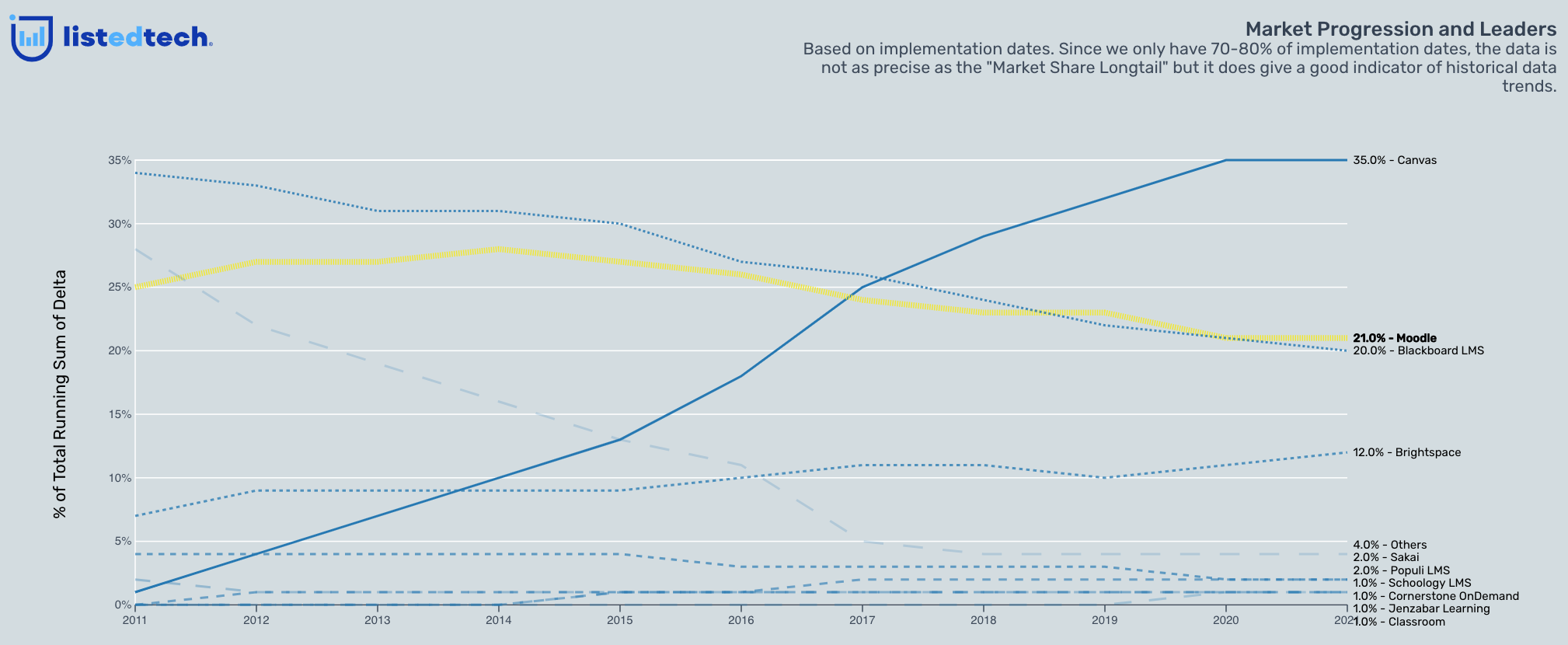 Looking at the historical North American market progression, we can see that Blackboard has been losing market shares for the past decade. We have to remember that Blackboard was the dominant player in the market because of several acquisitions (WebCT in 2005, Angel in 2009, Moodlerooms in 2012). Despite these multiple acquisitions, Blackboard has never been able to maintain its market share and is still losing market share.
During the same period, Moodle went from the open-source sweetheart (outpacing Sakai), being the second largest market player, under Blackboard, to slowly losing market share to Brightspace and Canvas since 2014. In the early 2010s, Moodle was considered to be the best option for many institutions across the world and in North America for two main reasons:
1- As an open-source solution, it required minimal investment to be implemented. This is particularly interesting for smaller institutions that struggle with finance.
2- It relied on a knowledgeable community that wants to help each other. Again, smaller institutions do not have a whole team of in-house IT experts. Using an open-source solution that is implemented across the globe can offer support from technological peers often in your own language.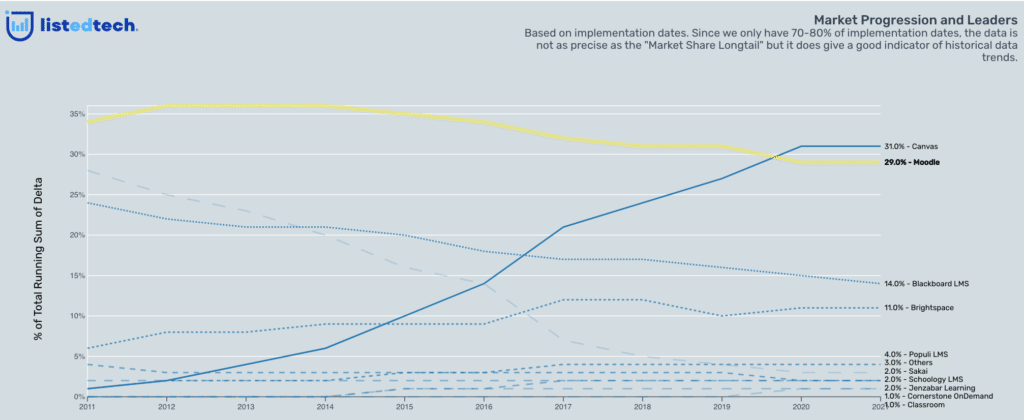 Why Did Moodle Overtake Blackboard in the North America LMS Market?
Between 2014 and 2021, both Blackboard and Moodle were being decommissioned at a higher level than they were being implemented. Even though the downward spiral has slowed down for Blackboard and Moodle in 2021 compared to 2017, 2018 or 2019, they are still losing market shares each year. In 2011, all Blackboard implementations represented 34% of the market shares in North America. In 2021, the company has only 20% of the market (12% across the globe). Moodle is in a better position. Since 2018, the open-source solution seems to have overtaken Blackboard. It is confirmed in 2021: Moodle has 21% of North American implementations while Blackboard has 20%. Both companies battle hard to keep their contracts. Moodle is simply in a better position because it was less decommissioned than Blackboard.

Can Moodle keep its place in the competitive LMS market? When we looked at the data for North America, we noticed that Moodle is a strong competitor with smaller institutions (less than 2,500 students). Since the North American market (especially the U.S.) has a lot of smaller institutions, Moodle could reinforce its position. This solution has often been selected in Canadian institutions, especially after Blackboard bought WebCT, a then-affordable solution, as mentioned in University Affairs.

After the acquisition of WebCT, Blackboard wanted to double the annual fees of existing WebCT clients, a financial nightmare for many Canadian institutions. Also, with the disappearance of this Canadian solution (WebCT was initially developed by the University of British Columbia) to the profit of another American company, multiple colleges and universities wanted to try something new. This is when Moodle, the open-source solution, became an excellent alternative. The 'evil aura' around Blackboard continued when it decided to buy Moodlerooms in 2012. At the time, several institutions that parted ways with Blackboard after the WebCT acquisition were angry that Blackboard stepped into the open-source world.
With the multiplication of Blackboard decommissions, we will watch the progression of the LMS market to see if Moodle remains stable against Blackboard, or even gain more market shares. We will also keep an eye out for Brightspace that may also pass Blackboard in the near future.
Data note: the LISTedTECH database includes information on all institution sizes, including institutions of less than 500 students.