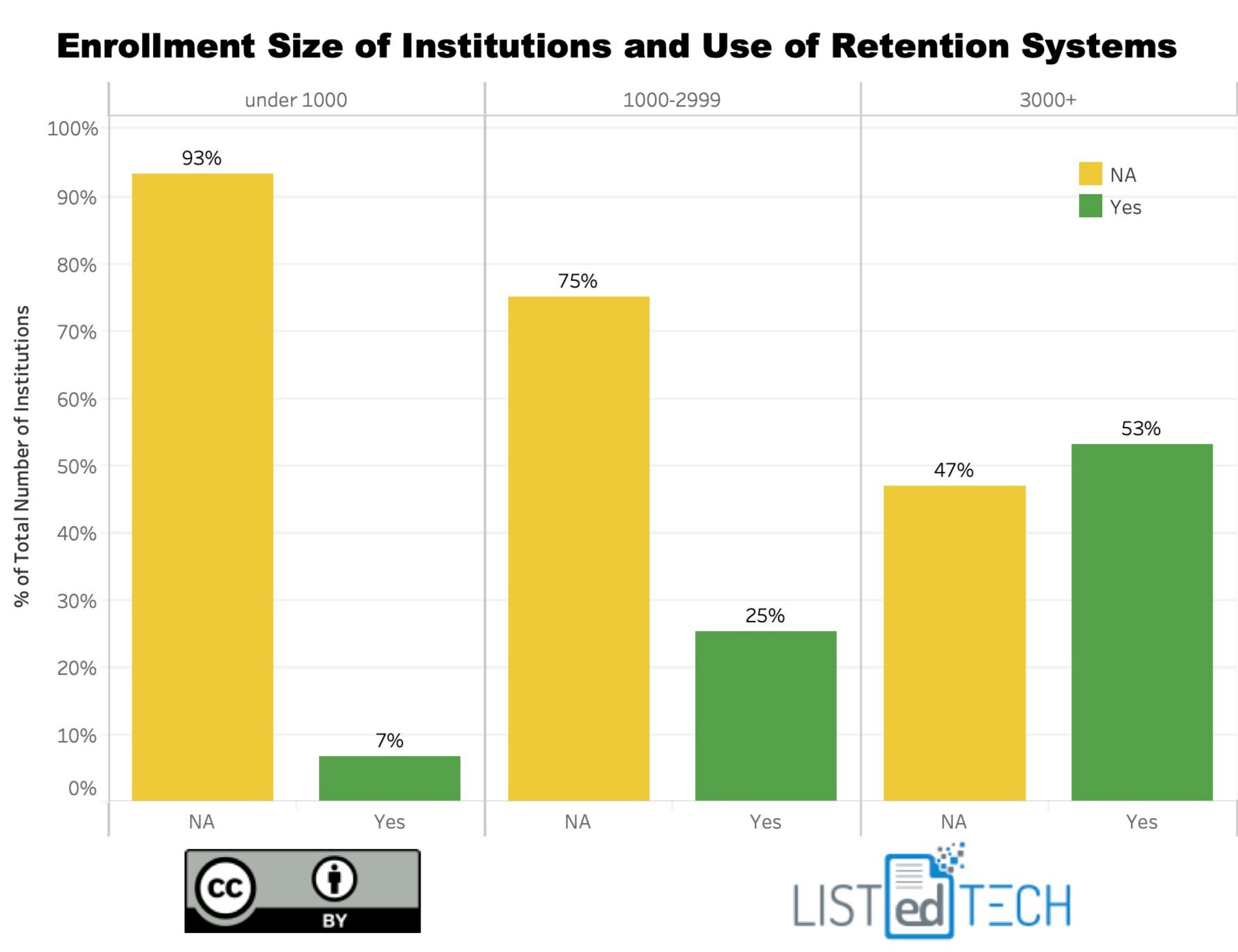 Student retention, sometimes referred to as persistence or student success, was historically linked to student satisfaction. In the previous century, we used to say that if students were happy about their programs, their courses, and their college social life, they would stay in school until graduation. We now know that this formula is not as simple.
A professor at Syracuse University, Vincent Tinto, studied student retention most of his career. Thanks to his research, we can define more precisely some conditions that will help students graduate: expectation, advice, support, involvement, and learning. To keep track of students' risk of dropout or success, institutions often support their in-person strategies with computer systems.
I wanted to explore several aspects of these retention systems. In the first graph below where we show the correlation between retention and SIS systems, we don't have direct relations between products. We see that the spider webs are all over the place. Even in the case that a company offers both retention and SIS systems like Jenzabar, it will still have links to other companies in both product categories.
Another interesting graph to look at is the retention products used by enrollment size. I have created a box plot graph to illustrate this product category. I encourage you to consult this article if you don't know how to read a box plot.
 Although some companies are represented in all enrollment size institutions, Aviso Retention, Pharos Resources, and Jenzabar are only present in smaller institutions. On the other end of the spectrum, Campus Labs, InsideTrack, EAB, and Civitas Learning have most of their clients with an enrollment of over 10,000. An interesting fact: Starfish, the biggest company in student retention, has clients in all enrollment sizes, going from almost nothing up to 60,000 students. However, the majority of its clientele doesn't have campuses bigger than 36,000 students.
When we break down the use of retention systems by enrollment size, we notice that the bigger they get, the most likely institutions are to use retention systems. The reason is fairly easy to explain: when students are in smaller institutions, they are often in smaller classrooms and have more direct contact with professors and support staff. Therefore, if a student struggles with a course, an in-person support system will be put in place quickly. However, when professors teach a few hundred instead of a few dozens, it's more likely that they won't have time or the capacity to reach out individually to the struggling students.
Are you interested in getting more information about retention systems subscription or data downloads? Send me an email.