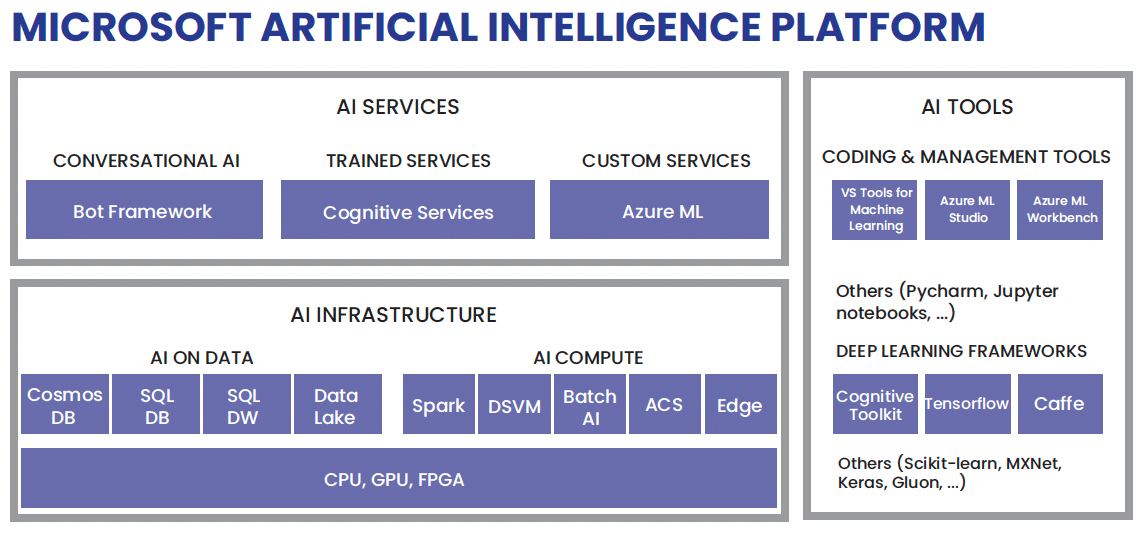 The potential transformation of education through technology is a recurring topic among scholars, university staff, and companies. Many predicted that technologies such as learning management systems, massive open online courses (MOOCs), and open educational resources (OER) would significantly impact how institutions delivered student education. Similarly, many commentators have speculated on how artificial intelligence might impact education. Some have pointed to this technology's potential benefits, such as empowering personalized learning or providing automated feedback to students. Others have highlighted the possibility that artificial intelligence may negatively impact education, perhaps through enabling cheating on assessments or perpetuating bias.
While these discussions are worthwhile, they overlook how these movements might influence other technologies. For example, how did the rise of learning management systems affect other systems, such as analytics solutions? Likewise, how might artificial intelligence, embedded in a student information solution, inform how advising solutions support students?
Therefore, in this post, we will explore this question through the lens of "technology convergence," i.e., bringing previously unrelated technologies and functionalities, usually in a single system.
Context
To better understand technology convergence, we only need to look at the smartphone. Before the invention of this technology, we relied on multiple pieces of technology (watches, cameras, telephones, etc.) for day-to-day activities. While some of the converged technology may not have the same quality as the standalone technology (cameras, for example), the convenience of having disparate technologies located in a single technology can be very appealing and worth the trade-off in quality.
At ListEdTech, over the past couple of years, we noticed the occurrence of technology convergence in education technology. Products now integrate components from other products to offer users a more cohesive and complete toolset. For instance, learning management systems add customer relationship management (CRM) functions, retention features, and business intelligence analytics to offer a more cohesive systemic approach. We observe a similar situation with human resource systems adding recruitment components and sometimes lifelong education modules to their software. CRM systems can also propose elements for student information and content management systems, especially solutions targeting smaller institutions.
Artificial Intelligence in Education
Some product categories have already incorporated artificial intelligence. Chatbots rely heavily on this technology to answer questions from students, parents, and staff. At first, these systems gained their information from an employee knowledge base. Nowadays, the knowledge base has given up its place to machine learning. Gamification is another group that integrated AI several years ago to measure cognitive abilities of academic skills and provide educators with actionable reports to help students in the classroom. AI is also used in language schools to offer adaptive materials scaled to each learner's proficiency.
Likewise, AI helps students learn by proposing personalized learning pathways. Systems need access to different data points to perform such actions. A possible scenario: Peter, an undergraduate student in biochemistry, struggles with his assignments for the Introduction to Biochemistry class. Using his schedule and report cards (from the SIS), profile and usage report of the student support services, and even his financial questionnaire (from the Financial Aid system), the professor can better understand Peter's workload and propose solutions adapted to his situation. When one system chooses to integrate features from other product categories, it increases the chance to better serve the students thanks to AI.
Artificial Intelligence Functionalities
In addition to these current uses, artificial intelligence offers functionality that might benefit education soon, including:
Adaptive Content Delivery: AI-powered edtech platforms can deliver learning materials that match each student's skill level and pace. By dynamically adjusting the difficulty and format of content, AI challenges students without them feeling overwhelmed or bored.
Data-Driven Insights: AI can analyze vast amounts of data generated by students' interactions with digital learning platforms. This data-driven approach provides educators valuable insights into student performance, allowing them to identify struggling students, intervene when necessary, and tailor their teaching methods accordingly.
Automated Assessment and Feedback: AI can automate the grading of assignments, quizzes, and tests, providing quick and consistent feedback to students. This frees up educators' time for more personalized interactions and instructional activities.
Natural Language Processing (NLP): NLP-powered AI tools can facilitate language learning, writing improvement, and communication skills by analyzing and providing feedback on students' written assignments and spoken language.
Virtual and Augmented Reality: AI-driven virtual and augmented reality tools enhance experiential learning by immersing students in virtual environments that simulate real-world scenarios. This hands-on learning approach is particularly effective for subjects that require practical application.
Language Translation: AI-powered translation tools break language barriers and enable global collaboration in education. This is especially important in online learning environments where students and educators come from diverse linguistic backgrounds.
Predictive Analytics: AI can predict students' performance and potential areas of struggle based on historical data and behavior patterns. Educators can then intervene early to provide additional support.
Lifelong Learning and Upskilling: AI-powered platforms can recommend learning opportunities and resources to individuals based on their current skills, career goals, and industry trends. This approach supports continuous learning and professional development.
Technology Convergence in Education
Within the education technology market, technology convergence occurs in two main ways:
Acquisition: Indicates convergence that results from one company acquiring another, such as Oracle's acquisition of the Vocado financial aid solution and folding it into its Student Cloud offering. Another example of this type of convergence is PowerSchool, which, since 2015, has acquired 14 companies, most outside the student information system group. We wrote an article about this in February 2022, mentioning that "[u]nder the ownership of Vista Private Equity and Onex, PowerSchool has expanded its product line to include leaders in K-12 education technology and well-known career readiness solutions." Since then, the company went public (in July 2021) but continues its shopping spree.
Consolidation: Indicates convergence that results from consolidating one product into another product offered by the same vendor, such as folding Blackboard's standalone X-Ray Analytics solution into its Learning Management System. Another example of this type of convergence is Anthology's post-merger efforts to consolidate the functionalities of different products (Blackboard Learn, Anthology Student, etc.) to create a more unified experience for students, faculty, and advisors.
Artificial Intelligence and Technology Convergence
So, how might we understand how artificial intelligence could enable technology convergence in education? First, we need to consider artificial intelligence not as a product feature but as a platform. As shown in the figure titled "Microsoft Artificial Intelligence Platform," this platform would comprise many different artificial intelligence services, tools, and infrastructure. Products powered by such a platform would, therefore, be able to leverage their capabilities individually and in combinations. For example, if this kind of platform supported a student information system and an analytics solution, users could enhance the analytics capabilities of the student information and the analytics solution through the artificial intelligence this platform empowers. Therefore, users of the student information system gain deep insights into data, drawing on data related to student records and student performance.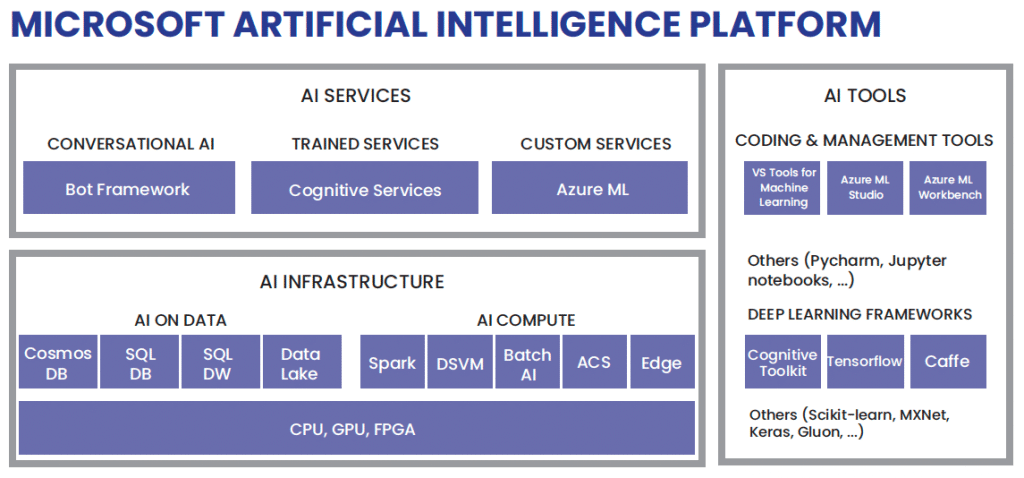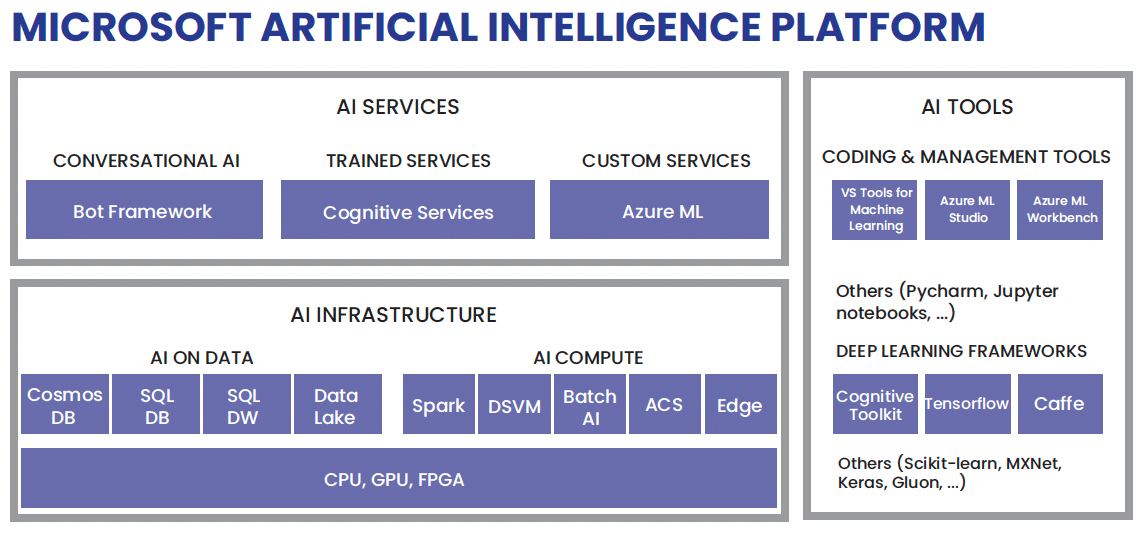 As a result, these two systems would converge, offering users powerful analytical capabilities, and institutional leaders would only need to acquire one system instead of both. Therefore, the student information system would be closer to the smartphone model, offering multiple functionalities from disparate technologies (managing student records, analyzing data, etc.) within one system.
Summary
One might say that it is too early to confidently predict the impact of artificial intelligence on education. Also, someone might consider the hype around artificial intelligence in general and ChatGPT in education to be just excitement along the same lines as the hype around MOOC and OER.
But, while both considerations may be valid, it is still interesting to consider how artificial intelligence might accelerate technology convergence and what benefits may arise from this occurrence. For example, we may see a shrinking of the overall technology landscape as specific products (student information systems, for example) increase in functionality and decrease interest in standalone systems (analytics solutions), in the same way as the category of handheld video cameras shrunk after the invention of smartphones. Lastly, vendors may elect to avoid either of the common approaches to technology convergence (acquisition and consolidation) and instead choose to leverage the power of an artificial intelligence platform to offer increased functionality to its users.
So, besides being a purely intellectual exercise, thinking through how artificial intelligence might impact technology convergences invites fascinating questions about the shape of the education technology market.
Written in collaboration with Justin Ménard.