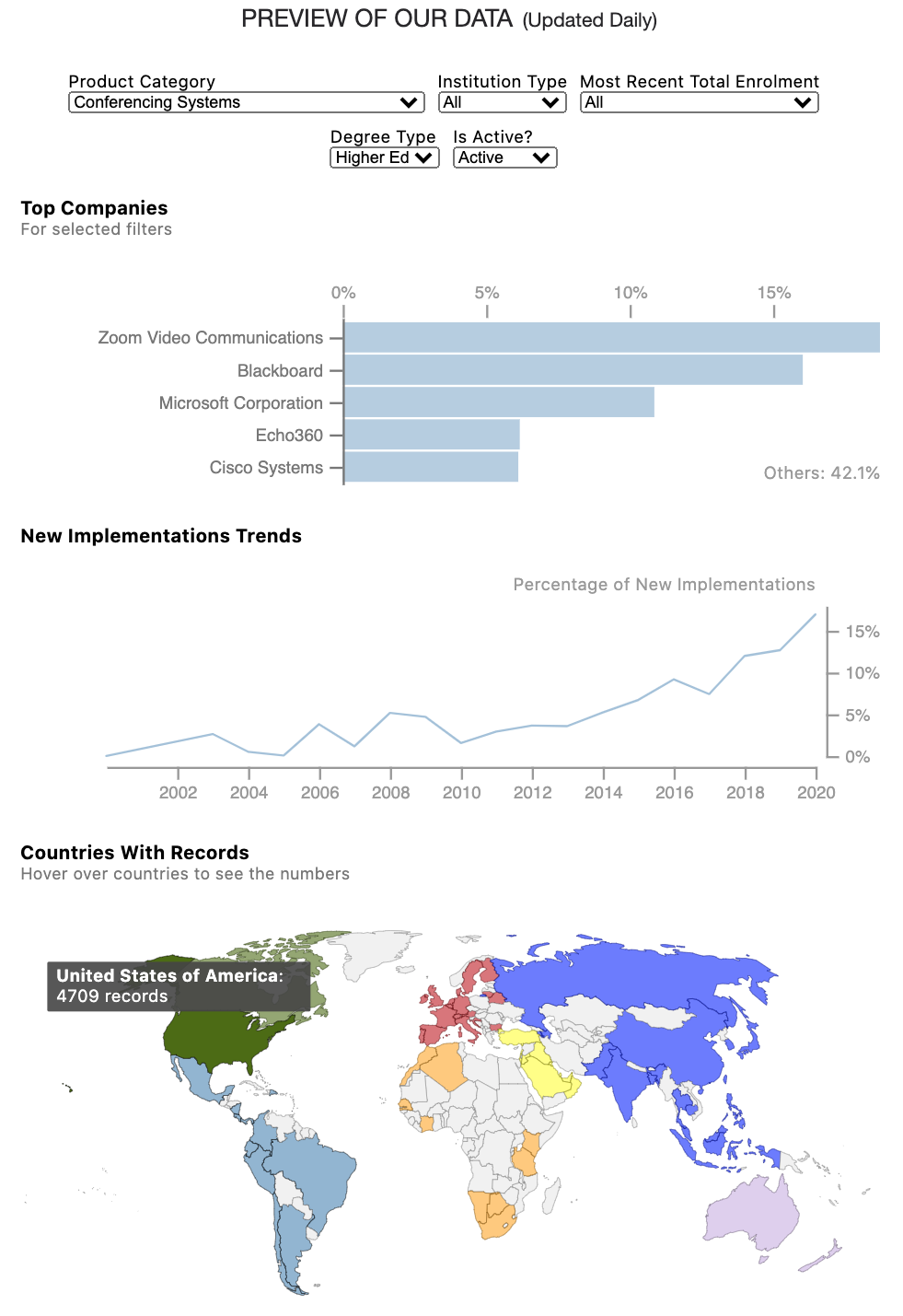 The two most common questions we get are 'How Do You Get Your Data?' and 'How Much Data Do You Have?'. The answer to the first question can be found after the graph. To help answer the second question, we have created a new dashboard that contains most of the product categories in our database.
The data is updated every morning and we add on average over 100 products per day.
The data dashboard is divided into three sections:
The top contains a bar chart that shows the top five companies based on the selected criteria.

The middle section has a line chart showing the historical trend of implementation (in %). The percentage per year is based on all implementations for the timeframe.

The last section is a map showing the countries for whom we have data. If you hover over a colored country, you will see how many implementations we have for that particular region.
The filters to help you explore our data:

Institution Type:


-All
-Private
-Public

Most Recent Total Enrolment:
-All
-1-2,499
-2,500-14,999
-15,000+

Degree Type:
-All
-K12
-HigherEd

Is Active?
-All
-Active
-Historical Systems

Product Category


-Alert Notification
-Business Intelligence – BI
-Career Readiness Solutions
-Conferencing Systems
-Customer Relationship Management – CRM
-E-Portfolios
-Email
-EProcurement
-Faculty Information Systems
-Financial Aid
-Financial Systems
-Grants
-Human Resources – HR
-Learning Analytics Platforms
-Library Information Systems
-Learning Management Systems – LMS
-Massive open online course – MOOC
-Online Program Management
-Proctor Systems
-Retention Management
-Student Information System – SIS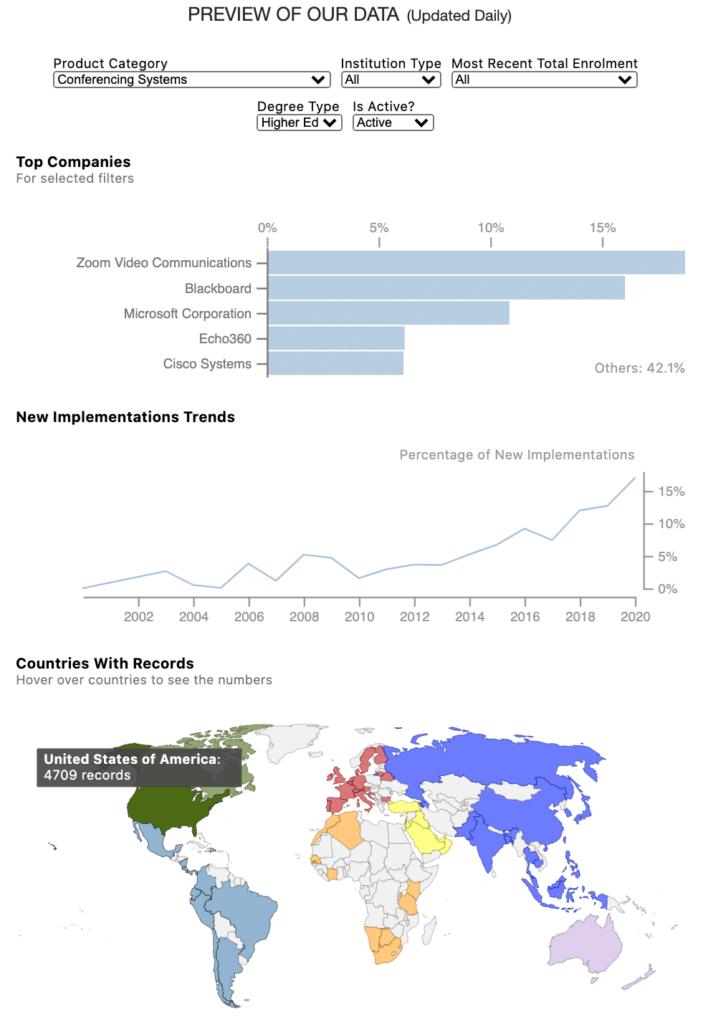 Is our data based on surveys? No, since it's difficult to get a large number of universities to fill out detailed surveys.
Is our data sourced from our clients? No, since this often translates into having more data on institutions that have the money to pay for a subscription.
Is our data from companies that give us their client list in exchange for analysis? No, because if one company would stop, our data would be very inaccurate.
Is it an aggregation of publications and surveys? No.
Then how do we get our data? LISTedTECH's data is from public sources. We look at multiple layers of data gathering at different intervals. Some of the sources are:
Extensive search engine notification like Google and Bing on product keywords in multiple languages;

Social Media scrapers;

News scrapers;

Domain scrapers looking for system information at official school websites and company pages;

Targeted human-directed searches;
Each new data point is then verified by a team member using the associated hyperlinks tied to selection or usage data. And since we have team members situated in Canada, Europe, and Asia, our data is updated and verified around the clock.