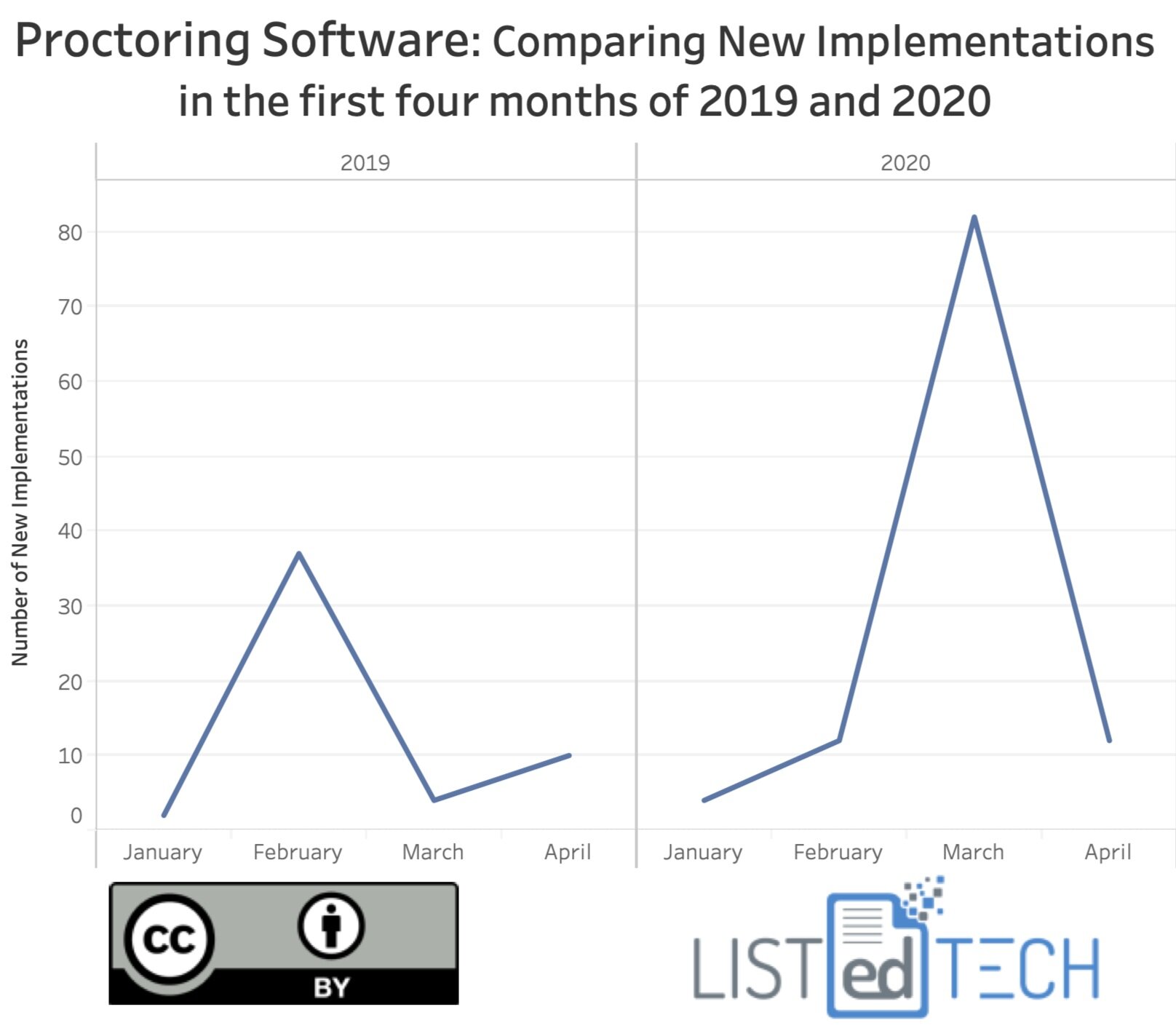 As one can imagine, proctoring services witnessed its highest level of demand yet. The month of March has seen a mad rush from educational institutions to acquire the services of proctoring companies and these companies have since been policing millions of exams throughout the world. This service has not come without its difficulties, especially surrounding students' privacy, but they have been able to do what could not currently be done in a traditional exam hall.
Not surprisingly there has been an incredible increase in new implementations in the last few months. This graph compares this year's to last year's numbers in terms of new implementations. We can clearly see a huge March spike that is almost as big as all of the last year's total implementations.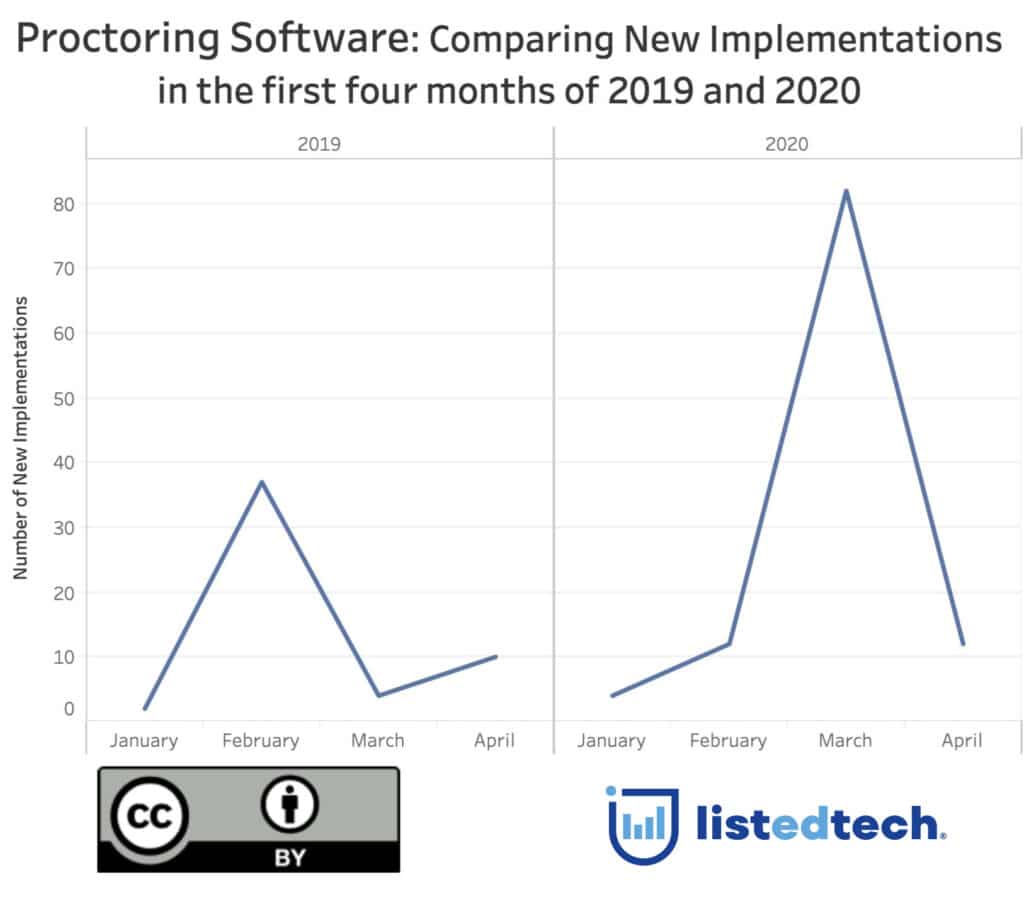 Let's take a step back and define our proctoring category. It includes multiple systems types. Here are the categories and definitions created by Eduventures that we will be using as reference. Please note that the categories were defined by Eduventures, but I'm the one who classified the products in each category.
Authentication: biometrics, Student/gov ID verification, email/credential verification

Major Vendors: SmarterServices and Biometric Signature-ID

Testing Environment Assurance: Browser monitoring, computer usage monitoring

Major Vendors: Respondus and Safe Exam Browser

Test Taker Behavioral Review: includes test and review functionality, Live monitoring, and AI monitoring)

Major Vendors: B Virtual and TestReach

Plagiarism Testing

Major Vendors: Proctorio, ProctorU, Examity, Kryterion, Proctortrack, MonitorEDU and Proctor360

Data Analysis

Major Vendors: IParadigms (TurnItIn), SafeAssign (Blackboard), Respondus, VeriCite, Urkund, Honorlock, PSI Services, SmarterServices, and Unicheck
The graph below shows how many institutions are using each category of systems. By far, the largest and most used type of system is the Data Analysis category that is used once the student has submitted his work.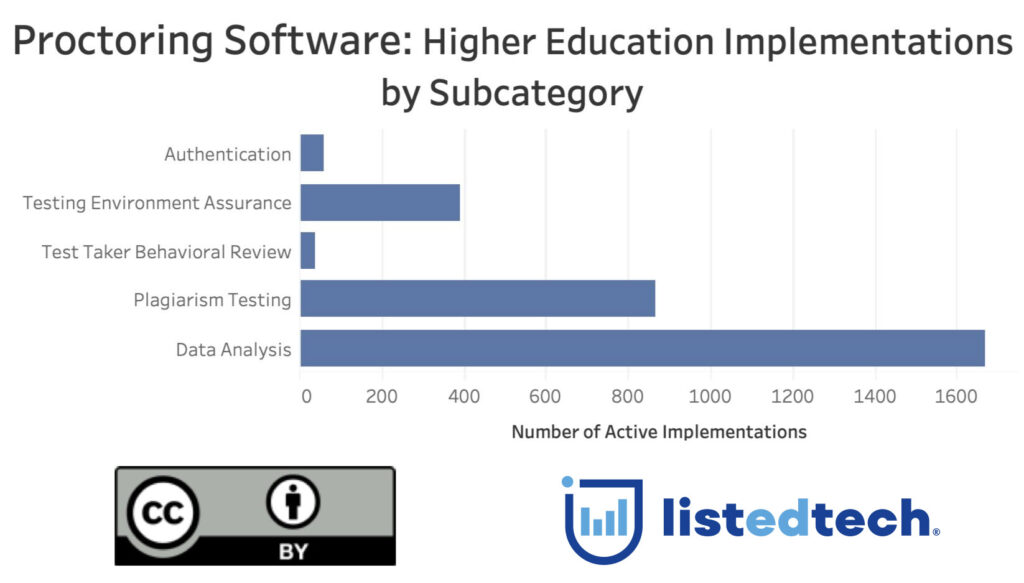 Each category of systems boasts several products. Here is a comprehensive list that also includes market share.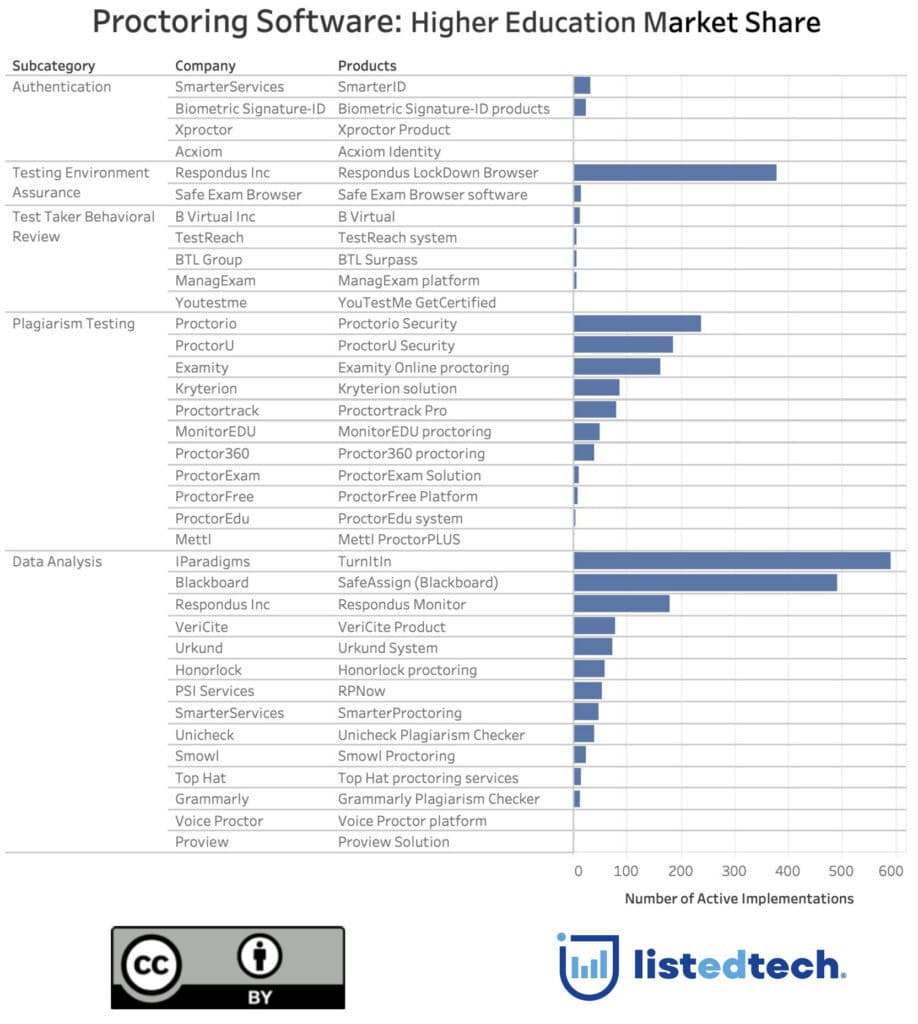 We have not seen one institution using products in each of the five categories, however, here are the most common combination of categories in descending order of importance:
Data Analysis – Test Taker Behavioral Review

Data Analysis – Plagiarism Testing

Data Analysis – Testing Environment Assurance

Plagiarism Testing – Testing Environment Assurance
The data above is based on almost 2,000 higher education institutions.